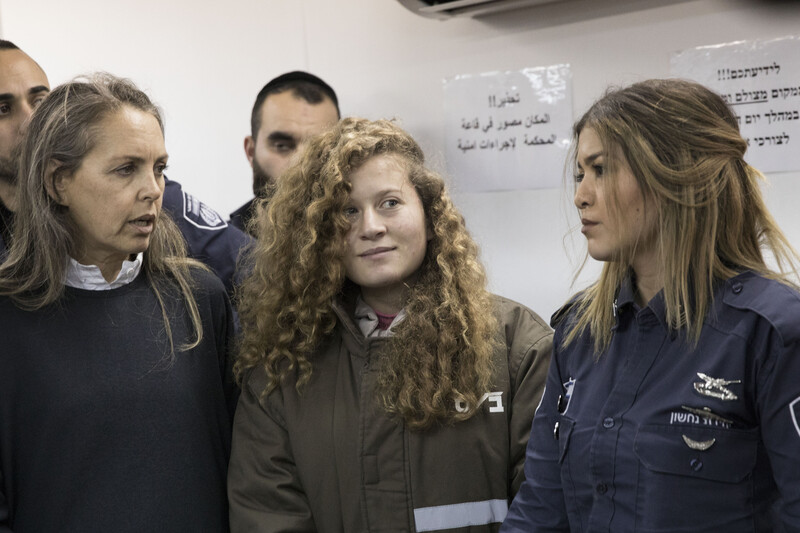 An Israeli military court has refused to release Ahed Tamimi, a 16-year-old girl.

In a hearing Wednesday, Israeli occupation authorities sought that Ahed and her mother Nariman Tamimi remain in detention for another 101 days, until the end of proceedings.

Ahed's trial will begin on 31 January, the day she turns 17.

Israel's military courts deny basic due process rights and notoriously have a near-100 percent conviction rate for Palestinians.

Concerned by Israel's systematic abuses, 20 members of Congress are backing legislation to ban Israel from using US aid for the military detention, abuse and torture of children like Ahed Tamimi.

Nariman's trial will begin on 6 February, her husband Bassem Tamimi wrote on Facebook.

The Tamimis' defense attorney, Gaby Lasky, demanded their immediate release, which the Israeli military court rejected.

Bassem Tamimi, Ahed's father, also wrote that his wife Nariman suffers from a stress disorder and diabetes, exacerbated by the low quality and quantity of food in prison.

He added that Ahed and Nariman are constantly transported between detention centers, an arduous and painful process for prisoners.

"Ahed is transported with criminals who intimidate her with threats and insults," Bassem stated.

He added that his wife and daughter are still in good form, despite their ordeal.

"While in jail, my daughter Ahed informed us that she studies [for] four classes from her school curriculum, and she read two books outside the curriculum. She additionally asked us all to focus on every imprisoned woman and child and to work towards a campaign to highlight their cases."

There are currently 350 Palestinian children and 58 women in Israeli detention, according to prisoners rights group Addameer.

This tweet shows a letter written by Nariman to her family. She writes that "we remain resilient" behind bars.

Ahed was arrested in a night raid days after she and her cousin Nour attempted to remove two Israeli soldiers from the family's property after a soldier shot another cousin, 15-year-old Muhammad Fadel Tamimi, in the head causing him serious injuries.

Ahed was seen in a video filmed by her mother, Nariman, slapping and shoving one of the heavily armed men.

The Israeli military filed 12 charges against Ahed on 1 January.

If convicted on charges that include throwing stones, incitement and assaulting and threatening a soldier, the 16-year-old could remain in Israeli prisons for years.

In a video from Ahed's hearing on Monday, a reporter asks Ahed if she is proud of what she did, to which she replies smiling that she is.

Ahed's mother Nariman is facing charges of "incitement" for livestreaming the incident with the soldiers.
Collective punishment
Israeli defense minister Avigdor Lieberman is enforcing collective punishment on the Tamimi family and their village of Nabi Saleh in the occupied West Bank.

Israel has declared Nabi Saleh a closed military zone to suppress demonstrations in support of the Tamimi family and other political prisoners.

Lieberman has also issued a military order to prevent Bassem Tamimi from traveling outside Palestine. And he has withdrawn about 20 Israeli work permits from Ahed's relatives, according to the Ma'an News Agency.

"Dealing with Tamimi and her family has to be severe, exhaust all legal measures and generate deterrence," Lieberman said, as reported by Samidoun, a group which supports Palestinian prisoners.

"There is justice in the military court," Lieberman tweeted on Wednesday, welcoming the decision to keep Ahed locked up.

An Israeli military court also extended the detention of Ahed's cousin Muhammad Bilal Tamimi until 25 January.

Muhammad, 19, was taken prisoner during a night raid on the village of Nabi Saleh on 11 January.

Israeli forces transferred Muhammad to solitary confinement in the Petah Tikva detention center near Tel Aviv.

Muhammad's parents, Manal and Bilal Tamimi were unable to attend his hearing on 14 January because it was held in Israel, and they were denied entry for "security reasons," according to Manal Tamimi's update on Facebook.

Israel's transfer of Palestinian detainees to prisons inside Israel is a flagrant violation of the Fourth Geneva Convention, which prohibits "individual or mass forcible transfers, as well as deportations of protected persons from occupied territory to the territory of the occupying power."
Night raids and killings
Israel arrested another eight children in an overnight raid on Tuesday.
They were all between the ages of 11 and 17, according to the Ma'an News Agency.
Israel also arrested a Palestinian child, Muhammad Samer Mansour, 14, in an overnight raid in Ramallah on 9 January.
On Tuesday, Israel killed Palestinian student leader and former prisoner Ahmad Abd al-Jaber Muhammad Salim, 28, during confrontations in Qalqiliya in the northern occupied West Bank on Tuesday.
Salim was a student at al-Quds Open University in Qalqiliya and the secretary of the Democratic Front for the Liberation of Palestine's student bloc.
"Salim was critically injured in the head with a live bullet during clashes in his hometown of Jayyous before he succumbed to the wounds just minutes later," the Ma'an News Agency reported.
Citing witnesses, Ma'an said that "Israeli soldiers opened fire at Salim from less than 20 meters away, and that forces prevented Palestinian ambulances from reaching him by firing tear gas at ambulances and paramedics."
"Release her without delay"
The European Union's office in Ramallah issued a "local" statement on 12 January expressing "concern" about the arrest of Ahed Tamimi and the killing of another child, 16-year-old Musab Tamimi, in the village of Deir Nitham on 3 January.

But the European Union's embassy in Tel Aviv made no acknowledgement of the statement on its social media accounts.

Israel has killed three Palestinian children since the start of the year.

Amnesty International is calling for the immediate release of Ahed Tamimi.

"Nothing that Ahed Tamimi has done can justify the continuing detention of a 16-year-old girl," the human rights organization said on Monday. "The Israeli authorities must release her without delay."
Tags