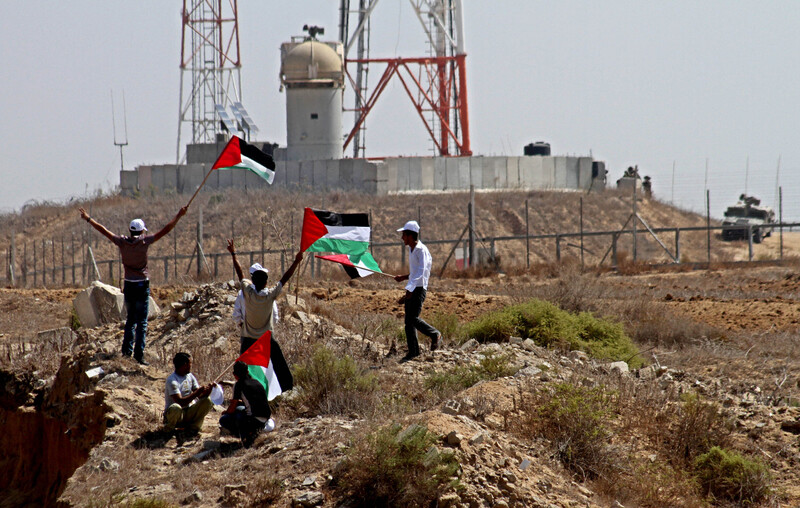 Abu Hassan grew up on a farm next to the seashore in Jaffa. The son of a sheep trader, he still has strong memories of the fruit tees with which his hometown is synonymous. He was 11 years old when Zionist forces uprooted his family during the Nakba (catastrophe) of 1948.
This week Abu Hassan — his full name is Hajj Jumaa Abu Hadrous — recalled another shameful episode in Israel's history. On 5 June 1967, Israel began its occupation of Gaza, where Abu Hassan's family had sought refuge almost two decades earlier. The invasion is known to Palestinians as the Naksa or "setback."
"I was sitting with some folks on the eastern outskirts of al-Maghazi refugee camp," he said. "It was 3pm when rows of Israeli tanks began assembling, less than 500 meters away from where I was sitting. We did not think it was a war, yet several hours later and while we all were sleeping peacefully, Israeli tanks rolled into the camp, backed by warplanes.
"As the Israeli tanks fired at and hit the western parts of our camp, I took my three children and wife and fled to the nearby coastal village of Zawaida, to the west of al-Maghazi. Not only did we flee, but the majority of the camp's inhabitants [did too]. We stayed in Zawaida about one week, until the attacks by the Israeli tanks and warplanes calmed down."
The situation worsened inside the refugee camp after his family moved back. Encountering resistance from Palestinian fighters, Israel stepped up its deployment of forces in al-Maghazi.
Unable to move
"By then, nobody was able to move freely throughout the camp, as the soldiers used to shoot indiscriminately at every moving object at nighttime. I recall that in 1970, inhabitants of the camp were kept indoors for the duration of the holy month of Ramadan. By then, I and my family had little food. The only things we had were tomatoes."
Aged 76, Abu Hassan said he was "dreaming of being buried over there in Abu Kbeir, my original neighborhood of Jaffa city.
"Neither the Naksa nor the Nakba has killed my dream of returning home. Whatever solutions politicians might bring to us, we can never accept them unless they involve the right to return to our homes, where our ancestors were born and raised."
"I carried my little sister"
Ghazai Misleh also lives in al-Maghazi. He was ten years old when Israel invaded the camp in 1967. His family also fled to Zawaida. "I can recall very well how I carried my little sister in my arms on the way to Zawaida," he said.
They only stayed in Zawaida a few days. Back in the refugee camp, they tried their best to avoid coming under fire.
"In those days, my mother wanted to light a fire to cook, but my father advised her against it," he said. "Israeli forces used to shoot in the direction of any pillar of smoke; my father was concerned the Israelis would hit our home."
As a child, Misleh often heard his father speak about his home in Bethany, a village 50 kilometers from the Gaza Strip. The family was forced out of Bethany by Zionist forces. "Despite the fact that I have never lived in Bethany, I can draw a map of every single corner of this town and I can tell you lots of facts about it," Misleh said.
Misleh argues that the two-state solution envisaged by the US and its allies would not be acceptable to Palestinians. "I believe the best solution lies in helping us all return back to our original towns and villages," he said.
The right of return is a key principle for Palestinians, young and old.
Ismail al-Othmani is a 23-year-old university student living in al-Maghazi camp. His family hails from al-Moghar, a village near Ramleh in present-day Israel.
"If I am to live here in al-Maghazi for the rest of my life, I can never renounce my right to return back to my ancestors' original village," he said. "It's like a situation where someone has hurt my father in the past. Do you think I will ever forget that that person is my own foe?
"No solution is workable other than the restoration of our lands and homes. My grandfather used to own six acres of farm land and I dream of returning back and sitting under one of its trees."
Rami Almeghari is a journalist and university lecturer based in the Gaza Strip.
Tags