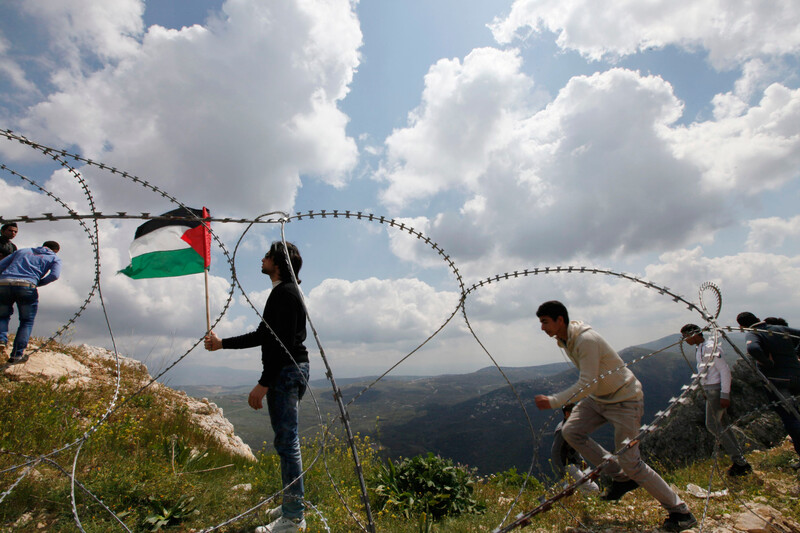 Beaufort Castle is a Crusader fortress on a high promontory with a commanding view of southern Lebanon and northern Palestine. It was the assembly point for demonstrators marking Palestinian Land Day last week. Land Day (30 March) commemorates the Israeli military's killing of six Palestinian citizens of Israel who were protesting the theft of their land in 1976.
The Global March to Jerusalem this year aimed to mark Land Day as an international event to demonstrate solidarity with Palestinians and to protect Jerusalem. Many international activists from Turkey, Iran, India, Pakistan, the United Kingdom and other countries traveled to Lebanon to participate in the march.
The plan for the activists was to march to the border. However, this was grounded by turbulent Lebanese politics and thus the Global March to Jerusalem from Lebanon only made it several miles north of the Lebanon-Palestine border.    The Lebanese army was deployed along the way to Beaufort. There were checkpoints too all the way along the coastal road south from Beirut. At one checkpoint, near Zahrani, the Lebanese army stopped buses or vans that had a Palestinian flag sticking out of it and forced Palestinian men off the buses for a full search.
Once at Beaufort, the area designated for the celebration was a small arena capable of hosting the 5,000 persons who had been given official permission to attend, though it appeared to this observer that there were no more than 2,000 on top of the hill.
A stage with a sound system was set up, with Beaufort Castle — Qalat al-Shaqif in Arabic — providing a dramatic background. During Israel's 22-year-long occupation of southern Lebanon which ended in the year 2000, the castle had been a heavily fortified Israeli military outpost.
When the blaring celebratory music died down, a variety of speakers took to the stage, recycling speeches that had been heard before.
Expression of frustration
Amongst the crowd were a few mainly young men who could not bear the fact that Palestine was only a short distance away. In an expression of their frustration a handful of these men crossed the barbed wire, and took off down the steep hill. Regardless of the dangers, they went hoping to reach Palestine.
One young man fell in pursuit of his homeland. He was later rescued by paramedics, lucky to sustain only minor injuries. This action prompted the organizers to take a more strict line with anyone trying to go in the direction of Palestine, and Lebanese riot forces were deployed along the edge of the steep hill.
Right of return "closer than ever"
In 1982, during Israel's bloody invasion of Lebanon, then Israeli Defense Minister Ariel Sharon stood at this very fortress and declared that the time of Palestinian "terrorism" had finished.
What Sharon meant by "terrorism" is Palestinians' demand for self-determination in their homeland and the Palestinian people at Beaufort last Friday refuted Sharon's words.
"We are closer to Palestine than ever before and our right to return feels within nearer grasp than at any other time," said Abu Jamil, a 38-year-old from Ain al-Hilweh refugee camp. "In times of Arab revolts we know that our Arab brethren won't forget about us and we are sure they will stand by us and join us in our struggle for Palestine and our right of return."
This reaching out by Palestinian refugees to their Arab brethren was a sentiment voiced and emphasized by almost every Palestinian with whom I spoke. Many called for support to resurrect the struggle for the right of return and reinvigorate of the Palestinian cause as a whole.
A brutal enemy
"I'm here in solidarity with the Palestinian people," Ali Taleb, a 53-year-old Lebanese man from Sidon, said. "Land Day is a dear day to us and the Israeli enemy is a brutal one. The Israelis invaded our land and this land means a lot to us, the Arabs too, not only the Palestinians."
Taleb faulted Arab leaders, who he called "tools in the hands of the West," for letting down the Palestinians. But he said, "As for the Arab people, the Palestinian cause was never forgotten, it was and still is our central cause."
"As a Lebanese man, I think resistance is the only solution to regain our land," Taleb added before specifying that he meant "popular resistance and not some sort of gangs, and militias. Women, children and men all united as people in resistance against our enemy."
Jerusalem a "city for every human being"
"I'm from Sahel al-Holi area in a village called al-Naami in Palestine," Ahmad Issa, 46, explained. "My status at the moment is as a Palestinian refugee in the Burj-al-Shamali camp in Tyre. I was born in Lebanon but I always felt that I'm only physically here and my soul is inside, there, in my country."
"This occasion, Land Day, is an occasion for every human being, for every Arab and not only for Palestinians," Issa added. "The Palestinian cause is important to all the Arab people more than it's important to us Palestinians, because Arab leaders are the ones who sold us out. I can see that the new Arab generation is trying to show that they are better than the old generation, who, because of their malpractices, lost us the land."
"Jerusalem is a city for every human being, every Christian, Muslim and Jew. We and the Jews used to live together in Jerusalem in the past. We never hated one another. The Zionists who founded the State of Israel thought that after sixty years our children would forget but they didn't forget. 'The old will die and the young will forget' turned out to be a false prediction," Issa said.
Our land
Um Ahmed, age 71, recalled her expulsion from Palestine.
"I'm from the village of Dechoum in the Safad region of Palestine. I remember I was seven years old when we were forced out of our village and walked here to Lebanon. In the past this land was one land but they created a line between us. The enemy has been dividing us for a long time, while we are stuck in inaction," she said.
"Right now all we need to do is regain Palestine. We first need to clear our hearts and unite as one people without all the unproductive political divisions. Palestine is our right. … I ask God to punish all those who conspired against us, who made us homeless and stateless, and let's see if they can bear the life we are living. Let them try the humiliation, and deprivation that we go through. We are a people with a right. I'm only here today because I feel close to my country. I want to breathe the air of my country. We are going back to our land and it's inevitable.
"I embroidered my dress with my own hands; this is our tradition. All of us Palestinians never forgot our traditions, and we pass them on to the new generations," she added.
Tormenting
Salim, 22, from Ain al-Hilweh refugee camp, regretted that thousands had not marched to the border on Friday like they did during the Nakba Day protest last year, marking the anniversary of the dispossession of Palestine.
"I came today to see my land, my country. It's tormenting to be very close to our land and yet we cannot go. I wish today was like last year on the Nakba day; at least then there was the possibility for us to try and go back. I know people are worried about security and safety but why tell us it's a global march to Jerusalem and not let us march to it?
"Life as a refugee, as a Palestinian, in Lebanon is really difficult. The humiliation we endure every day from the Lebanese army at the entrance of the camp is itself a reason that makes me want to go back to Palestine regardless of the danger it might bring. I'm 22, jobless and cannot foresee my future or the near future for me and my family."
Um Mohammad, 72 from Adita, a village near Safad in northern Palestine, also longs to return. She held a black and white framed portrait of her son who died during the Israeli invasion of Lebanon in 1982.
"I was eight years old when my family and I had to leave our house and we walked to Lebanon. I remember we stopped for one day to rest in Bint Jbeil [a village in south Lebanon]. I want the world to see that I'm proud of my son, the martyr. Just like I never stop thinking of my son, Palestine is always on my mind. Here, look, this is the key to our house that we were forced out of in 1948; I wish I can go back to it before I die."
Today's celebration had few similarities to last year's commemoration of the Nakba, when Palestinian refugees from all 12 camps in Lebanon took part in the commemoration. On Friday the numbers were limited. Refugees from the camps in north Lebanon and the Beqaa Valley were not able to participate — the official story was that there were no funds to rent buses to transport participants. That did not stop refugees from marking Land Day, though. In Badawi camp in north Lebanon, Palestinians staged their own celebration.
Many were skeptical about Friday's event in the south. Rumors which started circulating in the camps two weeks ago created a sense of wariness. It was said by some that Hizballah would launch missiles at Israel, others said that this celebration was meant to distract attention from the human rights abuses of the Syrian regime.
Ultimately what killed the enthusiasm amongst the youth, and likely discouraged participants, was the fact that the event was not held on the border but several kilometers away. Palestinian refugees who attended the Land Day celebration last weekend were only interested in one thing, their focus was in one direction only: Palestine, their homeland on the horizon.
Moe Ali Nayel is a journalist and fixer based in Beirut.
Tags