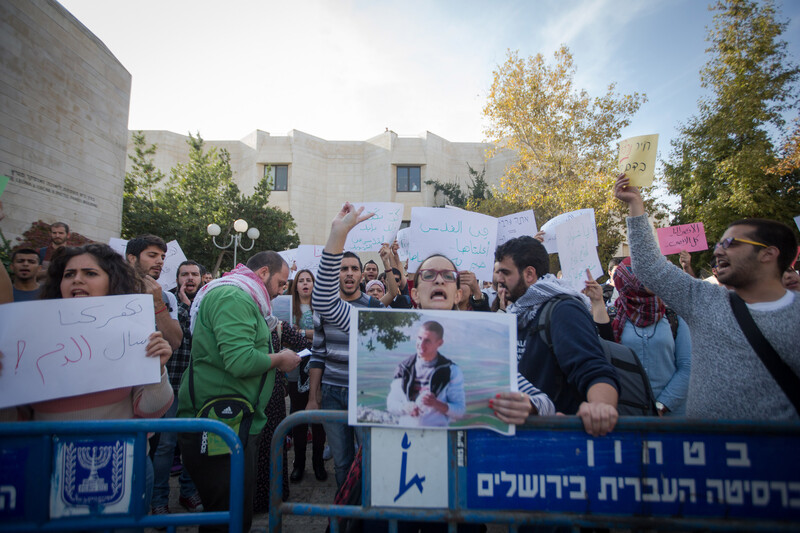 Palestinian student activist Majd Hamdan was not surprised when Israeli police officers aggressively demanded to see his identification card last week as he made his way home from the Hebrew University in Jerusalem.
The 23-year-old undergraduate student of computer science said that he was partially targeted as an individual for being "an influential activist." But Hamdan also noted that fellow Palestinian student organizers are continuously harassed by Israeli police and campus security.
After Hamdan asked the officers why they needed to see his identification card, they struck him several times, handcuffed him and hauled him off to the police station. It was the eighth time he has been arrested since he began his studies nearly three years ago.
"But my arrest was also a way of targeting the whole Palestinian student movement on campus," he told The Electronic Intifada. "Israel wants to deter us from continuing our struggle and to break our resolve. There is ongoing persecution of Arab student leaders on university campuses."
The uptick in repression is not limited to Israeli academies.
In addition to the dozens of discriminatory laws that limit their access to state resources and stifle their political expression, an estimated 1.7 million Palestinians in present-day Israel are enduring a wave of arrests and repression.
Protests in Palestinian cities, towns and villages across the country began this summer after the murder of Jerusalem teen Muhammad Abu Khudair by right-wing Israelis. Protesters have also been angered by Israel's ongoing crackdown on Palestinians living in occupied East Jerusalem and Israeli settler incursions into the compound of the al-Aqsa mosque.
Demonstrations grew in frequency and size after a police officer fatally shot 22-year-old Kheir Hamdan (no relation to Majd) in the Galilee village of Kufr Kana during the early hours of Saturday, 8 November.
"Executed"
When police officers from the nearby city of Nazareth arrived in Kufr Kana to arrest his cousin in relation to a family dispute, Kheir Hamdan struck a police vehicle with an object that officers allege was a knife.
The officer who shot Hamdan subsequently stated he fired a warning shot first before aiming at the youth's body. But CCTV footage obtained from nearby security cameras disproves that claim. Instead, four officers exited the vehicle and one shot Hamdan's midsection at point blank range as the youth turned to run and his back was facing the police.
Hours after the young man's slaying, thousands of locals marched through Kufr Kana in protest. More than a hundred police officers gathered at the village's northern entrance and fired tear gas canisters and "skunk water," a putrid smelling liquid regularly used by Israeli occupation forces against Palestinians in demonstrations.
The Higher Arab Monitoring Committee, a group that represents Palestinians in Israel, subsequently declared a nationwide general strike for the following day.
Protests were held on university campuses in Haifa, Tel Aviv, Bir al-Saba and Jerusalem, as well as in Palestinian towns and villages across the Galilee and Triangle regions in the north of present-day Israel.
More than one hundred Palestinians in Israel were arrested in the two days following Hamdan's killing, according to Mossawa, a Haifa-based advocacy group which states that dozens of Palestinian citizens have been killed by police since 2000.
"Killed immediately"
"So far, there have been about 35 arrests in [Kufr Kana], mostly young people," said Waseem Abbas, a lawyer and representative of the village's local branch of Balad, a Palestinian political party in present-day Israel. "The arrests are a tool to frighten the people here."
Speaking to The Electronic Intifada by telephone, he explained that Israeli authorities "say that they have a list of around 160 names of local youth who participated in the protests that they plan on arresting."
Other arrests took place in Nazareth, Turan and other nearby Galilee villages, Abbas added. "The situation in Kufr Kana started to calm down, but anger grew again after a meeting between the mayor and Yitzhak Aharonovich," he said, referring to Israel's public security minister.
Adalah and the Higher Arab Monitoring Committee called on the Israeli government to dismiss Aharonovich. An Adalah press release notes the "direct connection" between Hamdan's killing and statements Aharonovich made the previous week.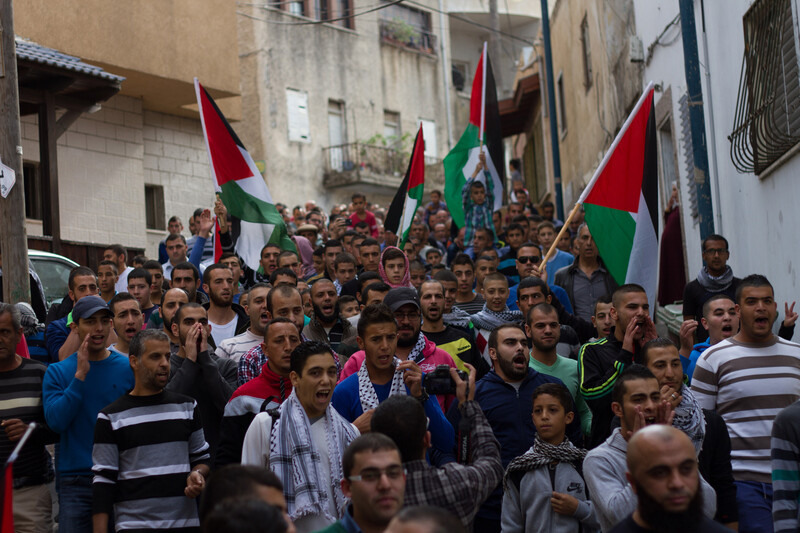 Adalah was referencing comments by Aharonovich after Israeli Border Police killed a Palestinian man who drove his car into a crowd of Israelis in Jerusalem on 5 November, killing a Border Police officer. The driver, Ibrahim al-Akri from the Shuafat area of Jerusalem, was shot and killed by another officer.
"The action of the Border Police officer who chased after the assailant and quickly killed him was correct and professional and that is how we want these incidents to end," Aharonovich said at the scene of the incident.
And in the case of the shooting of Kheir Hamdan in Kufr Kana, Aharonovich declared his support for the officers, despite the fact that the CCTV video footage showed that they had lied about firing a warning shot before killing the young man.
"The minister stated that anyone who attacks Israeli Jewish citizens should be killed immediately," the press release states. "In any democratic society that respects the life of its citizens, any government minister that makes statements such as those by Yitzhak Aharonovich should be immediately dismissed."
Citizenship threatened
Right-wing Prime Minister Benjamin Netanyahu declared his support for the police after Hamdan's shooting, and lashed out against the Palestinian minority in present-day Israel.
Referring to protesters in Palestinian areas across the country, Netanyahu declared: "Whoever doesn't respect Israeli law will be punished to the fullest extent. I will direct the interior minister to consider stripping the citizenship of those who call for the destruction of the State of Israel."
On 10 November, Netanyahu "invited" Palestinian citizens who protest against Israeli repression to move to the occupied West Bank or the besieged Gaza Strip.
"To all those who demonstrate against Israel and in favor of a Palestinian state, I say something simple: I invite you to move there; we won't give you any problem," he said, as reported by the Israeli daily Haaretz.
Extreme right-wing foreign minister Avigdor Lieberman called on the government to forcibly transfer Palestinian citizens residing in the Triangle region.
"Us here and them there. The Triangle must be part of the Palestinian state," Lieberman said, adding also that Palestinian lawmaker Haneen Zoabi, a member of Israel's Knesset, should be "behind bars."
Jaafar Farah, director of the Mossawa advocacy group, explained that "the atmosphere of delegitimizing the Arab community [in present-day Israel] comes straight from the prime minister" and is present at all levels of the government.
"A prime minister who urges us to go to Gaza is part of the problem," Farah told The Electronic Intifada, adding that police brutality and anti-Palestinian vigilante violence is the direct result of racist incitement by politicians.
"In the last three years, there have been more 'price tag' attacks across the country, and in seventy different events [protests], there have been violent attacks on Arab citizens."
Collective punishment
Meanwhile, in the occupied West Bank, including East Jerusalem, the United Nations monitoring group OCHA has documented a weekly average of 98 search and arrest operations so far this year. This is an increase of last year's rate of 75 operations per week.
Aminah Abdulhaq, advocacy officer for the Jerusalemites Campaign, a group that campaigns for the rights of indigenous Palestinians in that city, noted that the current presence of Israeli occupation forces "throughout East Jerusalem is the highest it's been since the second intifada," referring to the uprising that began in September 2000.
"Over the past several weeks, Israel has exploited recent incidents of violence to collectively punish Palestinian Jerusalemites and [stifle] their resistance efforts," Abdulhaq told The Electronic Intifada.
According to current Addameer figures, an estimated 6,500 Palestinians were already being held in Israeli prisons as of 1 October. Of those, 182 were children and 500 were administrative detainees held on "secret evidence" without charge or trial.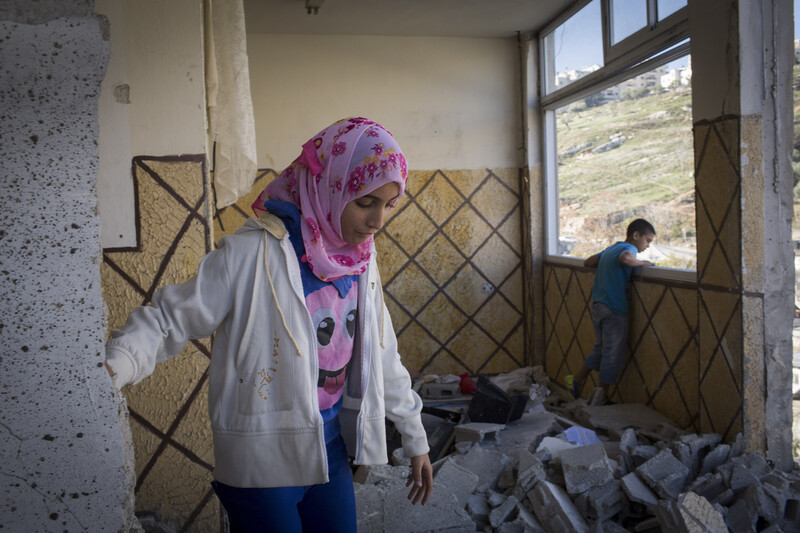 Today in Silwan, a Jerusalem-area village, Israeli occupation forces razed the family home of Abd al-Rahman al-Shaludi, who drove his car into a group of pedestrians in Jerusalem on 22 October. The crash killed one child and a woman, and injured seven other Israelis.
Israeli forces shot and killed al-Shaludi on site and subsequently labeled him a terrorist.
Demolishing Palestinian homes as a form of punishment was common practice by Israel until 2005, according to the Israeli human rights group B'Tselem, but it was largely discontinued by then Israeli defense minister Shaul Mofaz.
Under international law, punitive demolitions are considered "a war crime and a crime against humanity," according to the Palestinian human rights group Al-Haq.
B'Tselem and international human rights organizations such as Amnesty International also insist that punitive demolitions violate international law.
Israeli occupation forces reintroduced the policy in August, when the homes of two men accused of kidnapping and killing three Israeli teens were destroyed by Israeli soldiers using explosives in the West Bank city of Hebron.
Speaking to Israeli intelligence on Wednesday, Netanyahu threatened that "there will be more home demolitions" following the killing of four worshippers and a policeman at a Jerusalem synagogue yesterday, the right-wing Times of Israel reported.
Despite the mass arrests and a spike in attacks on Palestinians by Israeli occupation forces and settlers, protests have continued in cities, villages and refugee camps across the occupied West Bank.
Meanwhile, according to Mossawa's Jaafar Farah, as Palestinians in Israel are targeted by the police rather than protected by them, "we in the Arab community have had to start protecting ourselves … because there is no other option."
Patrick O. Strickland is an independent journalist and regular contributor to The Electronic Intifada. Find his reportage at www.postrickland.com. Follow him on Twitter: @P_Strickland_
Tags