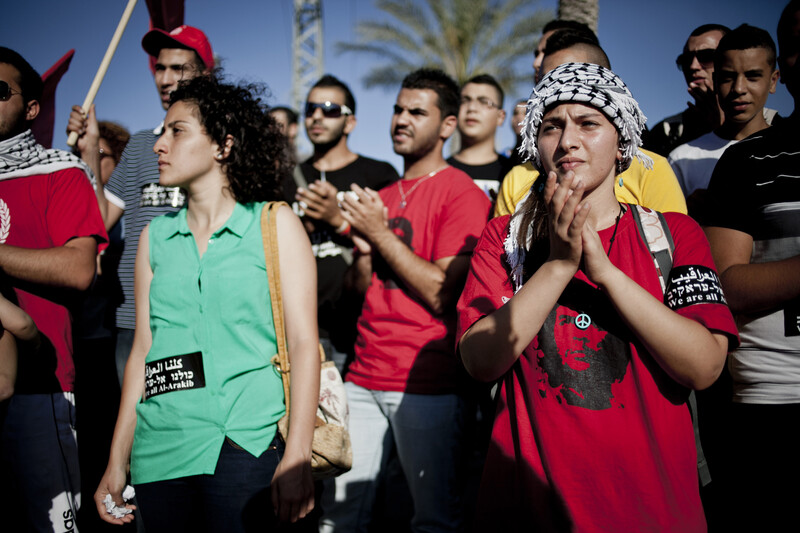 Local Palestinians have called for a three-day general strike in Rahat, a town in the Naqab (Negev) region of present-day Israel, after a youth was shot and killed by police late on Wednesday.
An Israeli police officer fatally shot Sami al-Jaar, in his early twenties, with live ammunition "on the patio of his home," according to an Arabic-language report published by Ma'an News Agency. Local leaders have also called for a strike throughout Israel after his funeral on Sunday.
The Ma'an report also noted several injuries during "clashes between local youth and police" following al-Jaar's slaying on Wednesday evening.
An Israeli police spokesperson told the agency that youth were "throwing stones" at officers and claimed that a police unit was investigating "drug smuggling" in the area at the time of the confrontation.
The spokesperson added that the youth's death is being investigated by Mahash, a department within the interior ministry tasked with probing allegations of police misconduct.
Sami's father, Mohammed al-Jaar, told Ma'an that although "the clashes were taking place in the al-Noor School Square across the street," the youth was "in the yard of his home when he was shot." He added that Sami's parents and sister witnessed his death.
Lufti al-Jaar, the victim's cousin, cast further doubts on the Israeli police spokesperson's claims. "The policeman who shot him was not in danger at all," he recalled. "He shot him in cold blood from about fifty meters away."
In present-day Israel, Lufti continued, "racism is growing day by day, and unfortunately, it's our youth who are paying for this racism with their blood," adding that Israeli police are "always trigger-happy" when it comes to Palestinians in Israel.
Institutionalized impunity
An estimated 1.7 million Palestinians live in cities, towns and villages across present-day Israel. Despite carrying Israeli citizenship, they suffer from more than fifty discriminatory laws that stifle their political expression and limit their access to state resources, according to Adalah, a Haifa-based legal center for Palestinians in Israel.
Although local representatives in the Naqab called for an impartial investigation into al-Jaar's killing, Israeli police who kill Palestinian youth enjoy institutionalized impunity, according to a report published by Adalah in September 2014.
Al-Jaar is the 49th Palestinian citizen of Israel to be killed by police since October 2000, when thirteen unarmed protesters were shot and killed during demonstrations at the outset of the second intifada.
Examining 11,282 complaints of police misconduct between 2011 and 2013, Adalah's report found that "93 percent of the complaints filed against the police were closed by Mahash with or without investigation."
In violation of Israel's own legal code, "Mahash closed most of the complaints without obtaining testimonies from the complainants and without investigation."
"Mahash continues to provide wide immunity to the police from being held to account, and protects them from disciplinary measures for their brutal acts of violence and repression," Adalah concluded. "This grants the police impunity for their actions, and is a factor that shapes the police force's use of violence against Israeli citizens, particularly against Palestinian citizens."
Execution caught on tape
In November last year, 22-year-old Kheir Hamdan was fatally shot by Israeli police during an arrest raid in Kufr Kana, a village in the Galilee region of present-day Israel.
As police arrested his cousin over a family dispute, Hamdan approached their car and struck it several times. Four officers exited the vehicle and one opened fire on him at point blank range, striking him in the torso several times.
Israeli police told media that Hamdan was shot "when he tried to stab an officer during an attempt to arrest him for throwing a stun grenade in the town." Police also claimed that officers initially fired warning shots.
Yet CCTV footage of the altercation disproved their claims, showing that no such warning shots were fired and that Hamdan, who attempted to flee as the officers exited their vehicle, did not pose a threat to their safety.
Hamdan's killing was defended by hardline right-wing Israeli leaders, such as Prime Minister Benjamin Netanyahu and Economy Minister Naftali Bennett.
When protests erupted in Palestinian areas across present-day Israel, Netanyahu declared his support for the police and said he "directed the interior ministry to consider stripping the citizenship of those who call for the destruction of the state of Israel."
Writing on Facebook, Bennett called Hamdan a "frenzied Arab terrorist," adding: "This is what we should expect from the police."
Homes demolished
Despite holding Israeli citizenship, Palestinians living in the Naqab region suffer from institutionalized discrimination, including regular home demolitions and systematic neglect.
According to the Association for Civil Rights in Israel (ACRI), some 80,000 Palestinian Bedouin live in communities that Israel refers to as "unrecognized villages" in that region.
Although many of these communities predate the Nakba — the 1948 ethnic cleansing of Palestine — ACRI notes that they "are denied basic services and infrastructure, such as electricity and running water."
Israeli policy aims to push the local indigenous population off its lands and into ghetto-like planned communities. The Prawer Plan, Israeli legislation that would have displaced tens of thousands of local Palestinians, was halted in December 2013 after widespread protests, including some in Rahat.
Yet home demolitions and the destruction of entire "unrecognized villages" have continued unabated since that time.
In September 2014, an Israeli minister claimed that the government is searching for ways to "lower the birthrate" of Palestinian Bedouins in the Naqab.
"We have to take all the Bedouin and get them out of the desert a bit and bring them closer to a normal state from the perspective of legislation, life expectancy, education and livelihood," Yair Shamir, the agriculture minister, said.
"Perhaps we could even deal with the phenomenon of multiple wives to reduce the birthrate and raise the standard of living," he continued, drawing on racist stereotypes of Bedouins.
Earlier this week Israeli authorities demolished the Bedouin village of al-Araqib for the eightieth time since 2010. "Residents of al-Araqib have repeatedly fled into their village cemetery and lived there after Israeli authorities bulldozed parts of the town, since they had been assured the cemetery would not be destroyed," Ma'an reported.
Tags