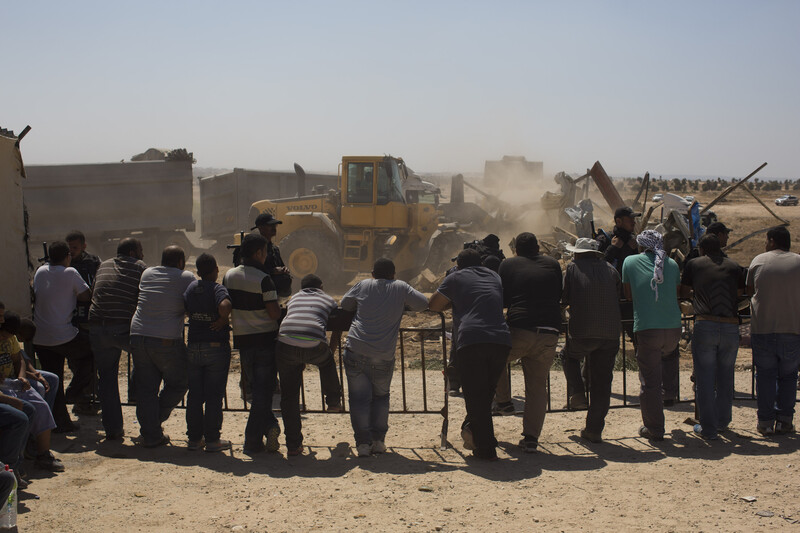 Israeli authorities demolished several Palestinian homes in the Naqab (Negev) region on Wednesday.
During the early hours of the morning, Israeli bulldozers razed three buildings in Um Beten and additional structures on the outskirts of Hura, villages located in the northern part of the Naqab region, the Arabs48 website reported later that day.
The southern Naqab region is home to approximately 160,000 Palestinian Bedouins, according to the Association for Civil Rights in Israel's estimates. As part of the estimated 1.7 million Palestinian citizens of Israel, they face more than fifty discriminatory laws that limit their access to state resources and stifle political expression, the Haifa-based Adalah Legal Center reports.
Demolitions continue
Yet in addition to these hardships, the Association for Civil Rights in Israel also notes that around 80,000 Palestinians in the Naqab live in communities that Israel refers to as "unrecognized villages," where they "are denied basic services and infrastructure, such as electricity and running water." Many of these communities predate the Nakba, the 1948 ethnic cleansing of Palestine. 
Israeli policy aims to push Bedouins off their land and into ghetto-like planned communities. The Prawer Plan, a program approved by Israel's parliament, the Knesset, intended to displace tens of thousands of Palestinians in the Naqab, according to Adalah's estimates.
After sparking outrage and widespread protests among Palestinians, Israel announced the cancellation of the Prawer Plan in December last year.
Arabs48 reports that "demolitions are still continuing" unabated in Hura and Um Beten, among other villages.  Such demolitions have also continued without pause across the entire region and, to a lesser extent, have also occurred in Palestinian communities in the northern part of present-day Israel.
A video of Wednesday's demolitions was published on YouTube:
"No improvements"
Though Israel claims "unrecognized villages" must seek state recognition in order to receive better treatment and services, a 2013 Adalah briefing paper found that more than a dozen villages that were retroactively recognized by Israel in 2003 were still being denied basic services a decade later.
The thirteen villages — known as the "Abu Basma" villages — "have seen little-to-no improvements" and "are still no better off than unrecognized villages a decade after receiving recognition," according to the briefing paper.
Eleven of the villages were still being denied water services, twelve had no paved roads, and only one was connected to the national electricity grid and received sewage treatment services.
Meanwhile, neighboring Jewish Israeli communities in the Naqab enjoy heavy state subsidization.
The Adalah briefing paper added that "the infant mortality rate among the Bedouin in the Naqab was 150 percent higher than the overall rate among Arab citizens of Israel, and 375 percent higher than the rate among Jewish citizens of Israel" between 2007 and 2009.
Learning in the dark
When children in present-day Israel began the school year on 1 September, many elementary schools in Bedouin villages of the Naqab were still not hooked up to the national electricity grid.
An Adalah press release published on 1 September explained Israel's continuing denial of basic services for Bedouin students in the Naqab:
The electricity company and the education ministry have repeatedly refused to connect the schools to the national grid. In July 2013, Adalah filed a petition to the supreme court [Israel's high court] to demand their connection, representing parents of students from seven Arab Bedouin schools (with a combined total of over 3,000 students) that still operate on private generators. These generators provide limited electricity that can be disrupted for several hours, therefore hindering the use and operation of computers, Internet services, air conditioners, and other necessities.
Israel justified its denial of basic services to these areas by pointing to their lack of bomb shelters and protected areas to shield them from rockets fired by Palestinian resistance groups in the besieged Gaza Strip.
"The [electricity] company claimed that its work required additional construction work due to new plans to build roads in those areas, and that this would take many months," the Adalah press release states. "The company also stated that it received orders from the Israeli military to refrain from conducting construction work in open areas that do not have shelters and safe places to protect them from bombing."
No protection 
Palestinian villages across the Naqab have sought bomb shelters for years, but the government has systematically denied their requests, as Rania Khalek reported in July for The Electronic Intifada.
Talab Abu Arar, a Palestinian parliamentarian in Israel's Knesset, said Israel's policy of demolishing homes can be observed in both the occupied West Bank and Gaza and in present-day Israel.
"After the ceasefire that ended the war of demolishing homes in Gaza, Israeli authorities renewed the demolition of Arab homes in the Naqab and Arab villages and placed signs on the property of residents in Wadi al-Naam claiming that they are on state property," Abu Arar told Arabs48.  
Abu Arar, who represents the southern branch of the Islamic Movement in present-day Israel, said Israel also denied locals "support and help during the war [on Gaza in July and August], and while rockets landed on Arab villages in the Naqab families were not given shelter and didn't have roofs over their heads." 
Tags