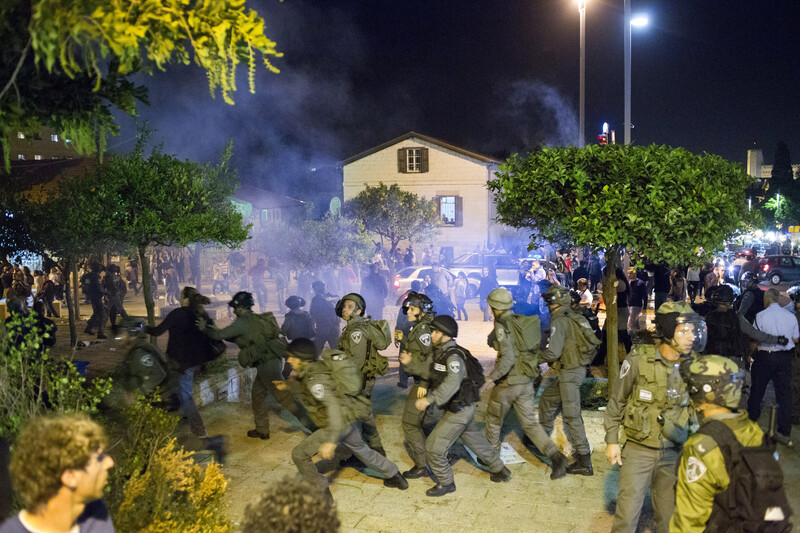 The Israeli government's announcement last week that it has withdrawn proposed legislation to forcibly displace tens of thousands of Bedouins from the Naqab (Negev) desert represents a small victory for all who have opposed the ongoing ethnic cleansing of Palestine.
Yet it is important to underscore that while the Prawer Plan bill has been withdrawn, at least for the time being, the plan on which these moves are based has not been fully abandoned. Nor should those who encountered state brutality during the protests against the plan — some of which was captured on video — be forgotten.
Thousands of protesters were met by a huge force of police on Day of Rage against the Prawer Plan on 30 November; the human rights group Adalah reported 27 arrests in Haifa, and 26 in the Naqab, of whom four were minors ("Update on Detained Anti-Prawer Demonstrators in the North and the Naqab," 3 December). The Yasam force, a militarized unit of the Israeli police, was deployed against demonstrators.
The state also tried to stop the protests through its domestic spy agency known as the Shin Bet by sending threatening letters to activists prior to the demonstration to deter from participating and organizing. Adalah and the Association for Civil Rights in Israel described it is an attempt to "sow fear among the young people who are exercising their right to protest against dangerous government policies and expressing their opinion on the eve of the Knesset's vote on the Prawer Plan, in order to prevent them from engaging in civil political activity" ("Adalah and ACRI: The Shabak is Trying to Sow Fear among Anti-Prawer Plan Activists," 28 November).
Waseem Kheir is among the Palestinians whose cruel treatment by Israel has been ignored.
A young playwright from the Druze religious minority in present-day Israel, Kheir has previously been imprisoned for refusing to serve in the Israeli army. He had joined the Day of Rage demonstration against the Prawer Plan in Haifa on 30 November.
About half an hour before the protest ended, Kheir told The Electronic Intifada, he was approached by a militarized policeman in riot gear. Lifting up his mask, the policeman asked, "Do you remember me?" Kheir had been hit and pushed around by this policeman at a previous demonstration in support of Palestinian political prisoners.
As the demonstration was wrapping up, Kheir walked towards where his car was parked in the German Colony area of the city, along with his father. They had intended to go to al-Midan theater, where one of Kheir's plays was being performed.
Attacked
"I heard a scream, 'Here he is, get him!' And five or six soldiers attacked me," Kheir said, referring to the militarized police forces. "They hit me on the head and body using their fists and sticks. Then they handcuffed me and took me to a cell" in a nearby detention center known as Ben Gurion.
At the station, Kheir saw two other young activists, Sabreen Diab and Suheer Asad. "Sabreen was shouting in pain because her arm and leg were broken," said Kheir. "When both Suheer and I told them to back off, they pulled each each of us to different cells and I heard Suheer scream.
"They beat me until I threw up from pain and almost fainted. They were screaming at me, 'If you're not happy here, leave this country.'
"After that they moved us to the main prison in Haifa. There, they deprived us of food and medical care. They even stopped us from going to the bathroom.
"In the prison, we were ten guys in a small cell. We barely had room to stand. It was humiliating. And it was very cold."
When taken to court the next day, Kheir complained about his treatment and told the judge that he was in pain. The judge requested that he be taken to hospital straight away. Yet it wasn't until 3am in the morning — some 33 hours after he was attacked — that Kheir was brought to hospital.
"When I got to the hospital the doctors kept me for the night, and diagnosed a brain concussion and severe bruises in my arms and legs, back and stomach," he said.
While Diab and Asad were released on bail the day after their arrest, Kheir and a number of other protesters were remanded in custody. Police officers had alleged that they were attacked by the protesters and that they had disturbed public order by taking part in an unauthorized demonstration.
Kheir was once again in court two days after his arrest. He and another man, Omar Abd al-Kader, were placed under house arrest on 8 December.
"Fear doesn't work"
Suheer Asad told The Electronic Intifada that she was verbally threatened after she was placed in a cell on her own in the Ben Gurion center. "One soldier said, 'I will rape you' with his face close to mine," she said, referring to a policeman from the Yasam unit.
"They hit me with their fists. I could still hear Sabreen crying from pain in the other cell. The armed soldier hit my legs with a chair, all while I was handcuffed. It was very painful.
"When we were moved to the Haifa police station, I was put in a cell with Sabreen, who was still handcuffed with her broken arm. They even made her go to the bathroom with the handcuffs on.
"Later that night they took her to the hospital and the doctors put her hand in a cast."
Instead of condemning these acts of violence, Israeli Prime Minister Benjamin Netanyahu encouraged these acts against Palestinian protesters, telling Israeli media: "We will try the offenders to the full extent of the law. We will not tolerate such riots. We shall continue to advance the Prawer Bill" ("Protesters clash with police over Bedouin resettlement plan," YNet, 30 November. According to Adalah's 3 December update, Netanyahu's statement demonstrates that the arrests were politically motivated to suppress opposition to the Prawer Plan.
Rawan Eghbareyeh, a lawyer and protest organizer, said that the violence by Israeli forces was intended to pressure Palestinians into ceasing political activities.
"Their fear doesn't work any more," Eghbareyeh added. "We are more educated [than previous generations]. We have no fear. And we know our rights as citizens."
Sawsan Khalife' is a political activist and journalist from Shefa Amr in the Galilee region of Palestine.
Tags