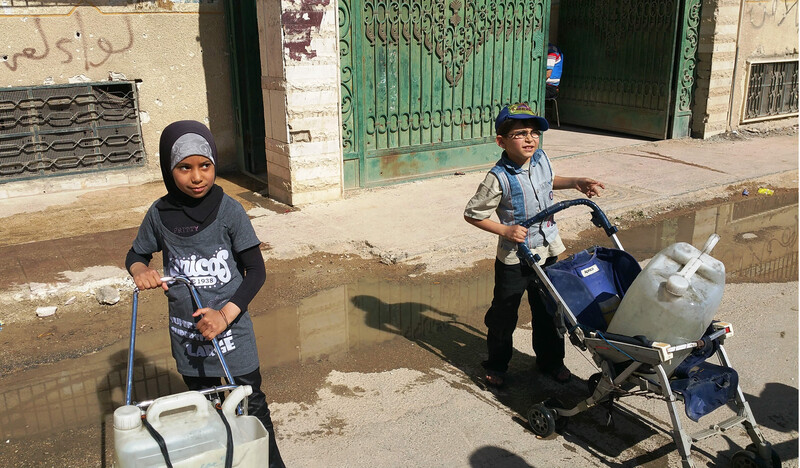 The embattled Palestinian refugee camp of Yarmouk in Syria has been hit by a typhoid outbreak, according to the United Nations.
At least 11 cases of typhoid were confirmed after the UN agency for Palestine refugees, UNRWA, gained access to the neighboring area of Yalda — where many camp residents have sought refuge — for the first time since early June.
"Given the conditions in Yarmouk we fear this is the tip of the iceberg," UNRWA spokesperson Chris Gunness told The Electronic Intifada. "Never has the imperative for sustained humanitarian access been greater."
As fighting intensified between rebel groups and Syrian government forces, President Bashar al-Assad's regime imposed a tight siege on Yarmouk in December 2012. Although the UN recently said that the camp was no longer under siege, the reality on the ground has only continued to worsen.
Located in southern Damascus, Yarmouk is the largest Palestinian refugee camp and was once home to nearly 200,000 people. Today, however, a mere 5,000-8,000 people remain in the camp, according to Yarmouk-based humanitarian group the Jafra Foundation for Relief and Youth Development.
Eating stray animals
UNRWA lost access to Yarmouk on 28 March, shortly before fighters from the Islamic State (also known as ISIL or ISIS) invaded the camp and captured an estimated 90 percent of it.
Although many of its fighters withdrew shortly after, local residents say that ISIS maintains a presence, as does Jabhat al-Nusra, the Syrian affiliate of al-Qaeda.
"We have grave fears and concerns about the state of public health among the civilian population and we again make a strong demand for full humanitarian access," Gunness said. "Without it, it is inevitable that there will be continued and widespread human suffering."
The government first bombed Yarmouk in December 2012, killing dozens and causing thousands to flee. Wessam Sabaaneh, Jafra's youth director, says that the regime's siege of the camp started at that time.
"That's when they put up a Syrian army checkpoint and started regulating everything," he told The Electronic Intifada. "With little access to medicine, food, water — to anything — around 172 mostly older people and children have died [until now]."
As the food supply first dried up, some reports said that camp residents resorted to eating stray animals in order to survive. Eventually, many resorted to eating dirt and grass.
Residents now struggle to eat grass. "Even picking a few blades of grass isn't allowed," Umm Ahmad, who lives in Yarmouk, told Syria Deeply last month. "The [regime] snipers shoot anyone who gets close."
Assassinations
Since Jabhat al-Nusra and ISIS began occupying large swaths of the camp, those groups have launched a campaign of assassinations against Palestinian political leaders, activists and humanitarian workers.
At least 30 people have been assassinated since April, according to Sabaaneh. In June, Mustafa al-Sharaan, a Hamas leader, was fatally shot as he exited the mosque after evening prayers, according to an Arabic-language report in Shasha News.
With pro-Assad armed groups — including Fatah al-Intifada and the Popular Front for Palestine-General Command — on the other side, local residents are stuck in the crossfire.
The typhoid outbreak comes at a time when at least 947 Palestinians are in the Syrian regime's prisons and another 277 are believed to have been abducted, according to the UK-based Action Group for Palestinians in Syria.
Nearly half a million Palestinian refugees are spread across 13 refugee camps in Syria. Most have been internally displaced within Syria since the conflict in that country began in 2011. Nearly 3,000 Palestinians have been killed throughout the more than four years of fighting in Syria, the Action Group adds.
"With all this, no one in the world mentions the easiest and most just solution," Sabaaneh said. "None of this would be happening to Palestinians in Syria if they were allowed to return to Palestine. The world doesn't dare to mention that." 
Tags