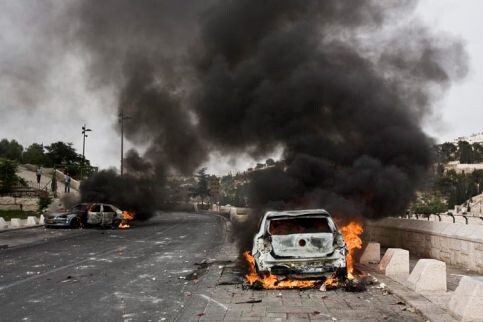 SILWAN

, occupied East Jerusalem (

IPS

) - Tension, the twisted carcasses of gutted vehicles, buses with smashed windows, smoldering dumpsters, streets riddled with rubber-coated steel bullets and empty cartridge cases, tear gas and air thickened with black soot from burning tires marked the beginning of the fifth day Monday of continuous demonstrations in East Jerusalem.

A Palestinian man was killed by an Israeli settlement security guard in disputed circumstances, a Palestinian toddler asphyxiated on tear gas and dozens of Palestinians were injured by beatings, rubber-coated metal bullets and tear gas inhalation.

The East Jerusalem neighborhood of Silwan has been tense for months with clashes breaking out between protesting Palestinian youths and Israeli security forces on a regular basis.

Jerusalem municipality has demolished many Palestinian homes. The planned demolition of dozens more homes, the eviction of many Palestinian residents and the pending eviction of hundreds more to make way for illegal Jewish settlements and a Jewish theme park has led to a time-bomb waiting to explode.

The spark that ignited the flame took place last Wednesday morning at approximately 5am when father of five, 31-year-old Samer Sarhan was shot dead on his way to work following a confrontation with Israeli security guards outside the City of David Israeli settlement.

The Israeli authorities claimed the security guard in question had killed Sarhan in "self-defense" when his life was in danger after his vehicle was pelted with stones. Palestinians claim there was a verbal altercation and then a fist fight after which the fleeing Sarhan was chased by the security guard.

In an all too familiar scenario a growing number of unarmed Palestinians have been shot dead by armed Israelis in situations that critics and human rights organizations argue are questionable at best and deliberate executions at worst.

Furthermore, eyewitnesses who watched the security guard re-enact the circumstances of the deadly shooting for police, reported the guard stopping at several different locations where he allegedly opened fire after chasing Sarhan.

It wasn't long before Silwan erupted into violence as news of the killing spread like wildfire through the neighborhood. The rioting then spread to neighboring areas of East Jerusalem.

IPS attended the funeral of the dead man, which was held the same day, as did about 1,000 mourners. The anger was palpable and the atmosphere tense. Groups of heavily armed Israeli special forces were placed on high alert and observed proceedings from strategic vantage points looking down on the Silwan valley.

Israeli settlers opened fire at the funeral procession as youths threw rocks and Molotov cocktails at their homes. Two Israeli police vehicles were gutted by Molotovs and several Israeli buses had their windows smashed by mourners during the funeral.

As the ensuing violence over the next four days spread to large parts of East Jerusalem, 14-month-old toddler Muhammad Abu Sneneh became the latest casualty after he was asphyxiated by tear gas.

His parents accused the Israelis of negligence saying that Israeli soldiers and police had prevented ambulances from evacuating the boy to hospital. Instead the boy was treated at a local clinic but died several hours later at home.

The timing of the clashes — just days before Israel's moratorium on illegal settlement building in occupied East Jerusalem and rest of the occupied West Bank was due to expire and Israeli-Palestinian peace talks were due to resume was just too coincidental, argue some.

Some Palestinians are speculating that an increase in the provocative behavior of Israeli settlers in East Jerusalem is a fifth-column strategy by the Israeli government to derail peace talks and ease international pressure on Israeli Prime Minister Benjamin Netanyahu to cease settlement building and expansion.

"These provocations are calculated and violent acts with a political goal," Dimitri Diliani, a Fatah Revolutionary Council member, told IPS.

"The sequence of settler attacks against the Palestinian civilian population increased in severity and frequency as the settlement moratorium approached with the accompanying international pressure on Israel."

"Israel will use the clashes as an excuse to portray itself once again as the victim, and to argue that its security is in jeopardy. A senior Israeli [army] member actually claimed that the growing grassroots civil movement and the strategy of nonviolence as espoused by the Palestinian leadership posed a public relations problem for Israel. He further argued that it was easier for Israel to argue its case to the world when Israeli civilians were the victims of Palestinian attacks," said Diliani.

Abed Shaludi, a member of the Bustan Committee Against Home Demolitions, agrees with Diliani's assessment, saying that the settlers are trying to provoke an uprising.

"We are sick of the settlers and the situation. Our economical situation is weak, there are insufficient schools for our children, the settler guards walk in groups and intimidate the citizens by cursing at them and threatening them with guns. I knew it was just a matter of time before one of them eventually killed a Palestinian," Shaludi told IPS.

But it appears the Israeli policy to Judaize East Jerusalem and drive the Palestinians from their homes will backfire.

"We will not leave our homes under any circumstances," says Fakri Abu Diab, a spokesman from the Bustan committee. "My home is also slated for demolition. But they will have to kill me first. I would rather be dead than see my children forced to live on the streets," Abu Diab told IPS.

All rights reserved, IPS — Inter Press Service (2010). Total or partial publication, retransmission or sale forbidden.