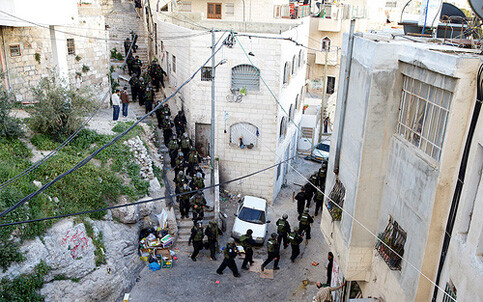 Silwan, Occupied East Jerusalem (

IPS

) - Three thousand heavily armed Israeli security service forces locked down large parts of the Old City of Jerusalem on Tuesday, as battalions of police fired rounds of tear gas and rubber-coated steel bullets at Palestinian protesters in the occupied eastern part of the city. Nearly 40 Palestinians were wounded and treated at nearby hospitals, as 25 were arrested during intense clashes.

Protests were aimed at the Netanyahu administration's announcement of expanded illegal settlement construction in occupied East Jerusalem and the five-day closure of the al-Aqsa Mosque compound and Palestinian institutions within the Old City. Fundamentalist settler groups held an opening ceremony for a synagogue constructed against the al-Aqsa Mosque compound, which was seen as a provocation to the Palestinian community in the area.

Clashes took place in several areas of occupied East Jerusalem, including Shuafat refugee camp, Wadi Joz and Silwan. This comes on the heels of accelerated attacks by Israeli forces and Jewish settlers inside Silwan in particular, directed towards the community's youngest and most vulnerable population. Since January, at least 33 children from the area have been arrested, detained and interrogated by Israeli forces as home demolitions and settler takeovers continue apace.

Muslem Odeh, 10, tells IPS that he was taken by Israeli forces on 11 March at 3am, after police broke into the family's home in Silwan's Bustan neighborhood and pepper-sprayed his father who attempted to protect him. "They were banging on the door, and demanded I come with them. They told me that I had thrown stones at a settler. But I never threw stones."

Guards inside the interrogation center took Muslem around the jail and showed him the cells, threatening to hold him in one of them if he did not confess to throwing stones. At one point during the six-hour interrogation process, Muslem asked a guard if he could go to the bathroom. The guard refused. "I said, 'would you let me go if I were a Jewish child?'" Muslem tells IPS. "And the guard was ashamed. He finally let me use the toilet."

Muslem's mother, Hiyam Odeh, says that her son's behavior has changed dramatically since his arrest and interrogation. "He can't sleep at night. When he does, he has intense nightmares. He has had hallucinations of police at the window who threaten to grab him," she tells IPS. "Muslem and other children in Silwan are very distracted at school. They worry about whether they'll be able to return home without getting attacked or taken by the police or whether they'll even have a home to return to at the end of the day."

Murad Shafaa of the Committee to Defend Bustan Neighborhood says that Silwan is on the front line of Israeli settlement expansion policy in occupied East Jerusalem. "In Bustan, these Israeli attacks have created an enormous stress on the community," he tells IPS. "The children have been especially affected by the tension, to the point where they take their favorite toys and clothes with them to school because they fear that at any point their house could be demolished."

"The Israeli forces are threatening the families through the children," Shafaa continues. "In the cases when the police come in and arrest the children, they will only release them on an expensive bail, and every day, the community continues to fear what will happen to their kids."

Sarit Michaeli of B'Tselem, the Israeli Information Center for Human Rights in the Occupied Territories in Jerusalem, says that the treatment of youth by Israeli forces has raised serious concerns regarding the overall protection of the rights of minors within the Israeli military court system.

"Children should be afforded extra protection under international law," Michaeli says. "However, Palestinian children who are arrested for allegedly throwing stones are being detained at very young ages. Palestinians are tried as adults at 16 years old, in contrast to the age of 18 for Israeli minors. They're being held inside prisons with the adult population."

Michaeli remarks that in the context of the increasingly tense situation in Silwan, Israel's policies of nightly raids and arrests of children especially in the Bustan neighborhood adds to the pressure on the Palestinian community who already face imminent threats of home demolitions. She says that because the Jerusalem municipality places severe restrictions on the ability of Palestinians to obtain legal building permits in their communities, Israeli police present the policy of home demolitions as simply a matter of law enforcement.

"But the Jewish settlement expansion remains constant," she says. "And Palestinian children, in places such as Silwan, are facing disproportionate measures of punishment inside the Israeli justice system."

Defence for Children International (DCI)'s Palestine office reports that Israel's policy of arresting children is happening at an aggressive rate throughout the occupied West Bank and occupied East Jerusalem.

In a recent press release, DCI says that there are six Israeli prisons that currently hold approximately 350 Palestinian children under the age of 17. "All but one of these prisons [Ofer Prison] [are] inside Israel, in contravention of Article 76 of the Geneva Convention." Moreover, adds Abed Jamal of DCI's Hebron office, "arresting, detaining and imprisoning Palestinian children is in direct violation of the United Nations Convention of the Rights of the Child."

The Netanyahu administration, for its part, announced that it will not backpedal on its plans to continue settlement expansion in occupied East Jerusalem. "These policies of arresting and interrogating Palestinian children are meant to break the spirit of the child and their families," Hiyam Odeh says. "But we are a strong community. We will remain steadfast, and we will not leave our homes."

All rights reserved, IPS - Inter Press Service (2010). Total or partial publication, retransmission or sale forbidden.