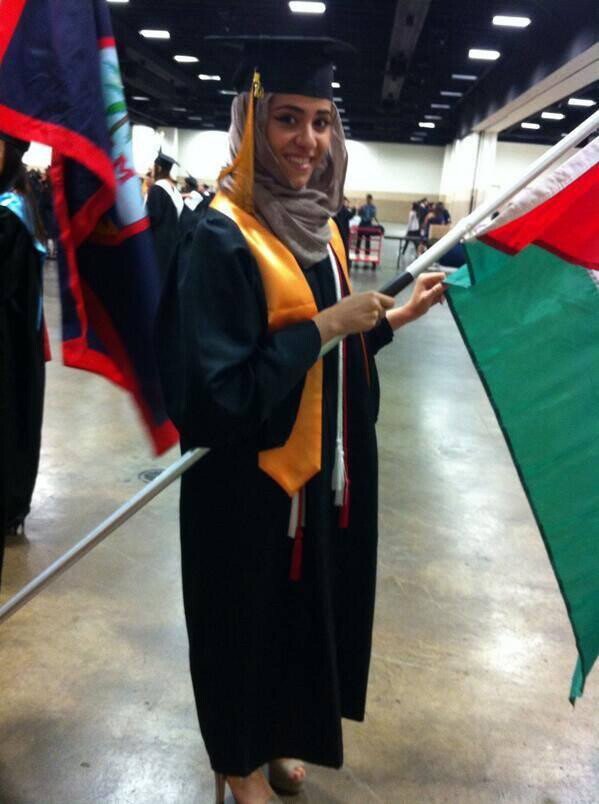 Malak Abdallahi had to fight to be allowed carry the Palestinian flag at her graduation ceremony in Texas earlier this month.
She overcame opposition by administrators at the Fossil Ridge High School just outside Fort Worth.
Officially, the school is happy to celebrate the diverse origins of its students by displaying the flags of numerous countries during the graduation procession.
When Abdallahi decided that she wished to have her Palestinian identity recognized during this year's ceremony, she went first to her vice-principal Buddy Read. He told her that there shouldn't be any problem with obtaining a Palestinian flag for the event.
A few days later, the vice-principal called her into his office where he informed her that the administrators were not comfortable with her carrying the Palestinian flag. Abdallahi was shocked but did not know how to respond. "I'm not one to argue, and I didn't want to come off aggressive, immature, or unprofessional," she said.
Abdallahi decided at that moment that she would fight for her right to represent her homeland, but she needed some time to prepare her response.
"Uncomfortable"
She asked Read for an explanation. Read informed her that there was a conflict and that she could not carry the Palestinian flag, she recounted. He explained that her commencement is a public ceremony and that the administrators did not want to make any of the attendees uncomfortable.
"He was so uncomfortable and couldn't look me in the eye," Abdallahi said. "He offered that I could carry another flag. I told him that if he was trying to suggest Israel, then no thank you."
After her meeting with Read, a visibly upset Abdallahi was stopped by one of her teachers who inquired about what was bothering her. She recounted the conversation that she had with Read. Her teacher encouraged her to resist the administration's decision, to involve her parents and reminded her that she, like any other student, deserved the opportunity to carry her country's flag.
She spoke to her older sister, who had been denied the same opportunity a few years earlier. Her sister suggested that she get in touch with local Palestinian activists who would be willing to help her fight this decision.
A few more of Abdallahi's teachers learned of the administration's refusal to let her carry the Palestinian flag and quickly offered their help and encouragement. Her boxing coach encouraged her to bring this issue before the head principal David Hadley.
She informed Read that she was appealing his decision to Hadley.
Asked for a comment, Read told The Electronic Intifada that the "only obstacle" to accommodating Abdallahi was a question of "how do we interpret the combination of allowing the student to represent her heritage versus what the political climate is."
Read admitted that "my initial answer" to Abdallahi's request was "no." He added: "I didn't feel strongly about it. I was simply going on my interpretation of the district rules."
Read said that he provided advice to Abdallahi on how she could appeal against his decision. "I applauded her for her perseverance for pressing this on," he said.
Abdallahi worked with a local Palestinian activist to draft a letter to Hadley. She tried on several occasions to make an appointment to meet with Hadley but didn't receive one.
Finally, she emailed Hadley directly. Hadley replied that he would speak with her the next day.
"I cornered him on Monday and entered his office," she says. "I didn't want to come off as stubborn, but I needed [the administration] to understand how important this is and that other students would make requests to carry other flags too."
"We'll deal with it"
Abdallahi told him that US foreign policy should not define which students are permitted to participate in the flag ceremony and insisted that students from all backgrounds be entitled to equal treatment, whether they be from North Korea or an indigenous American tribal nation.
Hadley replied that the school's administrators had met earlier that morning and discussed if the Palestinian flag should be included in the procession. Hadley told her that there was a particular individual who was especially opposed to Palestine being represented. The person's opposition was based on the United States' political decision not to recognize Palestine as a sovereign state.
Abdallahi told Hadley that she was being denied her right to self-expression and being targeted because of one person's narrow-minded views.
Hadley assured her that he would make his decision based solely on the high school's mission and eventually agreed to have Palestine represented at the ceremony. "We will buy you a flag and if someone gets upset, we'll deal with it," he said, according to Abdallahi. "It's your graduation and you have a right to represent your heritage."
Abdallahi was overjoyed. "I cried. I felt so Palestinian. You can go to Palestine or any other place and eat their food and breathe their air, but it's not until you do something in their name that you feel that pride."
And so, Abdallahi marched through the Fort Worth Convention Center on 8 June, carrying the Palestinian flag. It was a small victory but not an insignificant one.
Editor's note: this article was originally published under an incorrect byline. It has since been corrected.
Fidaa Elaydi is a Palestinian boycott, divestment and sanctions (BDS) activist and law student.
Sami Kishawi contributed to this report.
Tags