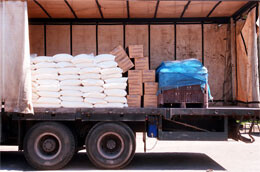 JERUSALEM, 30 January (IRIN) - Vulnerable refugees in the Gaza Strip could soon be without an important source of protein, as canned meat has not been imported into the enclave in recent days and supplies from the UN agency for Palestine refugees, UNRWA, are about to run out, a UN official who requested anonymity said on 30 January.
"Canned meat is a major part of our food parcels, and is the only source of protein in the UNRWA food package," Christopher Gunness, an UNWRA spokesman told IRIN.
"The trucks can't get through because of the snow," said Moshe Krief, a spokesman for the Israeli Ministry of Defence, noting the somewhat rare — and heavy — snowfall in Jerusalem and the surrounding area.
However, aid workers said the snowstorm had been expected, and that the trucks should have been allowed to move in over the past few days, before the weather made it impossible.
The ban on the entry of commercial trucks, in effect since 18 January, continued this week, adding to a shortage of available supplies of protein-rich foods. Even fishing off Gaza's coast is restricted.
"If the canned meat doesn't get in today [30 January], people [receiving UNRWA food parcels] won't have protein in their diets tomorrow," Gunness said.
The four lorries with the UNRWA meat were being held up in the West Bank.
UNRWA feeds about 860,000 Palestinian refugees a day and the World Food Programme (WFP) provides for about 300,000 people, out of a total population of about 1.5 million in the Gaza Strip. However, their aid packages can only meet 65 percent of food needs, making commercial imports vital.
WFP increases caseload
The WFP has increased its caseload, adding about 40,000 people to its list of beneficiaries in recent weeks, as food insecurity in the impoverished enclave continues to rise.
While the pictures broadcast around the world showed Palestinians bringing in supplies from Egypt via the Rafah crossing breached last week, aid workers insist that only a small amount of essential items got through.
"Access to Egypt and its shops may have provided some psychological respite from the closure of the Gaza Strip but 1.5 million Gazans still rely on Israel for all their supplies," a UN Office for the Coordination of Humanitarian Affairs situation report dated 29 January said.
The WFP has brought into Gaza nine trucks of food aid since 18 January, when Israel stepped up its lock-down on the Strip. In the seven months prior to that it had managed to import about 15 truck-loads daily.
Before June 2007, when Hamas took over Gaza, about 250 commercial and aid trucks went in daily, and even then the crossings were not operating at full capacity.
"An unhindered supply of humanitarian goods is vital in order to avert a serious food crisis in Gaza," WFP spokesperson Kirstie Campbell said.
Currently, WFP is short of sugar, salt and chickpeas, while the entire territory is experiencing a lack of grain and fresh meat. The wheat flour problem could possibly be attributed to traders hoarding supplies, hoping food prices will continue to rise.
Ghazi Hamad, a spokesman for Hamas in Gaza, told IRIN: "It is not easy to control food prices," due to recent chaos at the Rafah border but also uncertainty over future imports.
This item comes to you via IRIN, a UN humanitarian news and information service, but may not necessarily reflect the views of the United Nations or its agencies. All IRIN material may be reposted or reprinted free-of-charge; refer to the copyright page for conditions of use. IRIN is a project of the UN Office for the Coordination of Humanitarian Affairs.
Related Links