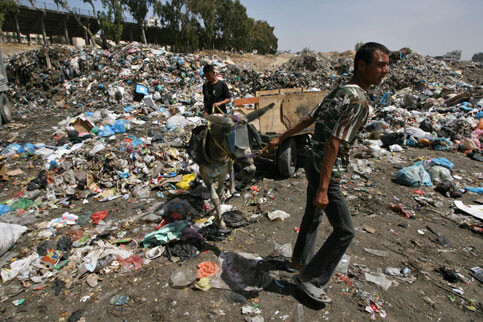 JERUSALEM
/
GAZA
, 28 April (
IRIN
) - The
UN
has stopped distributing food in the Gaza Strip as its main agencies have run out of fuel for vehicles. To make matters worse, many bakeries in the enclave were closed on 28 April as they had run out of gas.
The World Food Program (WFP) and the UN agency for Palestine refugees, UNRWA confirmed they had not delivered food aid since 26 April, with the latter saying it had also stopped refuse collection.
The head of UNRWA in Gaza, John Ging, told IRIN efforts were being made to get fuel to the UN, but said "a solution for the UN's needs is not a solution for all of Gaza."
Several aid agencies, including Medicins Sans Frontieres (MSF), have also halted some work due to the lack of fuel.
"The cessation of our activities may result in a severe deterioration of all of our patients' general state of health," said MSF's Duncan McLean.
Health workers had trouble getting to work, and up to 40 percent of staff were absent in some hospitals, according to MSF. Students and teachers had the same problems reaching schools.
Ambulances were short of fuel, and hospitals said they did not have enough for their backup generators, which are crucial when the power cuts out.
Cooking gas shortage
Cooking gas is no longer available at official outlets as very limited supplies have been delivered since a 9 April attack by Palestinian fighters on the Nahal Oz fuel border crossing.
Kirstie Campbell, a WFP spokeswoman, told IRIN from Gaza that some 80 percent of the enclave's population was living in poverty and most of them required food aid, particularly as unemployment remained high.
People have also become more reliant on basic food products, and have severely reduced consumption of expensive goods like fresh meat.
"Now these people, reliant on these basics of life — flour, sugar, oil, chickpeas and salt — are even unable to cook them," Campbell said.
Some 90 percent of Gaza's bakeries run on cooking gas, and most in the southern Gaza Strip have shut down due to the lack of fuel.
There are also growing concerns over an impending grain shortage in the enclave, due to Israeli-imposed restrictions on imports.
The agriculture sector was also suffering, as it lacked fuel needed to pump well water for irrigation, and prices of vegetables continue to rise.
Dozens of farmers and fishermen blocked a shipment of fuel for UNRWA last week, saying the UN agency should not be given priority.
Strike
This further complicated Gaza's fuel crisis which is a result of Israel's strict limitations on imports and a strike by the enclave's fuel importers who are protesting against the restrictions. Attacks by Palestinian fighters on the crossings have also made it harder for the Israeli side to get fuel into Gaza.
Israel has accused Hamas, which rules the enclave, of organizing the strike to create a humanitarian crisis — charges which the Islamic group denies.
"The private sector took the decision to strike. There is no coordination between the government and the importers," Fawzi Barhoum of Hamas told IRIN, adding that the movement was urging the businessmen to end the strike.
While some observers have questioned if the strike could take place without Hamas' approval, the fuel importers, in apparent defiance of the government's wishes, said they would not end the strike until Israel agreed to let in more fuel.
"We work for no government," Mahmoud Khozondar from the association told IRIN.
Robert Serry, the UN special coordinator for the Middle East Peace Process, condemned attacks on the crossings and called on Israel to "restore adequate supplies of diesel and benzene for the civilian population of Gaza in accordance with international law."
This item comes to you via IRIN, a UN humanitarian news and information service, but may not necessarily reflect the views of the United Nations or its agencies. All IRIN material may be reposted or reprinted free-of-charge; refer to the copyright page for conditions of use. IRIN is a project of the UN Office for the Coordination of Humanitarian Affairs.
Related Links