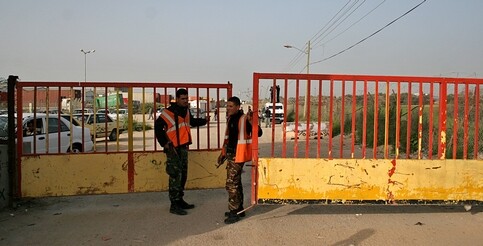 An important commercial crossing from Israel into the Gaza Strip could be re-opened next week, Israeli officials told
IRIN
, allowing vital food supplies into Gaza.
The Karni crossing to the west of Gaza City is the only cargo terminal designed for the passage of large containers into the Strip and as such is vital for food supplies. It has been closed almost constantly since September, according to John Ging, the head of the United Nations Relief and Works Agency (UNRWA), which feeds 860,000 refugees in Gaza.
"There's no substitute for the [Karni] commercial crossing. There is no comparable alternative in terms of quantity. That is the weakness of the Gaza Strip. We are talking about hundreds of containers," said Ging.
Israel closed the crossing shortly after one of its soldiers was captured by Palestinian militants on 25 July, saying it discovered a tunnel that could be used to attack its border personnel. The crossing has been opened intermittently since then but the soldier is yet to be recovered.
"We had to close the checkpoint because we have civilians working there and we don't want them killed by the Palestinians," said Shlomo Dror, spokesman for Israel's Government Coordination Office, which monitors the humanitarian situation in the West Bank and Gaza Strip.
However, Dror said security and functional improvements to Karni were almost complete. "We are checking the system and we hope to open next week. The movement of containers will be much better than before," he said.
The revamped Karni will be able to process between 800 and 2,000 ship containers of food every day, Dror said. "We have invested a lot of money in this. It is the only way Gaza's economic situation can improve," he added.
The news comes as the World Food Programme (WFP) reported that 35 percent of Gazans do not have enough money to buy food, while 25 percent only just have the means. WFP's Comprehensive Joint Food Security Assessment report found Gaza's central Deir Al-Balah governorate to be the worst affected, with almost three-quarters of the population defined as food insecure.
More than a million of the Gaza Strip's 1.4 million inhabitants rely at least in part on food handouts from the UN to survive.
For the first time, urban areas in northern Gaza were also suffering from an uncertain supply of food, said the report. "Unemployment is very high and the private sector has been badly hit by the situation [the 10-month economic embargo and four-month military clampdown in Gaza]," Kirstie Campbell, WFP spokeswoman, said.
Many Gazans do not get enough protein because of tight fishing restrictions on the Gaza coast. Israel says these are necessary to ensure a kidnapped Israeli soldier is not smuggled into Egypt.
"The situation could deteriorate very rapidly," said Jacques Higgins, the WFP's deputy country director for Gaza and the West Bank.
This year's agricultural cycle in Gaza has been almost cut by repeated military incursions that have wrecked fields and greenhouses, Higgins said. He added that the closures of crossings into Israel have led to the collapse of agricultural markets.
"It has been a big problem for us. There's no alternative to Karni and closing it exposes Gaza's vulnerability," he said.
Ging said that over the past couple of weeks UNRWA had managed to get some food through a different crossing - Sufa, in the south-western corner of the Gaza Strip - which is intended for processing construction material.
"Now we are in difficulties in Sufa as the Palestinian merchants who use it are protesting and blocking it because we are using up their time," he said, adding that no new food had entered Gaza since Sunday.
Ging said that UNRWA had wasted US $1.5 million on rental charges for 400 ship containers stacked on the Gaza side of Karni because it had been unable to return them to the shipping companies in the nearby Israeli port of Ashdod while the crossing was closed.
This item comes to you via IRIN, a UN humanitarian news and information service, but may not necessarily reflect the views of the United Nations or its agencies. All IRIN material may be reposted or reprinted free-of-charge; refer to the copyright page for conditions of use. IRIN is a project of the UN Office for the Coordination of Humanitarian Affairs.