The Abu Ataya family has paid a heavy price for taking part in the Great March of Return. Fifteen members of the extended family have been injured during Gaza's mass protests over the past seven months.
Mahmoud Jihad Abu Ataya was the first member to be wounded. He was shot in the right leg on the morning of 30 March, the day the demonstrations began. The damage caused to his bones and arteries was severe and required considerable treatment. He had to have metal rods inserted in his leg.
The right of return for Palestinian refugees – the main issue highlighted by the protests – is vitally important to the Abu Atayas.
Now living in the Nasser neighborhood of Gaza City, the family is part of the Tiyaha Bedouin tribe. They are originally from Bir al-Saba (Beer Sheva) in the Naqab region of historic Palestine but are unable to go back there. The family was displaced during the Nakba, the mass expulsions carried out by Zionist forces in 1948.
A few generations of the Abu Ataya family joined the 30 March protest. They were deeply shocked by the brutality used by Israeli forces against unarmed demonstrators. A dozen Palestinian protesters were killed and almost 1,500 injured on that day.
Mahmoud was not the only one from his extended family to be wounded on 30 March.
His 21-year-old cousin Oday Wael Abu Ataya was shot in the thigh later that morning.
In the afternoon, another member of the family, Abd al-Karim, 31, was shot in the head with a tear gas canister.
"Hear our demands"
One member of the family, Ahmad Jihad, 23, received a particularly serious injury. He was shot in the arm during the first Friday of June, resulting in major damage to his bones, tendons and nerves. The surgery he requires is unavailable in Gaza's hospitals.
So far, he has not received the necessary referral so that he can travel to Egypt or Turkey for an operation.
"If I don't get treatment abroad, my arm will be paralyzed," he said.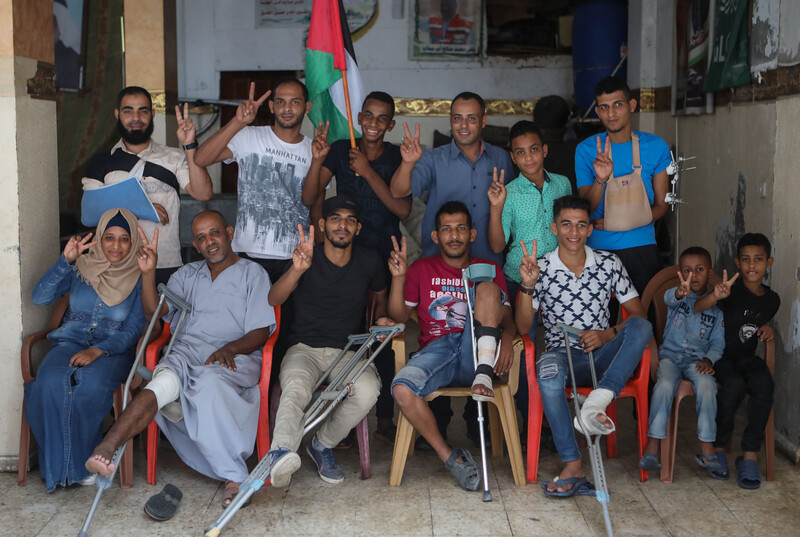 Khalil Abd al-Karim Abu Ataya, 40, was shot in the back by Israeli forces on 10 September. Khalil was in a boat sailing towards Zikim, a beach in Israel, when he was wounded. He was taking part in an attempt made under the Great March of Return banner to break the naval blockade Israel has imposed on Gaza for more than a decade.
"Many people have called for the march to be stopped," said Khalil. "But why shouldn't we defend our rights? Staying in our homes will not end the siege. It will only make the siege tighter."
The oldest member of the extended family to have been shot this year is Ahmad Abd al-Karim, 48. He was shot in his right leg on 24 September during another attempt to sail towards Zikim.
"There are 15 young people in our family – all of them are more than 20 years old – who are unemployed," said Ahmad. "They used to work but now they are unable to meet their needs. Our young are participating in the Great March of Return so that the world will hear our demands. If we stay at home, we will die slowly."
"Freedom is precious"
Six-year-old Muhammad Majid Khalid is the youngest member of the family to have been injured. He was hit in the head by shrapnel during one of the protests. As a result, he lost consciousness for a number of hours. Muhammad still has anxiety attacks because of the incident.
He is not the only child in the family wounded by Israel. The eyesight of 9-year-old Abd al-Karim Jihad has been damaged because he was hit with an Israeli tear gas grenade. Thirteen-year-old Abd al-Rahman was also injured by a tear gas projectile.
Other members of the family to be wounded include 19-year-old Sundus and 37-year-old Ayman Jihad. They received injuries to their legs and pelvis, respectively.
Despite the pain inflicted on them, some family members have gone back to protesting as soon as they were well enough.
Mahmoud, the first member of the family to be injured, was arrested by Israeli forces as he tried to sail towards Cyprus in a protest on 29 May. He was brought to Ashdod, a port in Israel, where he was interrogated. Along with 10 others, Mahmoud was returned to Gaza via Erez – an Israeli-controlled military checkpoint – late that evening.
"I have been unemployed for a year," Mahmoud said. "I used to work as a blacksmith but my life is stalled and I don't see any future. I am a man living in a dead body and I know that freedom is precious. The Israeli occupation wants Palestinians to die slowly without shouting in its face. But I have shouted."
Ola Mousa is an artist and writer from Gaza.
Tags