Fifteen Palestinians were reported killed in the Gaza Strip on Friday as Israel used massive violence against tens of thousands of demonstrators who had gathered along the Gaza-Israel boundary.
Nearly 1,500 were injured, according to Gaza's health ministry, nearly half by live fire. Twenty were said to be in critical condition.
"Medical facilities in Gaza, which have already been overstrained by the longstanding shortages of medical supplies, electricity and fuel, are struggling to cope with the overwhelming number of casualties," the United Nations Office for the Coordination of Humanitarian Affairs stated.
Gaza's health ministry "reported shortages of essential medical supplies, including emergency and anesthesia drugs and disposables, in addition to essential laboratory materials," the United Nations group added.
One of those killed on Friday was farmer Omar Wahid Samour, 26, who died when Israeli forces fired artillery shells at him while he was on his land, more than 700 meters from the boundary fence, in southern Gaza.
The Gaza-based human rights group Al Mezan confirmed the deaths of eight protesters on Friday, all killed by live fire.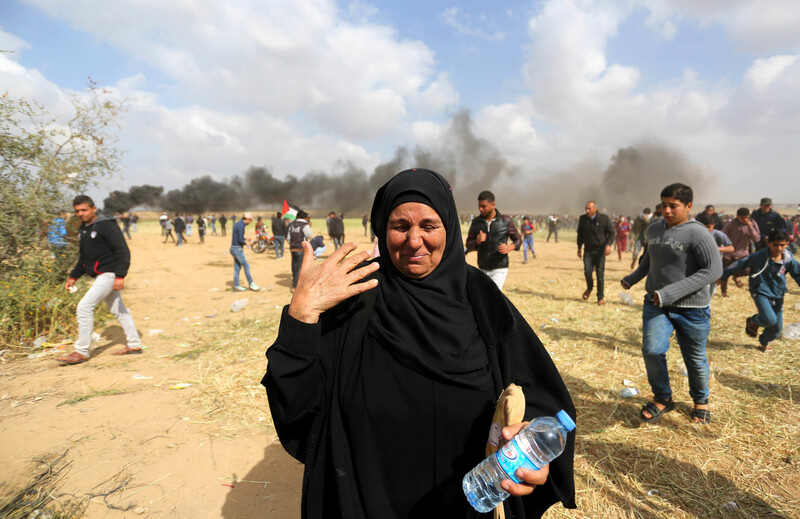 Two protesters were killed in Rafah, in the southern Gaza Strip: Amin Muhammad Muammar, 22, shot in the head, and Ibrahim Salah Abu Shaar, 20, shot in the neck.
East of Gaza City, Israeli forces killed four protesters: Muhammad Naim Muhammad Abu Amro, 35, shot in the stomach, Mahmoud Saidi Younis Rahmi, 34, shot in the chest, Ahmad Ibrahim Ashour Awda, 19, hit in the head and Jihad Muhammad Farina, 35, shot in the face.
In northern Gaza, Al Mezan confirmed the deaths of two protesters: Muhammad Kamal al-Najjar, 25, shot in the stomach, and Abd al-Fattah Bahjat Abd al-Fattah abd al-Nabi, 19, hit in the head.
Gaza's health ministry announced the deaths of six additional Palestinians: Sari Walid Abu Awda, Abd al-Qader Mardi al-Hawajri, Hamdan Ismail Abu Amsha, Jihad Zuheir Abu Jamous, Badr Faiq al-Sabbagh and Naji Abdallah Abu Hujeir.
Also on Friday, occupation forces said they exchanged fire with two armed Palestinians who approached the boundary fence in northern Gaza in what Israel claimed was a thwarted attack.
The military said it hit three Hamas positions with fire from tanks and fighter jets following the incident.
The army refused to say whether it killed the Palestinians, according to The Times of Israel, but Gaza's health ministry said that two Palestinians were killed by tank fire during the incident.
The Israeli military said it had deployed more than 100 army snipers to shoot at protesters who attempted to cross the boundary during the protest dubbed the Great March of Return.
The protest was launched on Friday, which marks the annual Land Day commemoration of six Palestinians killed during protests against Israeli land confiscation in the Galilee in 1976.

Tents have been erected at five locations along Gaza's eastern boundary for a six-week protest that will end on the 15 May, when Palestinians commemorate the Nakba, the mass expulsion that preceded and followed the declaration of the state of Israel in 1948.

Every two in three Palestinians in Gaza is a refugee. Israel has denied Palestinians from returning to the land from which they were expelled, a right enshrined in international law.

Israeli forces killed some three dozen Palestinian refugees who had marched to return to their homeland from Lebanon and Syria in 2011.

Gaza is in a chronic humanitarian crisis and on the edge of full-blown disaster after more than a decade of Israeli siege and three massive military onslaughts during that period.
With no end to Israel's siege in sight, Palestinians in Gaza are politically isolated, increasingly impoverished and have precious few places to turn.

The spokesperson of the Great March of Return, Ahmad Abu Artema, estimated that 150,000 people had taken part in the protest, "sending a message of people power to the occupation":

This participant said that her family were refugees from a village that is now in Israel and that she wanted to send a message to the Israeli army and to the Arab world that "one day we will return to our lands that are just behind us": Protest organizers and the ruling Hamas authorities in Gaza, keen to avoid another military confrontation with Israel, called for a peaceful mobilization and urged demonstrators not to approach the boundary fence.

Hamas leader Ismail Haniyeh stated on Friday that the protest marks the beginning of a return to "all of Palestine."

Another senior Hamas official said that "We have waited for too long to return to the lands from which our grandparents were expelled 70 years ago."
The Israeli human rights group B'Tselem condemned Israel's plans to use lethal force ahead of the protest on Thursday.
"Fragments of information reported by the media indicate that soldiers will be ordered to shoot anyone coming within 300 meters of the fence; snipers will fire at anyone touching it; live fire will be used also in circumstances which are non-life-threatening," B'Tselem stated.
"[Israel] has made Gaza a huge prison, yet forbids the prisoners even to protest against this, on pain of death," the group added.
On Friday the Palestinian human rights group Adalah called for an investigation into the use of lethal force against Gaza protesters.

"Live gunfire on unarmed civilians constitutes a brutal violation of the international legal obligation to distinguish between civilians and combatants," Adalah stated.

Human Rights Watch also protested "the shocking number of Palestinians killed and hurt" by Israeli forces on Friday:

Israeli soldiers operate under an apparent shoot-to-kill policy in Gaza's boundary areas. The exact range of the zone is undeclared but is generally understood to be within 300 meters of the Gaza-Israel boundary.

Israeli forces killed 19 Palestinians inside the Gaza boundary between the beginning of 2017 and 3 March 2018, according to B'Tselem.

Eight Palestinians inside Gaza were killed protesting against Donald Trump's declaration of Jerusalem as the capital of Israel in December alone.

Friday marked the greatest number of Palestinian fatalities in a single day at the hands of occupation forces since a ceasefire ended Israel's 51-day military assault on the Gaza Strip in summer 2014, which killed more than 2,200 Palestinians.

Israeli forces have killed 34 Palestinians in the West Bank and Gaza Strip so far this year. Five Israelis were killed in the West Bank during the same period.

This story was updated since initial publication to include quotations from the United Nations Office for the Coordination of Humanitarian Affairs and mention of 20 critically wounded persons.
Tags