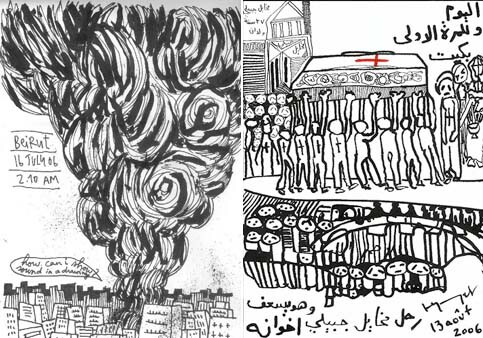 BEIRUT

: Nothing encourages artists to produce better work than competition. Last summer, for 34 days straight, two artists - one holed up in Achrafieh and the other holed up in Sin al-Fil - made drawing after drawing. When the power supply was on, they posted their pieces online, filling their respective blogs with diary-like accounts of living through the war in Lebanon.

They each checked out the other's work, as they each wondered how the other would respond to the day. Sometimes they felt the satisfaction of seeing a particularly trenchant piece of work. Sometimes they felt the frustration of seeing a drawing that was clearly better than their's. And sometimes they felt the warm pride that comes from knowing that the other artist in question is none other than your mother or your son.

The competition that kept Laure Ghorayeb and Mazen Kerbaj going in the summer of 2006 was primarily that of two different artists from two different generations giving two different interpretations on a set of similar experiences. Now that Ghorayeb and Kerbaj have each published a book of their wartime drawings and mounted a joint exhibition - "From One Window, the Other," which opened Tuesday night at Galerie Janine Rubeiz - they can finally, some seven or eight months later, reconsider their work in terms of their relationship.

"It took me a long time to confront the idea of working with Laure," says Kerbaj, a Beirut-based artist, musician and cartoonist who launched his now legendary blog, "Kerblog," on July 15, "to keep myself busy," as he explained at the time. About a week later, Ghorayeb, a Beirut-based artist, poet and art critic who three decades earlier produced a memorable account of the Civil War in Lebanon with her book "Temoignage" ("Testimony"), responded by creating an online diary of her own, "Witnessing (Again)." Eventually, coproduction collapsed into collaboration, albeit mediated by the competition of two artists eager to outdo each other.

"I didn't want to be Laure's son working with his mom," Kerbaj explains, adding with his signature humor of hyperbole: "That would be the worst catastrophe." He wanted to come into the maturity required to approach his mother on equal footing as an artist.

Kerbaj doesn't remember when he began drawing, only that as a kid he never stopped.

"Like all kids I drew," he says, "but I remember very clearly deciding that I wanted to continue and do comic books. I never wanted to be a cosmonaut or a fireman."

He does remember watching his mother at work - alternately drawing and writing - and to him, she was doing comic books, too, just in an abstract style.

Ghorayeb came to drawing later in life, as an adult and after working in poetry and journalism for years. Her style is markedly more intricate and involved than her son's. Over the years she has had long periods of intense productivity followed by times of doing no drawings at all.

When the war began in Lebanon on July 12, 2006, Kerbaj had already been contemplating the creation of a blog for two years. He had been filling notebooks with his drawings on a daily basis for seven years. The crush of the siege - and the cancellation of everything, from freelance work to music gigs - simply pushed him to do it.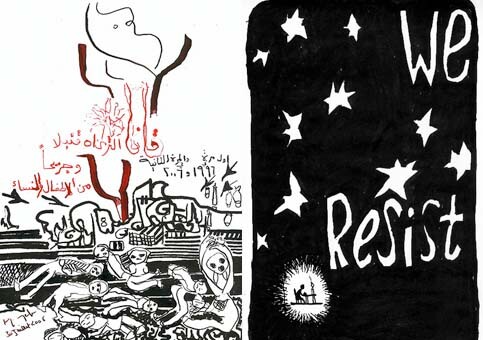 "The war was an emergency," he says. "I had to do the blog. When I was young, [Laure] was always reassuring me [during the Civil War], as parents do. This time it was the reverse. She was freaking out and I was reassuring her." This probably has something to do with the fact that during the Civil War, Ghorayeb had young children - Kerbaj is her youngest. This time around it was Kerbaj with a young son.

"I encouraged her [to create a blog] and she went much further than I expected. She got her own scanner and really got into the whole blog thing," he says.

The challenge for Ghorayeb was to produce quickly, practically in real time. Her previous work was labor intensive and time consuming. Gradually, as the days wore on, she simplified her drawings and paired down her visual language.

"At a certain point she was doing five or six drawings a day, which is a record for her. When so much is happening you have to be close to it," Kerbaj says. "We both had very bad ideas and did very bad drawings, but this shows the chaotic way we were thinking and working. Every day was the question of how to show a massacre different than the media, which is just numbers.

"The blog thing is an interesting way to change the relationship between artist and audience. The artist or writer usually works alone, publishes later and gets feedback even later. A blog makes an artist like a live musician or performer," he explains. "It gives you an edge common to performers. And you get stage fright, which is rare for someone who usually draws or paints. It changes totally our way of drawing but I don�t know how or where [this is going] yet."

Both Ghorayeb and Kerbaj continue to draw and post. But the idea of publishing their work from the war in book form struck them both and stuck. Kerbaj's "Beyrouth: Juillet-Aout 2006" was printed in Italy and published in France by L'Association. It just made its way to Lebanon. Ghorayeb's "33 Jours" was published locally by Editions Amers in collaboration with Al-Maslakh, Kerbaj's independent record label, which has ambitions to produce cultural documents of all kinds including books and music.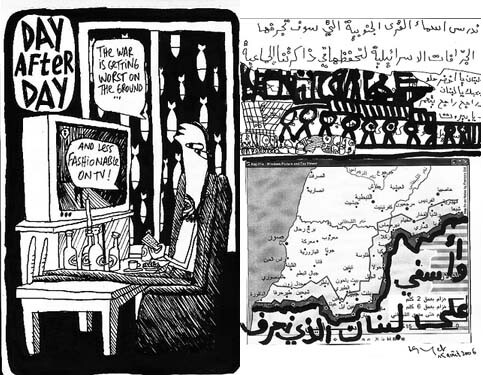 The idea for a joint exhibition came up as the books were nearing completion. Both say that ideally the entire suite of drawings - Ghorayeb's and Kerbaj's - would be acquired by an institution for the sake of posterity. That being impossible because no such institutions exist, the exhibition, like the books, brings the story to an end.

As Ghorayeb and Kerbaj were creating their wartime drawings, they would periodically see each others work and think to themselves, "It's better than mine." The competition was nothing if not productive.

"It was very healthy in this very bad moment," Kerbaj says. "As artists it was very clear we could only save ourselves. We had no naive thinking." They did not, for example, think their work would change anything.

"The book allows me to put the war behind me," Kerbaj adds, "and the exhibition will end. The war brought me international recognition but it's not right. I don't want it. It's like forced fame and it blocks me in my future work. It has always been important for me not to be a war child. It's a trap a lot of artists fall into. I could do another book about the war or Beirut or Lebanon and it would sell but I don't want to fall into this trap. So my next book will probably be read by 200 people."

Ghorayeb, however, argues another point for the books: "The book is a memoir of the war," she says. "The drawings will disappear but the book will remain as a reference, as a record of what happened."

Kerbaj smiles while listening to Ghorayeb speak, then adds: "We were never naive but in a sense me and Laure won the war. I mean, take 'Guenica.' It's still here as a testimony of what happened. The place was rebuilt. Franco died. Picasso died. But the painting remains." It's an analogy of artistic appreciation, but surely one of familial pride as well.

Mazen Kerbaj and Laure Ghorayeb's "From One Window, the Other" runs through March 28 at Galerie Janine Rubeiz in Beirut. This article originally appeared in the Daily Star.