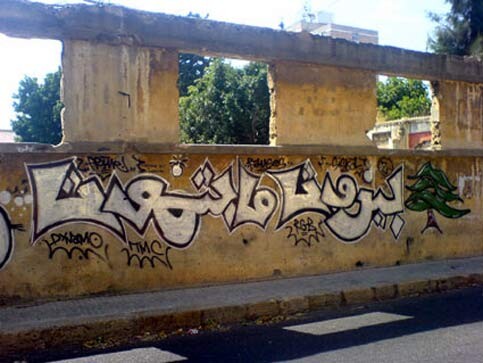 BEIRUT: The past year hasn't been a great one for the art scene in Beirut. As of January, Lebanon was still reeling from the political assassinations and phantom bombings of 2005. Whatever momentum artists, curators and dealers built up over the next six months was trounced by the war with Israel that erupted in July.
In Verdun, a new gallery, Safana, opened its doors. Meanwhile in Saifi Village - touted by the land bank Solidere as Beirut's "Quartier des Arts" - V&A vanished and Epreuve d'Artiste ceased holding exhibitions. Saleh Barakat, director of Hamra's Agial Art Gallery, took a sabbatical to participate in the Yale World Fellows program.
Numerous projects geared toward establishing a modern art museum or a contemporary art center in the Lebanese capital got shoved to the back burner, gallery exhibitions were cancelled and individual bodies of work had to be shelved by the artists who had been hoping to realize them.
Still, in 2006, Galerie Sfeir-Semler in Karantina continued to develop its stable of artists and organize museum-worthy shows. On the heels of its third - and notably more internationalist - edition of the Home Works Forum on Cultural Practices, Ashkal Alwan (The Lebanese Association for Plastic Arts) broke out of the quasi-biennial schedule to mount a number of smaller, more concentrated events such as "Traveling is Impossible." For all of her efforts over the past dozen years, Ashkal Alwan director Christine Tohme won a Prince Claus Award. And among Beirut's many foreign cultural institutions, the Goethe Institute continued to shine by providing relevant, contemporary fare that brought top-notch talent to various venues throughout the city.
None of Lebanon's "major" painters or sculptors held a gallery exhibition in 2006, but scores of young artists working in photography, video, installation and urban intervention managed to get their work shown, largely through their own bootstrapping efforts.
And then there was the war. Perhaps the most encouraging of signals to be broadcast during the 34 days of Israeli bombardment this summer were those of the many artists and filmmakers who refused to stop working. Rather than give up or go into hiding, they rerouted from physical to virtual modes of production and distribution. They blogged and emailed and made a slew of short videos. Once the cessation of hostilities came into effect, those works cohered into screening sessions (such as "Videos Under Siege" during Beirut DC's Ayam Beirut al-Cinemaiyya film festival) and exhibitions ("Nafas Beirut" at Espace SD). For that, these artists and filmmakers, along with the curators and festival organizers who supported them, deserve much respect. They kept the art scene going, and with it the vitality of the city itself.
What follows is a highly subjective list of the 10 best moments in art from 2006.
Chant Avedissian
"Cairo Stencils"
Galerie Janine Rubeiz, Raouche, Beirut
January 2006
The winter season began with a strong show at Galerie Janine Rubeiz for the Egyptian-Armenian artist Chant Avedissian. Avedissian's exhibition of more than 30 works made from stencils, pigments and gum arabic on recycled cardboard exposed a rich visual vocabulary of signs and symbols ranging from pop culture personalities to emblems of everyday Egyptian life. Timed to coincide with the publication of the book "Cairo Stencils," the mounting of the show proved Avedissian's unusual ability to be critically probing and commercially viable at once.
"Distance and Proximity"
Organized by the German
Institute for Foreign Relations
Exhibited at Unesco Palace, Verdun, Beirut
February 2006
As part of the Goethe Institute's celebration of 50 years in Beirut, it brought a blockbuster photography exhibition to Unesco Palace. "Distance and Proximity," organized by the German Institute for Foreign Relations, included two major series by Bernd and Hilla Becher, the artist couple whose influence on contemporary photography cannot be denied. Alongside their nearly scientific portraits of industrial structures and factory typologies were works by several of their students at the Dusseldorf Academy of Art - Andreas Gursky, Thomas Struth, Candida Hofer, Jorg Sasse and more.
"Hadith"
Galerie Sfeir-Semler,
Karantina, Beirut
February 2006
Beirut's only true blue-chip commercial contemporary art space, Galerie Sfeir-Semler continued to impress in 2006, most notably with "Hadith," a group show that explored the many meanings of the word for conversation. The show pulled together South African animation artist William Kentridge, American photographer Philip-Lorca diCorcia, French photographer and performance artist Sophie Calle, Beirut-born, London-based multimedia artist Mona Hatoum, Egyptian video artist Moataz Nasr, Lebanese multimedia artist Rabih Mroue and more. "Hadith" was the kind of show that would have rocked a major museum. It proved Sfeir-Semler's commitment to go above and beyond market forces and to let art from the region crackle through organically construed curatorial conceits.
Marwan Sahmarani
Organized by Fadi Mogabgab Contemporary Art
Exhibited at Planet Discovery, Downtown Beirut
March 2006
A few years ago, the Gemmayzeh private art dealer Fadi Mogabgab put on an informal show of drawings by Marwan Sahmarani, all expressive, contorted, deeply sensual nudes that looked like that could have been done by Francis Bacon, had the British painter enjoyed a marginally less sadistic sex life. In March, Mogabgab hosted a major mid-career retrospective for Sahmarani at Planet Discovery. Spanning 15 years of work, including early drawings and mature paintings, the show tracked the artist's progress and relished in his scathing portraits of the absurd machinations among Lebanon's political class. It also exposed Sahmarani as an artist of intense skill.
Harun Farocki and the
Black Audio Film Collective
"Traveling is Impossible: Harun, Kodwo and I"
Organized by Ashkal Alwan
Screened at Cinema Six Sofil, Achrafieh, Beirut
March 2006
Over the course of four days in March, Ashkal Alwan screened nine films by Harun Farocki and three by the Black Audio Film Collective (BAFC), along with lectures by Farocki and London-based artist and curator Kodwo Eshun, who is putting together a retrospective on the BAFC's work. Farocki's "Images of the World and the Inscription of War" is a masterpiece, as is "Videograms of a Revolution." Both explode the film essay format to create critically penetrating, mind-bending work.
Rayanne Tabet's installation "Fossils"
Exhibited in "Moving Home(s)"
Galerie Sfeir-Semler,
Karantina, Beirut
July 2006 through the present
Rayanne Tabet was 17 when Lebanon's 15-year Civil War came to an end in 1990. For many with similar experiences, his installation "Fossils," an arrangement of vintage suitcases covered in concrete, stoked the memory of always keeping a packed bag next to his bed during the conflict. What should have been a work on the past recollected, "Fossils" became painfully relevant and of the present when it framed the entrance to the exhibition "Moving Home(s)," which opened at Galerie Sfeir-Semler in early July. "Moving Home(s)" remains on view, and Tabet's piece - gorgeous, pained and provocative both in and out of context - is worth contemplating still.
"I Love Beirut"
Organized by the Lebanon Chronicle
Began in New York, since gone global
July 2006 through the present
On July 27, three friends in New York were feeling stuck, frustrated and useless so far from their native city, suddenly plunged into another war. Instead of sulking, they created a campaign. They dropped $180 at a print shop in Chinatown to produce 2,000 stickers reading "I Love Beirut," tagged faintly with the address to a newly minted blog called "The Lebanon Chronicle." Conceived as a viral, open-source, urban intervention, the stickers quickly spread across the United States, Europe, North Africa and into Lebanon itself.
Rania Stephan's videos "The Bridge," "The School" and "Bint Jbeil"
Projected during Ayam Beirut al-Cinemaiyya's "Videos Under Siege"
Organized by Beirut DC
Screened at Cinema Six Sofil, Achrafieh, Beirut
September 2006
Among the dozens of videos screened during "Videos Under Siege" and the hundreds made during and in response to the war with Israel, Rania Stephan's short pieces shine for their humor, honesty and compassion. Stephan works by walking and meeting people by chance. Most evident in these three works, the first of many to come, is that she listens and waits and has the patience to produce piercing pieces from the material she collects.
"Nafas Beirut"
Espace SD, Gemmayzeh, Beirut
October 2006
Curated by Sandra Dagher and Zena al-Khalil, "Nafas Beirut" included 45 artists working in a range of media and was subtitled "a platform for artists bearing witness." A tonic, a restart, a sanctuary, a testing ground, "Nafas" unfolded over the course of a month with an exhibition, performances, screenings and more. It was the epitome of the art scene's ability to respond.
Downtown demo art
How much of the demonstrations ongoing in Downtown Beirut is about image and the refusal to see entire segments of the population, whether defined by religion or socioeconomic class? While the rather more official "art nights" held among the protesters have produced an awful lot of socio-realist cant, some other, more informal, graffiti has real punch - from a mural depicting Sukleen workers to the stencils about public space, the pieces ask all the right questions and do so with great style.
This article was originally published by The Daily Star and is republished with permission.
Related Links
"Siddiquine's Harvest": New short film from Southern Lebanon, A-Films (17 November 2006)
"Nafas Beirut": A platform for artists bearing witness, xanadu* (20 October 2006)