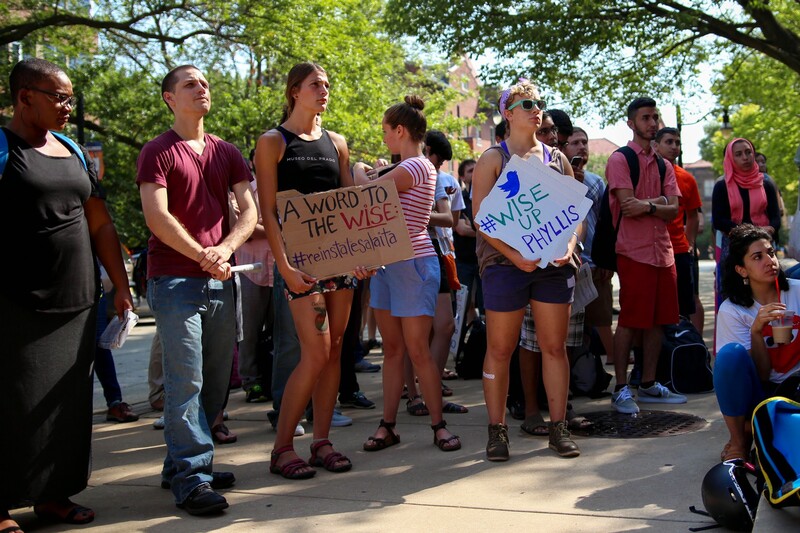 In the past ten months, the University of Illinois at Urbana-Champaign (UIUC) administration has done two things of note: rejected the American Studies Association (ASA) vote to boycott Israeli universities and fired Arab-American boycott supporter Steven Salaita.
Six months ago, we asked in an essay "Why is the American elite scared of BDS?" — the boycott, divestment and sanctions movement.
In the case of UIUC, the answer is simple and clear: deep political and financial ties between the university's leadership and Israel.
But it's not just about Israel.
Our university administrators are deeply embedded in a second project: that of corporate neoliberalism.
In fact, the Salaita case clearly discloses how Zionism and neoliberalism can converge in the board rooms of university presidents and trustees, with perilous consequences for students and faculty.
Conflict of interest
Let us start with UIUC Chancellor Phyllis Wise. Since 2009, Wise has served on the governing board of Nike Corporation.
In 2013, Wise earned approximately $290,000 in annual salary and other compensation for her services to Nike, on top of the more than $500,000 in salary she earns as UIUC chancellor.
As it is a global company, it is no surprise that Nike sells shoes in Israel. It has stores in Tel Aviv, Jerusalem, Netanya and eight other cities. Its Israeli websites promote "Nike Running Israel" and other slick marketing campaigns.
One of Nike's suppliers, according to the research organization Who Profits, is Delta Galil Industries, a manufacturer of textiles for undergarments.
Delta Galil operates in the Barkan Industrial Zone, an illegal Israeli settlement in the occupied West Bank.
Delta Galil also has two shops operating in Israeli settlements: Maaleh Adumim and Pisgat Zeev.
Companies like Victoria's Secret have been investigated by Who Profits for their business dealings with Delta Galil.
Who Profits has also named Nike as a company that receives supplies from the West Bank manufacturer.
Phyllis Wise has said she opposed the ASA boycott resolution on grounds of "academic freedom," and that Steven Salaita's political criticisms of Israel were not relevant to his firing.
Such sanctimonious sentiments would ring truer if Wise was not on the board of a company that directly profits from the Israeli occupation of Palestinian territories.
It is perhaps unreasonable for us to expect Wise to act in the interests of scholarship when she is serving Nike, an arrangement that at its most polite could be called a "conflict of interest."
The Kennedy connection
Now let's look at UIUC Board of Trustees President Christopher Kennedy, another vocal critic of Steven Salaita.
In 2009, Kennedy was appointed to the UIUC Board of Trustees by Illinois Governor Pat Quinn.
Kennedy is on the Board of Trustees of Ariel Mutual Funds, part of the Chicago-based Ariel Investments. Ariel Investments' fortunes began to soar in 2010 when it added new stocks, including DeVry and Pfizer.
Both Pfizer and DeVry operate extensively in Israel.
Kennedy also has some interesting friends and business associates.
Kennedy, the son of the late Senator Robert F. Kennedy, is the chairperson of Joseph Kennedy Enterprises, a financial entity named after his grandfather.
One of the directors of Kennedy Enterprises is Roy J. Zuckerberg.
When not acting as a director of Kennedy's business empire, Zuckerberg also serves as chairperson of the Board of Governors of Israel's Ben-Gurion University of the Negev.
In 2009, Zuckerberg received an honorary doctorate from Ben-Gurion University for his contributions as a "generous philanthropist, an enthusiastic Zionist, a concerned and influential member of the US Jewish community."
The Negev — "Naqab" to its native Palestinian Bedouin population — is of course a desert and semi-arid region from which Israel has attempted to ethnically cleanse tens of thousands of Bedouins since 1948.
Israel has in fact long eyed the Negev for expanded Israeli settlements.
"Ardent supporter" of Israel
Zuckerberg also helps us understand the close relationship between University of Illinois trustees such as Kennedy, and the Governor of Illinois Pat Quinn. It should be remembered that Quinn, as governor, is an ex-officio member of the University of Illinois Board of Trustees.
Zuckerberg serves as honorary chairman of Ben-Gurion University's Zuckerberg Institute for Water Research, which conducts studies ostensibly designed to improve the lives of inhabitants of "drylands" like the Negev.
In July 2011, Quinn went to Israel and signed two agreements: a "sister lakes" agreement to improve maintenance of water conditions in Lake Michigan and Lake Tiberias, which is a conduit for water to the Negev; and an agreement for student and faculty exchange between Ben-Gurion University and the University of Illinois at Chicago.
It should also be noted that Quinn's trip to Israel in 2011 was supported by the Jewish United Fund (JUF) as "part of a JUF initiative that, for the past two decades, has brought influential leaders to Israel."
On its own website, the National Democratic Jewish Council notes that Quinn is "an ardent supporter of Israel and has used his elected positions in Illinois to strengthen relations between Illinois and Israel."
The same website notes that prior to becoming governor, Quinn worked to make sure Illinois state bonds were invested in Israel.
This is the same Pat Quinn who has appointed eight of the nine current trustees at UIUC — people with the final say over Steven Salaita's job.
Should we be surprised then that the University of Illinois, whose public face is represented by figures with such a network of close ties to Israel, virulently opposed the ASA boycott of Israeli universities? Or that figures like Wise and Kennedy would approve the firing of Salaita, a distinguished scholar, author of six books, and vocal critic of the Israeli occupation?
The answer is no.
Indeed, in recent years, we have almost been forced to accept that the upper administration in US universities have very little to do with one aspect of the university — scholarship.
But what should concern people everywhere who care about such matters is that these people still have enormous power in how scholarship is conducted, or who has the right to teach and learn.
Unionize and "de-Zionize"
Salaita's disgraceful treatment by UIUC administrators is not just about their support for Israel. It is also a direct outcome of the increasing corporatization of higher education.
When university policymakers consort with corporate profiteers, the direction of investments and profits will naturally shape university policy.
In this case, the University of Illinois shows us how the "neoliberal" university allies itself with Zionism as a settler-colonial project.
The illegal occupation of Palestine has helped savvy university presidents and trustees earn handsome dividends, while using their positions to reject criticisms of Israel at the universities they head.
The solution is to de-Zionize our campuses.
We need a movement to force our universities to divest from Israel. And we need a movement to force accountability and faculty governance from our top administrators.
This is why, at this juncture in history, the boycott, divest and sanctions movement against Israel and faculty unionization should go hand and in hand.
Imagine if there had already been in place at UIUC a militant and unionized faculty. Better still, imagine if that faculty union had already voted for university divestment from Israel.
Would Phyllis Wise, faced with this union, have been able to take her executive decision to fire Salaita?
The Salaita case shows us the necessary next step in our struggle for him and for all of us.
The Association of American University Professors (AAUP) has made a strong statement in defense of Steven Salaita.
The next step ought to be for AAUP and other teachers' unions in the US to follow in the footsteps of their sisters and brothers in Europe where Europe's largest teacher's union — the UK's National Union of Teachers (NUT) — voted for BDS.
BDS activists have taught us not to cross the picket line against Israeli apartheid. It is time that similar picket lines appear against campus elites who claim to speak in our name.
Tithi Bhattacharya is a professor of South Asian History at Purdue University, a long time activist for Palestinian justice and is on the editorial board of the International Socialist Review.
Bill V. Mullen is a professor of American Studies at Purdue University. He is the author or editor of several books and is on the national advisory board for the US Campaign for the Academic and Cultural Boycott of Israel (USACBI).
Tags