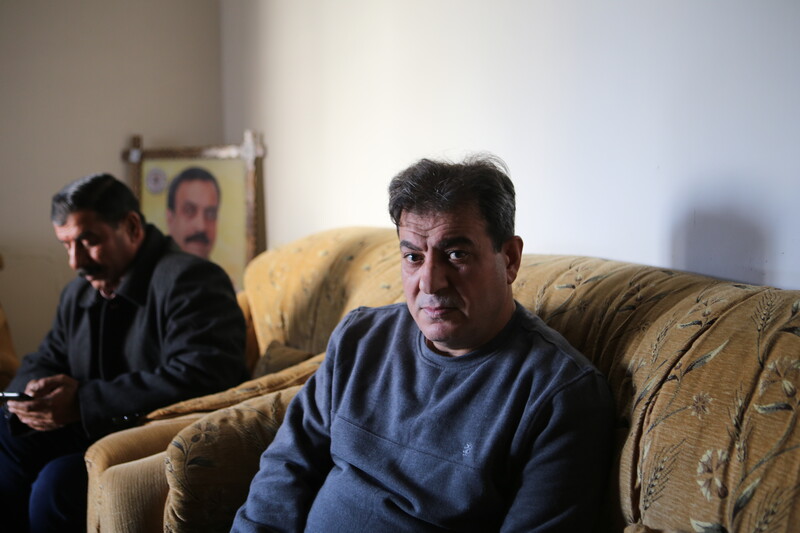 Joy filled the home of Ahmed Mohammed Abdel-Hadi Khris' family late last year. Separated for years from Ahmed, a long-time prisoner, family members prepared themselves in December for his return.
The anticipated reunion in Baqaa refugee camp, just north of the Jordanian capital Amman, however, was not to be.
Ahmed was jailed because of his involvement in what became known as the Karine A affair. The Karine A was a boat carrying weapons that was intercepted by Israel in the Red Sea during January 2002.
After nearly 17 years of imprisonment, Israeli authorities sought to isolate Ahmed, now aged 54, by sending him to the Gaza Strip last month. Rather than meeting his family, Ahmed was embraced by former prisoners in Gaza.
Ahmed was born in Baqaa, though his family is originally from Ajjur village, northwest of Hebron in the West Bank. They were were ethnically cleansed from Ajjur by invading Israeli forces in July 1948.
Ahmed has three sons: Mohammed, Youssef and Yasser.
Gaza is not entirely unknown to him as he did work there for the Palestinian Authority's navy beginning in 1995. Still, Gaza is not where his family lives.
"State of suffering"
Ahmed's wife, Fatima Dawood, was saddened that she could not be there for his release. Other moments, however, have proved far more difficult. "I live," she told The Electronic Intifada, "in a state of suffering."
Up until 4 pm on 3 January, the family awaited Ahmed's return from Megiddo prison in Israel. He was supposed to travel towards Amman via the Allenby Bridge that separates the occupied West Bank from Jordan. But then an official with the department of prisoners affairs in Gaza called and broke the news that Ahmed was instead deported to that territory.
Mohammed spoke for all: "We felt sorrow. We were deprived from visiting and seeing our father for 17 years as we hold Jordanian documents."
Israeli occupation forces didn't allow Ahmed's family to visit him despite his engaging in a hunger strike and repeated applications submitted to Israeli prison authorities.
Ahmed, who spent most of his imprisonment in Ramon prison, was released along with Riyad Salah Qasrawi who had the same sentence of 17 years, but served his time in a different jail.
The captain of the Karine A, Omar Akawi, 61, remains behind bars. He was handed a 25-year sentence.
Ahmed entered Gaza through Erez, a checkpoint controlled by the Israeli military. He doesn't have any relatives in Gaza and consequently has been hosted at Akawi's home in al-Maqousi, an area in the western part of Gaza City.
Torture
Palestinians in Gaza recall the enormous military power imbalance that, like today, existed between them and Israel in 2002.
At that time, Ahmed says, a group of Palestinian marine officers secured weapons from Arab patrons, but the operation failed when the Israeli military took over the ship as it made its way through the Red Sea.
Four of the men on board were put on trial. Lebanese citizen Salem al-Sankari was released first in January 2004.
Eight Egyptian sailors who had been on the ship were also arrested. The sailors were released in October 2002 and stated that they had endured physical and mental torture during their time in captivity.
Ahmed, for his part, described to The Electronic Intifada severe mistreatment during interrogation and being placed in solitary confinement to extract information from him. Physical torture was applied as well as psychological pressure with threats to arrest his family if he didn't provide further details about the operation.
"I was thinking of my pregnant wife, my son Yasser who is now 17 years old, and the future of my sons if they were harmed. However, I was steadfast when I remembered our right to defend our land and dignity," Ahmed said.
Israel alleges the ship was loaded with weapons provided by Iran. The vessel was seized in January 2002 by Israeli commandos. There were reportedly anti-tank mines, missiles, rockets and two tons of explosives on board.
Ahmed says legally and practically, Jordan isn't responsible for him since at the time of his arrest, he was registered as a holder of a Palestinian identity card. Since his release, he has applied for Jordanian documents in order to leave Gaza and see his family.
More than one month following his release, Ahmed continues to wait for the long-anticipated reunion.
Ola Mousa is an artist and writer from Gaza.
Tags