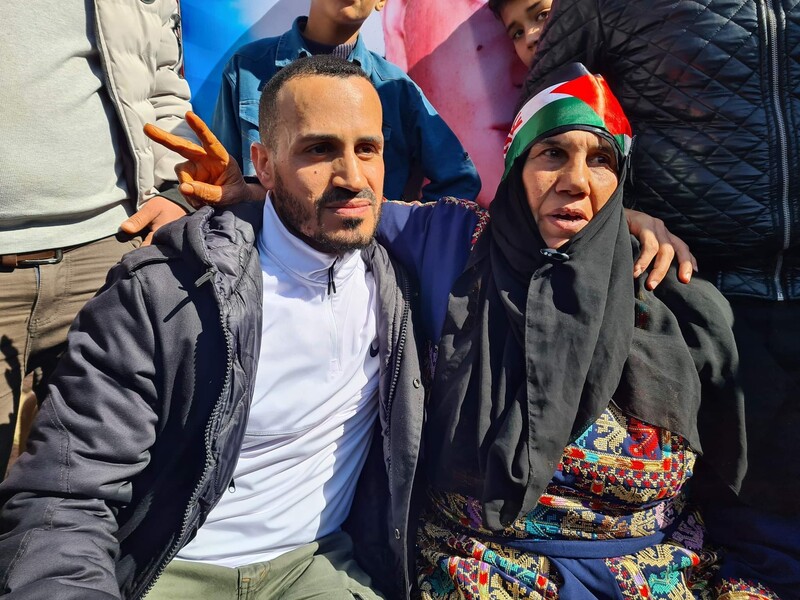 Ahmed Abu Jazar's journey through the dark labyrinth of Israeli detention is over. But it has shaped him for life.
For nearly two decades, he struggled through the harshness of prison life: the cold, unforgiving concrete walls, the barren yard, and the suffocating sense of isolation.
In that time, his detention – he was charged with being affiliated to Islamic Jihad – had been extended twice, once for 20 months and once, the last time, for six.
So it was little wonder that on the morning of 3 February, the third time he found himself due to be released, Ahmed, 38, had conflicting emotions, struggling with his conviction that he would never be released and the burgeoning hope that this time, just maybe he would.
His time in Israeli detention had also added to his despondency.
"I was subjected to daily threats from the guards," he told The Electronic Intifada. "They warned me that new charges would be fabricated against me and that my detention would be extended indefinitely. They even went as far as to suggest that I would not leave prison until I was in a wheelchair."
But this time, Ahmed was freed. He had prepared for the worst, so it was not until after he had been taken, blindfolded, to the Beit Hanoun (Erez) checkpoint, and was led across by a group of workers returning from their work in Israel, that he felt elation.
Elation and lament. After two decades in detention, and finally able to embrace his mother, Aisha, it was also a moment of realization of all the time he had lost.
His 12 siblings, for one, were adults. He could barely recognize his father, Jumaa, 70, whom time and hard experience had aged.
Nevertheless, for a man who had last seen home as a teenager, this was a night – one he shared with his mother by his side like in childhood – to savor.
"I woke up almost every hour, looking around in disbelief that I was finally free and safe," Ahmed said.
Cold comforts
Ahmed's family home is in the Rafah refugee camp at the very southern tip of the Gaza Strip. This is where he grew up.
And it was in these familiar surroundings that, on the morning following his release, Ahmed made a specific request of his mother – to prepare fried liver for breakfast. It was not just the taste he was after, Ahmed said, but what it symbolized: the safety of family and the comfort of home.
There was no comfort in prison.
"On Ramadan and Eids," Ahmed recounted about the Islamic holidays, traditionally a time for families to celebrate together, "we would prepare food using a small cooking device that the guards would bring for a few hours before taking it away again. We were mainly eating yogurt and boiled eggs. Meat, vegetables or fruits were all out of reach."
Israel's prisons for Palestinians are notorious for their lack of adequate health care. There have been frequent complaints about medical negligence, and earlier in February, the Palestinian Centre for Human Rights held the Israeli prison authorities responsible for the death in detention of Ahmad Abu Ali, who died just a year short of his scheduled release date.
Since 1967, according to the rights group, 235 Palestinian prisoners have died in detention.
Ahmed suffered several bouts of illness over the years, especially during the frigid winter months. The only relief offered to the sick was in the form of addictive painkillers, he said.
Hospital visits posed further pain to prisoners. Journeys to the hospital could take a full day and would be physically and emotionally draining. Restrictions on bathroom access during the trip would exacerbate discomfort and pain.
One particularly distressing memory stands out for Ahmed. At one point, he shared a cell with a fellow prisoner who had been fitted with a colostomy bag. The bag was supposed to be changed twice a day, but never was. Sometimes, the bag remained unchanged for up to two weeks.
"I still shudder at the memory of his cries of pain, which reverberated through the walls of the cell," Ahmed told The Electronic Intifada.
Rights groups have cited numerous instances of ill treatment and torture of Palestinian detainees, and alarms have been raised by the advent of Israel's new ultra-nationalist coalition government.
Addameer, a prisoner rights group, has voiced "grave concern" over statements made by Israeli ministers about detention. Among them, Itamar Ben-Gvir, the minister of national security, who, after visiting one prison in January announced that he wanted "to make sure that those who murdered Jews would not receive better prison conditions than the existing ones. I will continue to deal with the conditions of incarceration for prisoners while aiming to … pass the death penalty law for terrorists."
On 23 February, Israel duly introduced legislation that would limit medical treatment for Palestinian prisoners.
According to Addameer, Israel currently holds 4,780 Palestinians in detention, including 915 in administrative detention – detention without trial – and 160 children.
An education
When Ahmed was first detained at 18 – at the now defunct Abu Holi checkpoint that had severed Gaza in two when Israel still maintained its illegal settlements in the area – he had not yet completed his highschool exams.
And despite the appalling conditions in prison, Ahmed was determined not to waste the years.
With the help of the Red Cross and families of prisoners, from whom he secured books, as well as a number of professors among his fellow prisoners, he managed to complete his high school and obtained several diplomas in subjects from Palestinian history, social studies, journalism, media and psychology from Al Quds Open University as well as Aqaba University of Technology in Jordan.
He also started a master's program at Al Quds University but was unable to complete it after being moved to a new prison where he was held in isolation for long spells.
He is, however, determined to finish that course.
"I will complete my master's as soon as possible," he told The Electronic Intifada. "A person is not worth anything without knowledge."
Since his release, Ahmed has tried to make up for lost time by reconnecting with his family. In over 19 years in prison he was granted only one family visit, in 2015, and then only with his mother for 45 minutes.
It has been a profound and enriching experience, he said, to get to know new generations of family members and to discover how their lives had unfolded during his imprisonment.
He has also been familiarizing himself with the streets and neighborhoods of Gaza, which over 20 years have changed substantially, leading to some comic mishaps.
"Yesterday, I mistakenly entered a neighboring house trying to return home. Fortunately, it was the home of one of our relatives, and we shared a good laugh."
Ahmed's focus now is to rebuild his life and secure a job and financial independence. Ultimately, he hopes to start a family of his own.
But he is scarred by his time in prison and remains committed to also supporting his fellow prisoners.
"I am keenly aware of the ongoing struggles faced by many prisoners who remain incarcerated and separated from their families and loved ones. I join the call for their release and safety and stand in solidarity with all those who seek justice and freedom," Ahmed said.
Khaled Zabarqa, the lawyer who represented Ahmed, said he too had not been certain that Ahmed would actually be released when he was.
It was, he said, just another way Israel disregards the rights of prisoners.
"It is deeply troubling to witness the continuous disregard for the human rights of Palestinian prisoners and the wider Palestinian community by the Israeli forces. The use of coercion and threats against prisoners, such as in the case of Ahmed, is a clear violation of their basic rights and dignity," Zabarqa told The Electronic Intifada.
"I join with others in calling for the immediate release of all prisoners who have been subjected to unjust detention and inhumane treatment. It is only through collective action and steadfast commitment to the principles of human dignity and justice that we can bring about lasting change and ensure that the rights of all individuals are respected."
Rajaa Salah is a journalist based in Gaza.
Tags