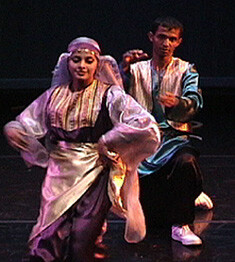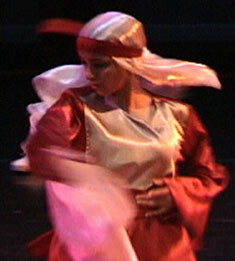 Comprised of teenagers from the Dheisheh Refugee Camp in the West Bank, the Ibdaa dance troupe performs internationally, has been featured in documentaries, and are no strangers to the press. And while to some this may seem like a glamorous lifestyle, to the performers it's anything but. Having to repeatedly communicate to American audiences the every day struggles that come with life under military occupation is disheartening when they return to the West Bank to find that the status quo of curfews and human losses continues unabated while the whole world watches.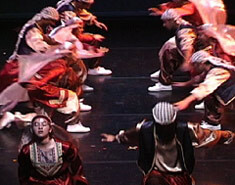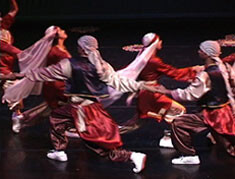 Ibdaa, which means in Arabic "to create something out of nothing," communicate the reality of Palestinians, using a traditional dance form to express contemporary struggles, as well as customary themes like agrarian culture. In one dance number, an Israeli soldier, complete with a green uniform, black beret, and sunglasses, twirls with a rope a figure dressed in a flowing white gown, a scene that symbolizes the compromised freedom of the Palestinian people.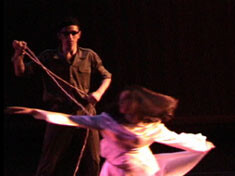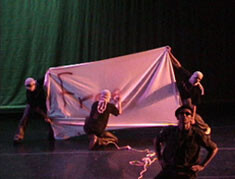 Despite the often serious subject matter of their performances, the performers clearly enjoy moving on stage. Smiles abound as the dancers' white shoes bounce from the stage and the women's scarves billow with every jump. However, the freedom of movement that the performers enjoy on stage is lost once they return home to Dheisheh. And that is what the dancers really want their audience to know; they do not perform merely to entertain or impress with their sometimes buoyant, sometimes foreboding, dances - they are here to compel foreign audiences to call upon their governments to hold Israel accountable for the policies that squelch their freedom, quality of life, and future.
Related links
BY

TOPIC

: Performing Arts
Maureen Clare Murphy is an Arts, Music & Culture correspondent for EI and its sister site Electronic Iraq