The road leading to a military checkpoint at Rachel's Tomb in Bethlehem has become a theater of regular confrontation with Israeli forces as Palestinian youths have protested on a daily basis throughout the West Bank and Gaza Strip since the beginning of October.
Those protests have been met with brutal force by the military.
Twenty-six Palestinians were killed during demonstrations last month, including 28-year-old Mutaz Zawahreh, who was shot dead by an Israeli soldier during a protest near Rachel's Tomb.
A place of pilgrimage for Muslim, Christian and Jewish worshippers, but currently only accessible to the latter, Rachel's Tomb is located in northern Bethlehem. Once a thriving commercial area, the area has been completely walled off by Israel and fortified with military checkpoints, cutting off the main artery between Bethlehem and Jerusalem.
On Friday, dozens of Palestinian youths gathered there to throw stones at Israeli soldiers who positioned themselves in front of the wall that towers over the area. Noxious clouds of tear gas fired by the military blanketed the nearby al-Azzeh refugee camp.
A week earlier, an Israeli soldier warned residents of another refugee camp in the area that "People of Aida, we are the occupation army. If you keep throwing stones, we will hit you with gas until you die. The children, the adults, the elderly."
One day later, an 8-month-old baby died after inhaling tear gas fired by Israeli soldiers in the Bethlehem-area village of Beit Fajjar.
During Friday's protest, Israeli agents dressed as Palestinian demonstrators suddenly drew their guns and jumped on one protester, who was hit and arrested, while uniformed Israeli soldiers shot rubber-coated steel bullets and tear gas canisters.
Videos from the scene also show the violent arrest.
Medics and journalists were also targeted with rubber-coated steel bullets but none were injured. At least three Palestinians were injured after being shot by live fire. One of them is said to be critically wounded; he was shot in the neck and is undergoing surgery.
Israel's violence against Palestinian protesters — and its use of undercover agents disguised as civilians — is routine. More than 7,000 Palestinians suffered injuries requiring medical treatment last month alone.
Anne Paq is a French freelance photographer and member of the photography collective ActiveStills.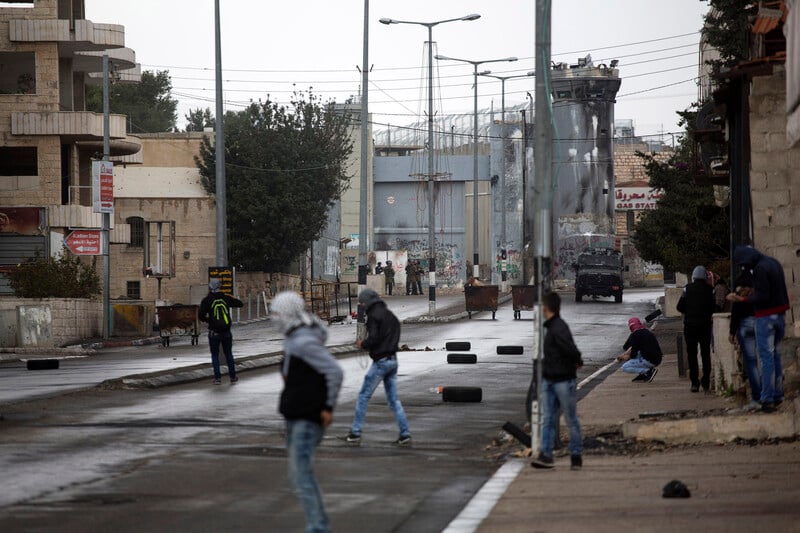 Tags