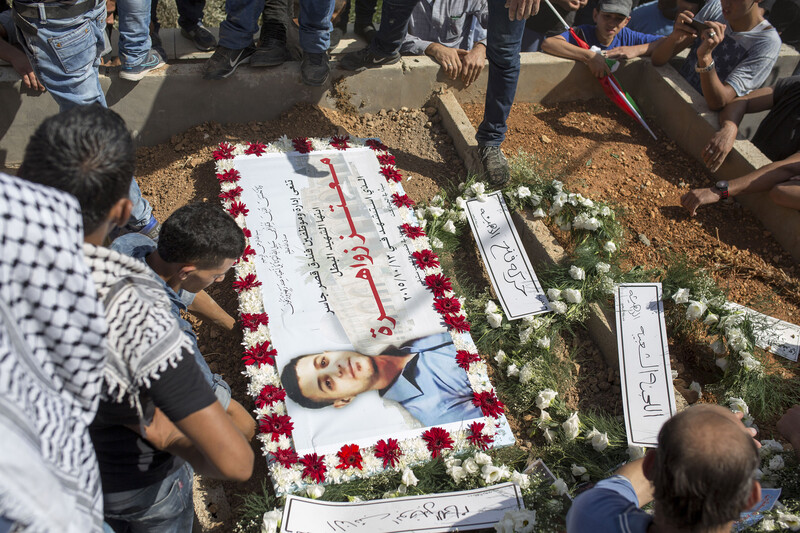 Najiyeh Zawahreh in the occupied West Bank's Dheisheh refugee camp has spent much of the four decades since her marriage visiting her family in prison.
Her husband Ibrahim was repeatedly jailed in the 1970s and '80s for his affiliation with the leftist Popular Front for the Liberation of Palestine and his involvement in resistance to the Israeli occupation.
The same two charges would later be used to imprison many of the couple's children.
A mother of nine, five of Najiyeh's children have been imprisoned at least once by Israel. Two have been injured during confrontations with Israeli soldiers.
Her son Ghassan, currently held under administrative detention without charge or trial, has spent more than 10 years in Israeli occupation jails.
A refugee from the ethnically cleansed Palestinian village of Deir Aban, west of Jerusalem, Najiyeh was among the first women to protest in the Bethlehem-area camp three decades ago.
During that period of the first intifada Najiyeh herself was brought in by the Israelis for interrogation while her husband was in jail. The Shin Bet secret police agent falsely accused her of infidelity and threatened to tell her husband. She was unfazed by the sexist blackmail.
Even as her body wore down over the years, Najiyeh continued to march in demonstrations.
"A few years ago, I looked for my sons and found none of them at home so I knew that they had gone to the checkpoint to protest," she recalled. "I initially chased them to bring them back home but I ended up protesting with them."
When asked what makes her entire family so tirelessly active in the struggle, Najiyeh responded that "resistance runs through our genes."
No reunion
Najiyeh can hardly remember the last time she sat with her husband and all her children at the same table.
"Whenever one of them is released, another goes into jail. Those kids made my hair go white," she said.
A long-anticipated reunion seemed to be at hand when her son Ghassan agreed at the close of September to end his hunger strike in Israeli jail in return for the military prosecutor allowing his administrative detention order to expire without renewal. That meant he would be released at the end of November, finally bringing the entire family together.
But that was not to be.
Ghassan's 28-year-old brother Mutaz was killed during confrontations with Israeli forces on 13 October at the Rachel's Tomb checkpoint in Bethlehem. Mutaz had only recently returned from a two-month trip to France.
Mutaz was the only one among his brothers who had never been arrested. While he too was affiliated with the Popular Front and regularly attended protests, he was more reserved than his brothers.
A worker at a hotel and restaurant in Bethlehem, Mutaz also helped his father, a taxi driver, and became the main breadwinner for the family.
He had just finished building his home and was planning on helping his brother to construct his home.
"Of course he went to protests but the burdens of daily life meant he did not go as frequently as his brothers," his father said.
Since the beginning of the current youth uprising in October, protests in Bethlehem near the Rachel's Tomb checkpoint have been taking place on an almost daily basis.
While his brothers prefer to don the red-checkered kuffiyeh scarf during protests, as a Popular Front symbol, Mutaz covered his face with a black-checkered kuffiyeh.
"He is one of those people who prefers to be under the radar and never seeks attention. This is even reflected in what he wears for protests," his sister Iman said.
Mutaz's comrades who attended the clashes recalled that on the day he was killed, he managed to hit an Israeli military jeep first with a rock and later with a Molotov cocktail. He remained on the front lines until he was hit with a bullet as he was preparing to throw another Molotov cocktail.
Since four of her sons were at the protest at the time, when Najiyeh received a call telling her that one of her sons had been injured, she first thought they were referring to Muhammad, Mutaz's younger brother.
Shortly after she made it to the hospital in Beit Jala, near Bethlehem, Mutaz had succumbed to his wounds.
Pride and agony
"It's hard to explain my feelings. I'm unspeakably proud of him; everyone who was in the protest tells me how heroically he fought. But there is an equally indescribable agony," Najiyeh said.
"He brimmed with energy and had a powerful presence. His name means dignity and pride in Arabic and he oozed both," she added.
Mutaz was a talented and accomplished footballer. Although his family's economic situation hampered any ambitions to play professionally, he regularly competed with the team representing the hotel where he worked.
"He was a great striker and the top scorer of his team," Muhammad said while going through pictures of Mutaz taken during a match in which he scored six goals.
"Even though he could not realize his dream of becoming a professional player, he loved playing and competing," he added.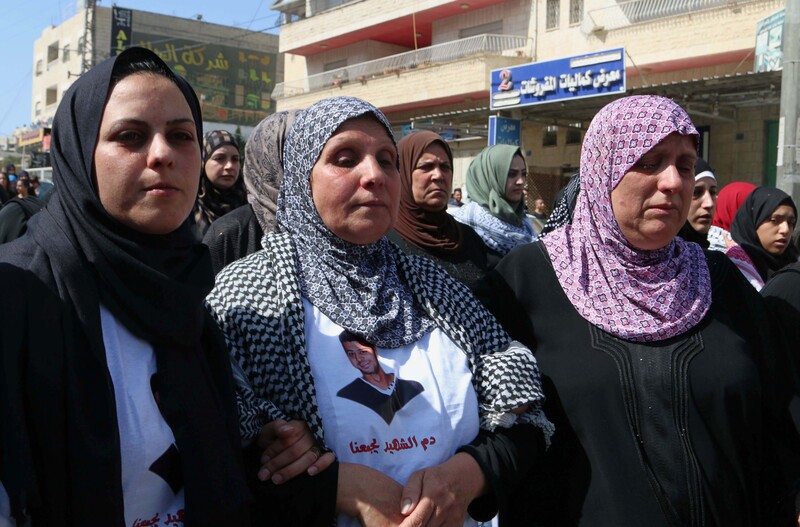 When Mutaz returned to Palestine from France, he was absorbed with concern for his brother Ghassan, on hunger strike at the time.
But when the current wave of protests began last month, it was Ghassan who grew concerned for his brothers, knowing that all of them would join the confrontations with the Israeli army.
Ghassan learned about his brother's killing from the radio and could not bid farewell at Mutaz's funeral because he was not allowed out of jail.
Thousands of Palestinians from across the West Bank came to the funeral in Dheisheh camp a day after Mutaz was killed.
Mourners chanted the name of Kifah Obeid, Mutaz's childhood friend. Obeid was not yet 13 when he was shot dead by an Israeli sniper on 25 November 2001. Nearly 14 years later, Mutaz was killed at the same spot and was also buried in the camp's Cemetery of Martyrs.
Front line of rebellion
Mutaz was laid to rest next to Jihad Jafari, killed by Israeli occupation forces in February.
At Jihad's home, his mother Hanan displayed a photo of Mutaz next to the picture of her son.
"Jihad used to collect pictures of martyrs in his bedroom. After his killing, his younger brother Mahmoud took on this job," she said. "Just like Jihad, he collects the pictures of all the martyrs."
The refugee camps have made the greatest sacrifices throughout the Palestinian liberation struggle. This latest uprising has demonstrated yet again that the youth of the camps are at the front line of any rebellion against the occupation.
"It's because people of the camps understand dispossession and live with the impact of landlessness more profoundly and tangibly than anyone else," Ibrahim Zawahreh said.
"It's not a coincidence that so many of the martyrs are refugees who live in camps," he added. "If you ask any child from the camp where he comes from, he automatically answers you with the name of his original village which his family had been displaced from."
"In the camp people also overcome the divisions with which traditional politics is fraught. In their struggle against the occupation, they are unified regardless of their political affiliation," he said.
That unity was on full display during Mutaz Zawahreh's funeral, during which thousands of Palestinians of various political affiliations marched shoulder to shoulder to pay respect to yet another refugee camp martyr.
Budour Youssef Hassan is a Palestinian writer and law graduate based in occupied Jerusalem. Blog: budourhassan.wordpress.com. Twitter: @Budour48
Tags