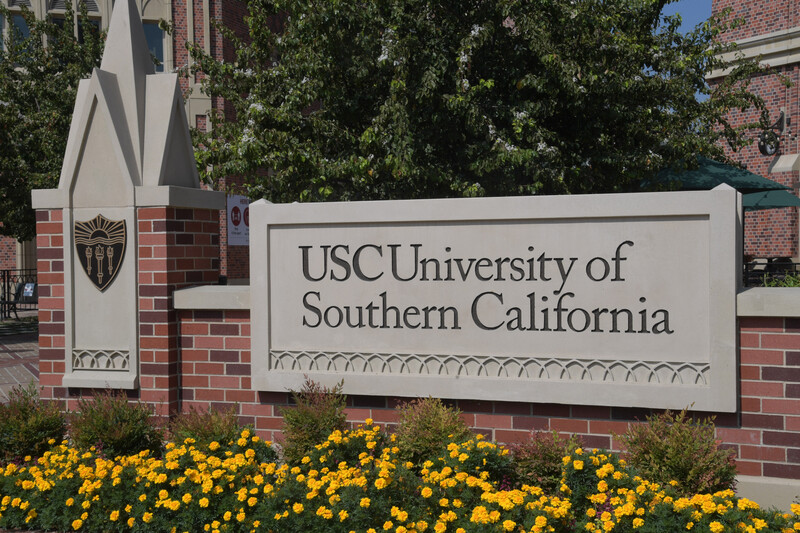 A student at the University of Southern California has become the target of death threats, FBI surveillance and relentless harassment after expressing outrage and grief over Israeli colonial violence.
Yasmeen Mashayekh says that the university has only fostered the harassment, which was heavily orchestrated by StopAntisemitism.org and Canary Mission.
The two websites are known for smearing and blacklisting outspoken Palestinians.
StopAntisemitism.org reportedly began targeting Mashayekh after she voiced her anger over Israel's attacks on Gaza last May.
She told The Electronic Intifada that, to her knowledge, Canary Mission first created a profile about her in October of this year.
"All of this has been negatively impacting my mental health," Mashayekh told The Electronic Intifada.
Out of context
The blacklist sites, and subsequently the USC administration, took particular issue with two of Mashayekh's tweets.
One read "I want to kill every motherfucking Zionist," and another, "yel3an el yahood," which the sites have translated from Arabic as "curse the Jews."
But as Mashayekh explained, neither tweet was a direct threat and both emerged from a specific context of her anger at Israel's relentless violence and Zionism, Israel's state ideology.
Mashayekh even clarified in a subsequent twitter thread that yahood was not intended to mean Jewish people, but rather the name by which the Israeli occupation and apartheid regime calls itself and subjugates Palestinians.
"While this is a term that can be literally translated as Jewish, Israeli law creates an apartheid regime that favors Jews over Palestinian Muslims and Christians which creates an oppressive political dimension to the term in a political context," she stated on Twitter.
In a 7 December email to USC officials, Mashayekh criticized the university over how it has handled her case.
"As a Palestinian in exile who was bombarded with photos and videos of mutilated Palestinian bodies, murdered children and demolished homes of my people and on the land that I am indigenous to, I have every single right to express my frustration and anger with my oppressor regardless of what that looks like," she wrote.
"Palestinians have a right to resist the occupation of their land (violently) under international law. The tweets circulating online have been pulled out of this context and used in a smear campaign that has painted me as an 'anti-Semitic,' violent person," she added.
Civil rights group Palestine Legal says it witnessed "a significant uptick in the amount and severity of backlash against Palestine advocates by Israel and its allies in the US" following the Gaza attacks.
In June, Mashayekh discovered that her name had been deleted from the USC Viterbi School of Engineering website, which lists all women and non-binary student leaders of organizations within the engineering school.
She was the only one who had been removed.
Following an unanswered inquiry from the civil rights organization Palestine Legal, Mashayekh's profile was eventually restored to the site.
But on 24 November, the engineering school issued a statement on Instagram implicitly distancing itself from Mashayekh.
And the harassment has only escalated.
In mid-December, she received death threats against her and her family.
"You have enabled this," Mashayekh tweeted to the university on 15 December.
"If anything happens to me or my family, just know that @USC @USCViterbi @PresidentFolt enabled it. They did NOTHING to protect me. My safety on campus is not a priority to them, no matter how much they claim it is. Any blood will be on their hands," she added.
Bare minimum
Amidst a barrage of social media posts by Israel lobbyists calling for her expulsion, Mashayekh said that the university did only the bare minimum in damage control.
The university's Chief Threat Assessment Officer had reached out to her in June asking to "learn more about this situation and explore how my office might be able to help you."
But Mashayekh told the Electronic Intifada she was wary of meeting given that USC had a pattern of not taking threats against Palestinians seriously.
In 2020, several undergraduate student government representatives had sent racist, anti-Palestinian and Islamophobic text messages and social media posts.
The university's Students for Justice in Palestine chapter demanded that the university specifically address the racist tropes in representatives' communications, and some representatives ultimately resigned.
In August 2020, USC President Carol L. Folt sent a campus-wide email reflecting on the incidents but made no reference to Islamophobia, anti-Palestinian and/or anti-Arab racism.
The only particular form of racism mentioned in the statement was anti-Semitism.
As Palestine Legal has noted, student and faculty supporters of Palestine are still routinely targeted on university campuses across the US.
Anti-Palestinian discrimination is so normalized that George Washington University thought nothing of illegally denying Palestinian students trauma services due to a pro-Israel group's complaint alleging that it was "anti-Jewish."
FBI visit
Meanwhile, in June, Mashayekh's mother called her to say that the FBI was at the door of her family's home. Mashayekh's sister, who was also at home, texted Mashayekh saying agents had come with printouts of her tweets.
Unable to provide a business card, one of the agents handed Mashayekh's mother a scrap of paper with a name and phone number written down. Zoha Khalili, an attorney at Palestine Legal, called the number on Mashayekh's behalf and found that it went to an FBI general line.
When Khalili asked to be forwarded to the agent who had left her name with Mashayekh's family, she was stunned when the agent refused to provide a direct number unless Khalili could promise that Mashayekh would not tweet about it.
"The conversation was bizarre," Khalili told The Electronic Intifada. "Yasmeen is the one who was doxxed and an agent of our federal police force is afraid of her."
The agent claimed that the FBI visit was a routine response to a report that had been filed about Mashayekh, though they would not reveal the source. They tried to set up a meeting with Mashayekh, but she declined.
So far, Mashayekh has experienced no further harassment from the agency.
Fired from paid position
In August, Mashayekh received a cryptic email from the director of academic services for admission and student affairs at the engineering school, requesting a meeting to talk about her paid work at the Freshmen Academy – a position similar to a teaching assistant that involves working with first-year students.
The director added that she wanted to discuss "some other opportunities," but would not clarify the exact purpose of the meeting.
The next day, Mashayekh received an email from a professor saying that the school would be removing her from the program for the academic year.
Palestine Legal contacted the Senior Vice President and General Counsel at the USC's legal office to express concern about the firing of Mashayekh from her paid position.
The official stated that "no student has the right to be appointed as a teaching assistant" and added "although not required to do so, Viterbi has offered Yasmeen an alternative position, at the same compensation, that does not involve student contact."
Sabrina Conza, a program analyst at the Foundation for Individual Rights in Education, also sent a letter in November to USC President Folt concerning Mashayekh's firing over her political views and speech.
The USC counsel sent a response reiterating the same defenses previously sent to Palestine Legal.
"It was really disappointing because I loved that job," Mashayekh told The Electronic Intifada.
At the same time, Instagram – which is owned by Facebook – was repeatedly deleting Mashayekh's personal account.
Khalili reached out to Facebook, clarifying that Mashayekh had been the victim of harassment for her pro-Palestine posts on Twitter and Instagram.
Facebook responded that the accounts "were restricted due to violations of our Community Standards."
Private tech companies like Facebook often tout vague "Community Standards" as an excuse to censor content on Palestine, or delete Palestinians' accounts altogether without warning.
Meanwhile, pro-Israel commentators like Emily Schrader Andy Ngo, and Adam Milstein have continued to pressure USC to take action against Mashayekh.
Notably, in 2018, Milstein was identified as one of the key funders behind Canary Mission.
Faculty letter
Beyond the administrative punishments, Mashayekh was also the focus of a December "Open Letter to the Leadership of USC" signed by accomplished university faculty.
"We refrain from judging whether this student's speech is protected by the First Amendment and whether her behavior requires disciplinary action," the letter said.
But signatories called on USC "to publicly and explicitly rebuke Yasmeen Mashayekh for her offensive behavior and to distance USC from her hateful statements."
Signatories include Andrew Viterbi, an engineering professor and the very individual after whom the USC School of Engineering was named.
The letter was promoted by Canary Mission.
It is not the first time some of these members of faculty have demanded the university adopt anti-Palestinian measures.
In August, many of the same professors issued a similarly styled letter calling on the university to undermine the Department of Gender and Sexuality Studies' decision to sign on to a Palestinian Feminist Collective statement of solidarity with the Palestinian people.
Public support
High-profile activists and writers are coming to Mashayekh's defense.

Mohammed El Kurd directly critiqued the engineering school's failure to protect Mashayekh from racist Zionist harassment.

Anna Rajagopal, a student writer and organizer at Rice University, created an email template that allows concerned community members to email USC directly.

And Mashayekh herself started a petition to stop the targeted harassment of outspoken Palestinians by malicious blacklisting sites.

Many are saying that USC can – and should – do better.

"Institutions have the responsibility to defend the members of their community that are working towards justice, whether they are students, faculty, administration," Nerdeen Kiswani, chair of the activist group Within Our Lifetime and president of the City University of New York (CUNY) Law SJP, told The Electronic Intifada.

In September 2020, Kiswani was the target of an Israel lobby harassment campaign.

But CUNY Law, which was initially critical of Kiswani, eventually supported her fully in writing.

It now remains to be seen whether USC will reverse course and offer Mashayekh the same clear and direct support that CUNY Law offered Kiswani, or continue to legitimize an outside harassment campaign initiated by anti-Palestinian blacklist groups and the Israel lobby.

But Mashayekh is under no illusions about the stakes of being a vocal Palestinian woman.

"No matter what I say, I would have been under attack," she told The Electronic Intifada.

"Right now, I'm just trying to focus on liberation and the real cause at hand regardless of what narrative Zionists are painting and regardless of who does or does not agree."

Omar Zahzah is the education and advocacy coordinator for Eyewitness Palestine, as well as a member of the Palestinian Youth Movement and the US Campaign for the Academic and Cultural Boycott of Israel.
Tags