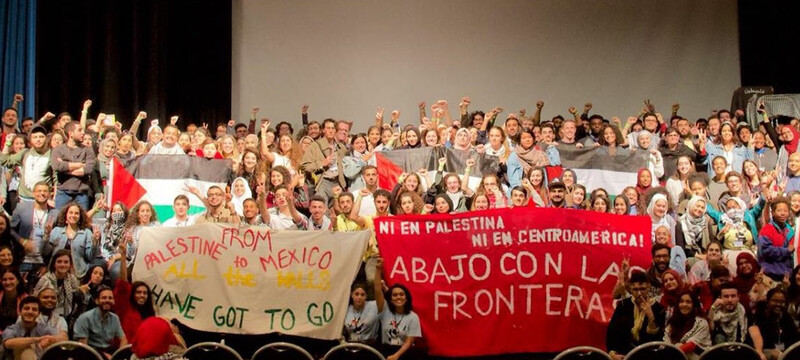 In a major victory for privacy and free speech on college campuses, a California judge has ruled against demands by an anti-Palestinian litigant to be able to harass human rights activists.

It marks the first time that a US court "has acknowledged the McCarthyite environment faced by those speaking out for Palestinian rights," according to civil rights group Palestine Legal, which represented eight defendants, along with the Asian Law Caucus and attorney Matthew Strugar.

For nearly three years, David Abrams had targeted and threatened the University of California at Los Angeles over a 2018 National Students for Justice in Palestine conference that was held on campus.

Abrams' lawsuit demanded that UCLA release the names of the speakers at the private event, after the university denied in 2019 his request to disclose the names.

On 11 March, the court rejected those demands and ruled that disclosure of the speakers' names was not in the public interest and "would violate their rights to freedom of association, anonymous speech, and privacy."

The court acknowledged "harassment, job difficulties, and problems entering Israel emanating generally from pro-Palestinian activism," recognizing that it was in the public interest in not disclosing the speaker's names "to protect their privacy and avoid a chilling effect from their speech."

The decision "rejects the notion that students lose their constitutional rights when advocating for the rights of Palestinians at a public university," Palestine Legal stated.

Abrams has a lengthy history of filing legal complaints against groups who support the boycott, divestment and sanctions (BDS) campaign for Palestinian rights.

Abrams' lawfare firm, the Zionist Advocacy Center, is a registered foreign agent for the International Legal Forum, which is funded by and works for the Israeli government to target BDS campaigners.

In 2015, Abrams worked with the head of the Mossad-linked Israeli lawfare group Shurat HaDin – which was co-founded by a convicted violent extremist – to file a complaint against a US trade union that voted to back BDS.

Recently, a California court rejected a spurious "defamation" lawsuit filed by Shurat HaDin against a US Palestinian activist.
Attempts to derail
Abrams, along with other Israel lobby groups, attempted to derail the conference before it began.
Their efforts to shut it down included instigating federal investigations, smearing student activists and threatening the university if it did not cancel the conference.
Abrams sent the university a letter claiming that the student organization is associated with "terrorism" and that UCLA could lose its federal funding if it allows the conference to take place, repeating bogus allegations long used by Israel lobby groups that student activism in support of Palestinian rights is an act of anti-Semitism.
As attacks by the anti-Palestinian groups grew, UCLA asked student organizers to provide the names of the conference speakers and workshop presenters in order to run the names "by the FBI, the Joint Regional Intelligence Center and terrorist lists from the US State Department and US Treasury Department to confirm that the individuals were not a threat," Palestine Legal stated.
Students complied, but made clear to the university that the information was confidential due to the ongoing intimidation and harassment campaigns that Palestinian rights advocates face. The university assured students that it would be confidential.
Outside campus, Israel lobbyists doubled down on their threats and smears.
The Zachor Legal Institute – an anti-Palestinian think tank that claims it is "taking the lead" against the BDS movement – filed a complaint with the US Department of Education just hours after the conference began.
The complaint alleged that the university expressed an "intentional act of anti-Semitism" in hosting the conference. It added that Students for Justice in Palestine (SJP) is a "terror front" and claimed that the conference was an "attack on Jewish students."
The US government accepted the complaint and opened an investigation.
In addition, members of the Los Angeles city council then unanimously passed a resolution condemning SJP. The motion alleged that the conference "undoubtedly would promote anti-Semitism" and that Jewish students on campus would face discrimination.
City councilmember Paul Koretz even joined a protest against the conference, where Zionist activists held signs accusing SJP of terrorism and shouted racist slogans.
"Extraordinary measures"
Palestine Legal's staff attorney Zoha Khalili says that this court victory is a clear vindication of the students' hard work to protect the speakers and organizers against harassment campaigns – especially against a swayable university administration, federal complaints and relentless attacks.
"Students took such extraordinary measures to create a space in which they could do their organizing in the way that they wanted to, and for over two years, Abrams has tried to undermine that," Khalili told The Electronic Intifada.
"One thing I really celebrate about this is that students are able to actually reap the benefits of all the work that they put into back then," she added.
Khalili explained that UCLA's decision to defend itself against Abrams' demands in court is a testament to the way students communicated with their administration.
"Because one way this could have gone is that in 2018, when Abrams asked for that list of names, UCLA might have just turned it over," she said.
But instead, UCLA took the students' concerns seriously, and were able to ensure the safety of the conference speakers, Khalili added.
However, she noted that UCLA should not have succumbed to the racist campaign against the conference in the first place.
"This was a situation that was manufactured by Abrams and people like him, and now [speakers' identifying] information was at risk because they did surveillance and collection, and they called the FBI on these people," Khalili said.
It is shocking, she said, that the anti-Palestinian groups "made these assumptions about the speakers and took the time to waste government resources in targeting them in that way," while intimidation campaigns were being bolstered by various levels of government.
"This all could have been avoided if UCLA would have treated this conference like they would have treated any other student conference," Khalili said.
Tags