Notes on Palestinian Revolution Cinema
The New York Arab and South Asian Film Festival will pay tribute to a group of filmmakers who have made significant contributions to various categories of Palestinian Revolution Cinema between the years of 1968 and 1982. Given the current political environment in Palestine, Iraq, and Lebanon in 2007, it is especially important to screen these films which have slipped through the cracks of history. They are a visual testament to past events and offer us a glimpse of history from the perspective of the people who actually lived it, a perspective not sanctioned by the official US/European meta-narrative of the region. In the context of last summer's Israeli invasion of Lebanon, screening Monica Maurer's film Born Out of Death of the aftermath of the Israeli bombardment of Beirut in 1981 has an ever more present urgency. How does our frame of reference of the current dire and desperate situation for Palestinians shift when we see the 1974 Israeli destruction of the Palestinian refugee camp Nabatiya in Mustafa Abu Ali's film They Do Not Exist?
A brief history
In 1968 in Jordan, the Palestine Liberation Organization founded Aflam Filasteen (Palestine Films). In the beginning, they focused on documenting the struggle through photography. Mustafa Abu Ali, a director with the Jordanian film department, along with photographer Hani Jawharia and cinematographer Sulafa Jadallah (incidentally the first camerawoman in the Arab world), were the force behind it. In 1969, they produced their first film, No to the Option of Surrender which was filmed by Mustafa Abu Ali and edited by Salah Abu Hannood. The film recorded the demonstrations taking place in Amman against the Rogers Plan. Also in 1969, at the invitation of al-Fateh, Jean Luc-Godard traveled to the refugee camps in Jordan and spent time with the film unit. Upon his departure from Amman he donated his video camera, (with a recorder/player vtr — one of the first models of video) to the group. [*] The first cine camera, an Ariflex BL 16, was provided to the group by Abu Jihad, Khalil Al Wazeer, a Fateh Central Committee member. [**] Previous to this they had been borrowing cameras to do their work. Another key film and the last film from the period in Jordan was With Soul and Blood(1971), filmed and directed by Jawharia and Abu Ali. It was shot during the events of Black September in 1970 when the Jordanian Army massacred Palestinians.
After the horrific events of Black September, Mustafa Abu Ali, along with the rest of the PLO left Jordan and went to Beirut. Hani Jawharia and Sulafa Jadallah were unable to get out of Jordan. Once in Lebanon, cinema activity intensified as other Palestinian factions like the People's Front for the Liberation of Palestine and the Democratic Front for the Liberation of Palestine started using film as a tool for liberation. At one point in 1973, there was an attempt to form a "Palestinian Cinema Group" which had no allegiance to any faction, but it was only able to produce one film: Scenes of Occupation in Gaza, directed by Mustafa Abu Ali. It was not until 1973 that they actually began to put their names on the films, because their intent was not to be "filmmakers" but to make films for the "revolution". [*] It was in Beirut in 1974 that Mustafa Abu Ali made the film we are screening in this festival: They Do not Exist. Others who joined after the move to Beirut to produce films documenting resistance include Palestinian painter Ismail Shamout, and Iraqi filmmaker Kassem Hawal whose fiction film Return to Haifa (1981) we are screening. Two films that documented the resistance fighting Israel in Lebanon include Kafr Shoba (1975) directed by Iraqi Samir Nimr, and Guns are United, (1973) directed by Lebanese Rafiq Hajjar.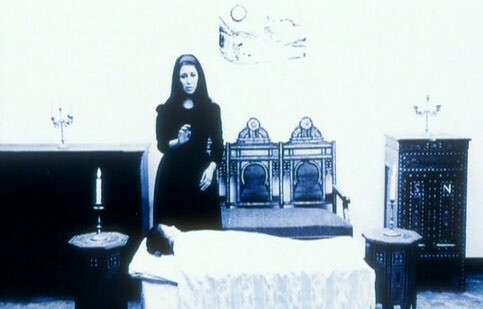 Meanwhile in the 1960s Syria had become a center for exiled Palestinians as well as pan-Arabists and it was there that the Iraqi filmmaker Kais al-Zubaidi focused his lens on the socio-political situation of the Palestinians. We will screen two films he made during this period and which are both Syrian productions: Away from Home (1969) and The Visit (1970). Kais al-Zubaidi also worked with the

PLO

film unit in Beirut intermittently. Most recently, Kais has published an excellent anthology called Palestine in the Cinema (2006). It is an archive of the history of Palestinian cinema and lists over 800 films produced by Palestinian, Arab and non-Arab artists about Palestine and the Palestinian people.

Over a period of fourteen years the PLO Film Unit recorded Palestinian history and created films. They documented military actions, revolutionary events, the Palestinian resistance, everyday life in the refugee camps and they promoted the Palestinian national cause. The film unit received filmmakers and writers from all over the world including Argentina, France, Chile, Cuba, and Italy. Some like Monica Maurer, featured in our festival, came to document life and make films in solidarity with the Palestinians. "They used to be amazed that we Palestinians were in the middle of a revolution, of a struggle and we had cinema." [*] Unlike the national cinema that emerged out of Cuba after the Cuban Revolution, and out of Iran after the Islamic Revolution, the Palestinian national Cinema was created and documented life during the revolution. Khadija Abu Ali told me that Cuba's Santiago Alvarez met Mustafa Abu Ali at a film festival in Algeria and exclaimed, "You are the first among all revolutions who had cinema during the struggle". [*] Mustafa Abu Ali recounted:
I remember Alvarez expressing his extreme admiration of my film "Zionist Aggression," saying: "It has achieved the maximum expression with the least means". He was so kind and he insisted on giving me a present of 22 bottles of fine Cuban Rum, which was all he had with him. After a long argument in which he tried to convince me to take them all and if not all, at least half, I accepted two bottles. I never met anybody with such genuinely warm feelings like Santiago Alvarez. [**]
Many of these films were screened and won awards at international festivals between 1969 and 1976 like the Leipzig International Festival for documentaries and short movies, the Palestine Film Festival in Baghdad, the Festival of Young Arab Cinema in Damascus and the Carthage Film Festival. In Lebanon as elsewhere, they had film screenings, they donated footage to whoever wanted to use it, and they also sent out newsreel footage for film festivals to screen prior to films in the same vein as the "War Diaries" presentation in this festival.
The lost Palestinian Film Archive
After the first Israeli aerial bombardment of Beirut in 1981, filmmaker Khadija Abu Ali began to worry about the security of the archives, so they rented a safer place in Hamra in a basement with air conditioning. [*] It contained thousands of films stored in cans that filled three rooms of floor to ceiling shelves. [*] It was a record of Palestinian history full of political cinema, documentation of the struggle, the resistance movements, daily life and precious historical footage. In between bombing raids during the Israeli siege on Beirut, some of the film unit risked their lives to preserve some of the footage by making their way to the archive and relocating some of the footage. [*] Then there was the 1982 Israeli bombardment on Beirut, the PLO was expelled and the film unit dispersed as they had to relocate. Two years later the Palestinian cinema archive disappeared. For 25 years the archives have been missing and no one knows what has happened to them and whether they were stolen, buried, burned or lost. There have been several individual initiatives over the years to find and uncover the archive, but the effort has been too dispersed. The individuals who have sought out these films in isolation reflect the deep state of fragmentation and the very complicated condition of Palestinians today.
In an effort to resist the erasure of cinematic history and Palestinian memory from the region, we present you with this small selection of films. They preserve a history, they document an era and events, and they show us fragments of both Palestinian narratives as well as the larger Arab narrative.
Program schedule:

PALESTINIAN

REVOLUTION

CINEMA

February 23-27, New York City, curated by Emily Jacir
Author's note: I want to thank Khadija Abu Ali for all the help she gave me as well as for her endless generosity in sharing her life as well as the lives and histories of these films with me. I also want to thank Kais al-Zubaidi and Mustafa Abu Ali for sharing their insights and anecdotes about these films and their stories with me. Lastly, thanks to all three for reviewing my text and correcting my errors.
Endnotes
[*] Excerpted from an extended interview the author conducted with Khadija Abu Ali in Ramallah, December 2006.
[**] From a conversation the author had with Mustafa Abu Ali in February 2007.
Related Links