On Monday, 16 October 1972, Wael Zuaiter left Janet Venn-Brown's apartment and headed to his apartment at no. 4 Piazza Annibaliano in Rome. He had been reading One Thousand and One Nights on Venn-Brown's couch, searching for references to use in an article he was planning to write that evening. He took two buses to get from Venn-Brown's place to his in northern Rome. Just as he reached the elevator inside the entrance to the building of the apartment block where he lived, Israeli assassins fired 12 bullets into his head and chest with .22 caliber pistols at close range.

Wael Zuaiter had become the first victim in Europe in a series of assassinations of Palestinian artists, intellectuals and diplomats that was already underway in the Middle East.

Zuaiter ended an article he wrote for the newspaper L'Espresso two or three weeks previously by quoting the English mystic Francis Thompson:
"That thou canst not stir a flower
Without troubling of a star"
Zuaiter's dream was to translate One Thousand and One Nights directly from Arabic into Italian. He had been working on this project since his arrival in Italy in 1962. To this day an Italian translation from the Arabic does not exist; all the Italian translations are from other translations.

Zuaiter had photocopied 4,000 pages of one of the oldest Arabic editions from a library in Rome. He asked Laila Baido, a woman from Sardinia living in Rome, to help with the translation and they worked on it for many years. Venn-Brown and I searched for her last December, so I could see his xeroxes and their translations of the first book, but no one knew anything regarding her whereabouts.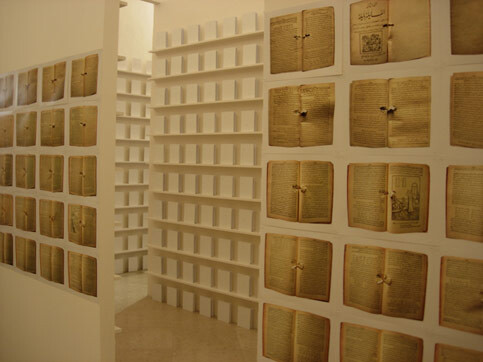 The night Zuaiter was killed he had volume two of the book in his pocket. Twelve of the bullets entered his body but there was a thirteenth that pierced the book and lodged in its spine. Venn-Brown kept this book hidden for thirty years; recently she donated it to the Wael Zuaiter Center in Massa Carrara. On 5 December 2005, I took a train to Massa Carrara to meet his old friends and to document the book. I photographed each page the bullet had gone through, until I could no longer see marks or imprints from the bullet.
I went into training at a shooting center in Sydney, Australia — where I was invited to show the ongoing work at the Sydney Biennale at Palazzo delle Papesse — to learn how to use a gun. After my training, I shot 1,000 blank white books with a .22 caliber pistol — the same gun the Israeli Mossad used to hunt and kill Palestinians in Europe.
Artist Emily Jacir's "Material for a film" (performance, 2006) is comprised of 1,000 blank books shot by the artist with a .22 caliber gun, mixed media and photographs and was commissioned for the 2006 Biennale of Sydney entitled Zones of Contact. The installation was supported by the 2006 Biennale of Sydney.
Tags