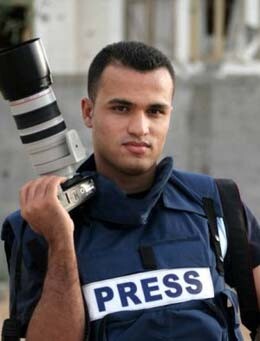 Palestinian reporter Mohammed Omar, 22, won the best Ethnic Media Award, organized by New America Media in Washington

DC

.

Omar won the award for his story ""Sharon, Why Did You Destroy My House?": Operation Rainbow a Year Later" published by Washington Report on Middle East Affairs and the Norwegian "Morgenebladet" last year.

Omar, who is heading to attend the "New America Media's First National Ethnic Media Awards" in Washington DC told WAFA that he is the first journalist from the Middle East to win this award.

His story sheds the light on the daily suffer and human details of Palestinian family who was turned to homeless as Israeli Occupation Forces destroyed their home in the refugee camp of Rafah, south of Gaza, last year.

Mohammed Omar, from Rafah, works as reporter for Washington Report on Middle East Affairs as well as a freelance and photojournalist for the Morgenebladet and other European papers.

"When I received a phone call from Washington informing me about winning, I could not absorb, for two days I was worried," he said, "after two days, I digested it, I felt so proud, happy and full of self confidence."

Omar added that he thought that he won because his stories focus on the human touch, credibility and structure.

Mohammed Omar, lost his house in 2003 as Israeli caterpillars flattened it, and his father spent 11 years in Israeli prisons, said that his winning the Ethnic Media Award is a "Palestinian victory".

"I am the son of Palestinian cause, everyday I taste the bitterness of the daily life of the Palestinian people, so the real winner is the innocent children who were slaughtered by war machines and the rubble of the houses destroyed by Israeli bulldozers," he said.

Omar asserted that he will continue writing and taking pictures for those people who every day suffer as well as he will write also about Palestinian beauty, arts and music in Palestine to show the other face of Palestine.

Sami Abu Salem lives in Jabalia Refugee Camp and works as an English news and features writer at the Palestine News Agency (WAFA). This article is reprinted by permission from WAFA. He has also worked at the International Press Center of the Palestinian Authority State Information Service, and works as a freelance writer for local newspapers, focusing on literature and arts.