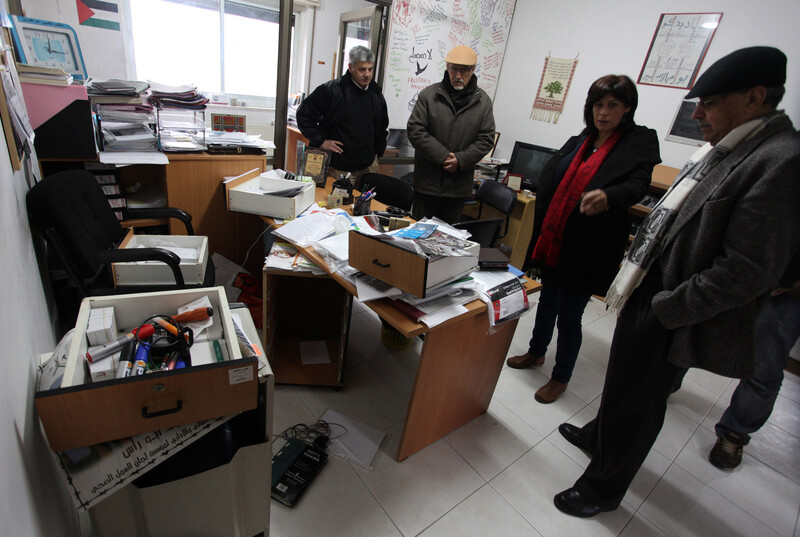 For many Palestinians, the year 2012 will go down in history as the year in which the prisoners' struggle returned to the center of the Palestinian cause. The wheels were set in motion with a mass hunger strike in Fall 2011 and the release of more than 1,000 prisoners as a result of the prisoner swap deal.
However, it was Khader Adnan's inspiring and record-breaking hunger strike that breathed new life into a long-running campaign against Israel's practice of administrative detention, the indefinite imprisonment of Palestinians without charge or trial. In Spring 2012, Palestinians witnessed a nearly month-long mass hunger strike undertaken by approximately 2,000 Palestinian prisoners demanding an improvement in detention conditions, access to education and an end to solitary confinement and administrative detention.
The Ramallah-based group Addameer has been key in advocating for prisoners' rights. Randa Wahbe, Addameer's international advocacy officer, sat down with The Electronic Intifada to give an update on events since the Spring mass hunger strike, the situation of prisoners currently on hunger strike, and the case of Addameer researcher and activist Ayman Nasser, who was arrested by Israeli forces on 15 October.
Addameer has recently put out a call for action and suggestions for ways activists can show solidarity and take part in the campaign for Nasser's immediate release, among them signing and distributing a petition to be sent to UN and European Union representatives before Nasser's next court date on 17 December.
According to Addameer, there are more than 4,520 Palestinians currently in Israeli prisons. Though attention has waned since the mass strike this Spring, hundreds of Palestinians have been arrested since then — more than 50 in one night following the Gaza ceasefire last month.
The following interview was conducted before Addameer's office was raided and ransacked by the Israeli military this morning.
Nour Joudah: Six prisoners are currently on hunger strike, including Jafar Azzidine, Tarek Qaadan and Youssef Yassin — who were detained during Israel's mass arrest campaign in the West Bank following last month's Gaza ceasefire — and Ayman Sharawna and Samer Issawi, who have been on strike for more than 160 and 130 days, respectively. How critical are their situations?
Randa Wahbe: Their conditions are worsening due to the Israeli Prison Service's continued denial of independent medical treatment. One of our lawyers recently visited Ayman Sharawna and Samer Issawi, and reported that the conditions in the Ramleh prison clinic were so terrible that Samer Issawi had refused treatment until he was threatened to be forced to take glucose injections, a procedure which at this stage of his hunger strike might endanger his life. The hunger strikers are constantly being pressured by the Israeli intelligence to end their hunger strike without signing a formal agreement, but they are staying steadfast and insisting that they will not end their hunger strikes until they gain their freedom or die.
NJ: At the end of the mass hunger strike last April-May, Israel made vague promises regarding ending administrative detention. It's been more than six months now; what, if any, part of that promise has been kept?
RW: The agreement between the Israeli Prison Service and the hunger strikers stated that there would be no new administrative detention orders or renewals unless the "secret files" of the prisoner [used by Israel's military court system to justify detention] contain "very serious" information. Of course, the Israeli military judge determines the gravity of the secret files, and therefore the agreement with the hunger strikers did not stop Israel's already liberal application of administrative detention.
Several of those on hunger strike had their administrative detention orders renewed since the agreement, including Samer al-Barq and Hassan Safadi. In total there are currently 163 prisoners under administrative detention, including five Palestinian Legislative Council members who were arrested after the most recent attacks on Gaza. In addition, several of those who were freed after their administrative detention expired were re-arrested, such as Thaer Halahleh, who was on hunger strike for 77 days in early 2012 and freed in June.
In fact, Israel has basically reneged on the entire agreement made with the prisoners: the use of isolation still continues, there are still night raids, there is still no access to education and prison conditions have not improved. The only change we have seen thus far is that visits for families of Gazan prisoners have resumed, but it is still unclear if this will continue. It should be noted that many international organizations, including the European Parliament and United Nations Secretary-General Ban Ki-moon, have voiced serious concerns about Israel's problematic application of administrative detention. But thus far [they] have not taken any serious action to pressure Israel to uphold its agreement with the hunger strikers or international law conventions.
NJ: Your colleague, Ayman Nasser, has been detained for almost two months now on charges of attending demonstrations and publicly standing in solidarity with Palestinian prisoners. Is this a charge seen often?
RW: Yes, unfortunately, the lack of substantive charges is common in the detention of prominent human rights defenders and activists like Ayman. In many cases, the allegations are incredulous. Last week, six people were arrested in Birzeit [a village near the West Bank city of Ramallah] for their alleged membership with the town's sports club that Israel claims is affiliated with a political party. The arbitrary charges are an attempt to disrupt Palestinian society and inhibit the work of activists and organizations like Addameer. It is also an attempt to discourage Palestinians from doing as little as attending a demonstration in Ramallah to show solidarity with the prisoners.
Ayman is being charged and tried for attending a demonstration on 17 April, the national day of solidarity with prisoners. The irony is that if attending demonstrations in solidarity with prisoners was a substantial crime, nearly every Palestinian would be found guilty. Almost all Palestinians have at least one family member who [has been] arrested at some point since the start of the occupation, so demonstrating in solidarity of prisoners is not just to defend human rights, but also to show support to the family and society.
Human rights defenders play such a prominent role in organizing Palestinian society, and thus Israel views them as a threat, and since 1948 has dealt with this threat by imprisoning them in an attempt to silence them. Detention and mass imprisonment is a de facto policy to suppress resistance to colonization and occupation and Ayman is just one of 800,000 Palestinians since 1967 who has spoken out against human rights injustices and was arrested.
NJ: Under what pretenses is Israel continuing to hold Ayman Nasser until his trial?
RW: The official ruling to deny Ayman bail is that he is considered a danger to society, and there is enough evidence to prove his guilt. So without having to prove anything, the Israelis can detain him until the end of his trial.
The lives of Palestinians in the West Bank are governed by Israeli military law, and the trials are very much a sham. They last on average between three and four minutes, with several defendants at a time, and often the defense lawyer does not have access to the files or charges before the trial. Ayman is being tried in an Israeli military court in which there is a 99 percent conviction rate and there is obviously no justice in such courts. The military courts are another colonial tool that Israel uses to oppress and silence the people it colonizes.
Undoubtedly, detaining Ayman during the trial is an attempt to disable him from being vocal about prisoner's rights, as well as [an] attack [on] Addameer's work. The arrest of human rights defenders like Ayman is a way to cripple the work of Palestinian civil society organizations that defend human rights as well as those who have called for Israel to be held responsible for its behavior through the boycott, divest and sanctions movement, especially by calling for the boycott of G4S, the British-Danish security company that provides security systems to the Israeli Prison Service.
NJ: Though Israel has attempted to "break" Ayman Nasser for his adamant defense of prisoner's rights, he has maintained his right to speak up for the prisoners. Do you see his detention as an attempt to silence other active voices for prisoners' rights?
RW: Definitely. Detaining Ayman and others on such far-fetched charges is a way to subdue the Palestinian population and further splinter any resistance to occupation and colonization. In the past year there has been a resurgence of a vocal prisoners rights movement, and Israel is trying to threaten it by detaining prominent activists to inhibit their work and to intimidate others from also participating. While Israel continues to detain human rights defenders like my colleague Ayman and many, many others, the entire prisoner movement cannot be silenced because as Ayman himself said, we will defend the prisoners even if the cost is freedom.
Nour Joudah, currently living and teaching in Ramallah, holds an MA in Arab studies from Georgetown University where she researched Palestinian youth perspectives on exile politics.
Tags