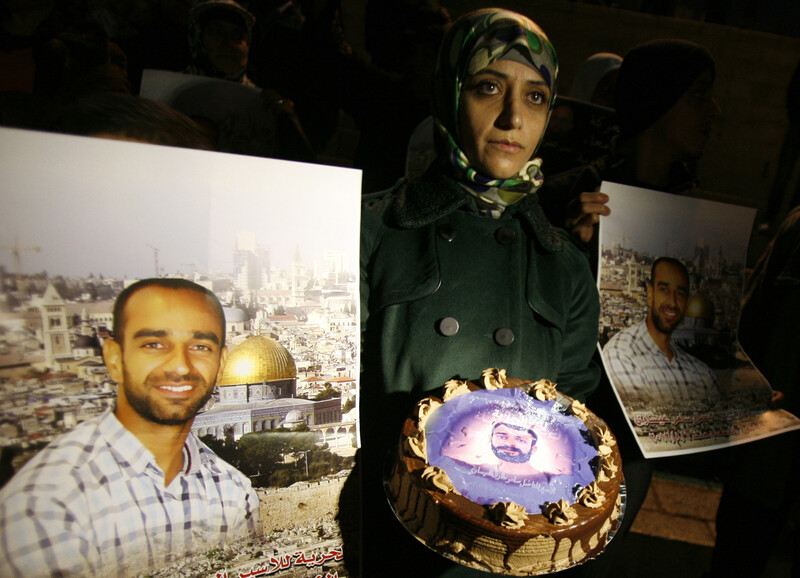 Three Palestinian political prisoners who have been on hunger strike for 22 days issued a statement expressing the goals of their protest through a lawyer with the rights group Addameer who visited them yesterday. The three men are being held by Israel without charge or trial — a practice known as administrative detention. All three were arrested on 22 November, the night after a Gaza ceasefire took effect, during which Israeli forces conducted sweeping arrest raids in the occupied West Bank.
The prisoners — Jafar Azzadine, Tarek Qa'adan and Yousef Yassin — stated:
Our open hunger strike is to protest the Intelligence and their policies, our goal is not just to gain our individual freedom but to end the practice of administrative detention, the pointed sword on the neck of the Palestinians. This is a battle in the fight for freedom and dignity despite all the continuing pain and torments that impair us, and despite all the pressure that we endure and is practiced against us by the Israeli Prison Service and Shabak to break our will from our steadfastness. However, the cowardly enemy will never undermine our steadfastness and our determination to achieve justice and freedom for all our imprisoned and hunger striking brothers, and the oppressed and those who were tortured by the fiery tormentors for decades. We call on the sons of our people to stand by us and to show responsibility for our fellow prisoners, especially Samer Issawi and Ayman Sharawna who are nearing death. We also call on all local and international institutions and those that are specifically for human rights to intensify their efforts and to raise our voices high in international forums to expose the barbaric occupation and its practices.
In a press release today, Addameer gives additional information about Azzadine, Qa'adan and Yassin, and their deteriorating health:
Jafar Azzidine, 41 years old from Jenin, has been detained by the Occupation seven times, his most recent arrest being 21 March 2012. He participated in a hunger strike on 14 May 2012, and was released on 19 June 2012, after spending 4 months in administrative detention. As a result of his most recent hunger strike, he suffers from low blood pressure, continuous dizziness and headaches, protein deficiencies and pain in his joints, knees, hands and spinal cord.
Tarek Qa'adan, 40 years old from Jenin, has been detained by the Occupation 13 times since 1989. In his prior arrest, he was sentenced to 15 months for speaking at a commemoration event at the American University of Jenin. He has participated in several hunger strikes, including the solidarity hunger strikes with Khader Adnan and Hana Shalabi. He is currently suffering from atrophy in his muscles as a result of his current 22 days hunger strike.

Yousef Yassin, 29 years old from Jenin, has been detained by the Occupation three times before, the most recent in Febraury 2012, in which he was sentenced to eight months.
Striker in "grave danger"
Meanwhile, the health of Ayman Sharawna, who has refused food for more than 170 days, is in "grave danger," Addameer warned yesterday:
[H]e is suffering from severe pain in the kidneys, liver and legs, and has lost his vision. Ayman is refusing to be transferred to another hospital due to his Israel Prison Service's intention to shackle him during transportation and treatment. The doctor at Ramleh Prison Hospital told Ayman that there is serious danger on his life if he discontinues to drink water. He is currently taking vitamins and sugar.

Ayman is protesting his arbitrary re-arrest after his release in the [prisoner swap] exchange of 11 October 2011. The prosecution is attempting to renew his previous sentence despite their lack of charges.
Israel arrests sister of hunger striker
Another long-term hunger striker, Samer Issawi, is also in danger of losing his life after 140 days of hunger strike, his sister Shireen Issawi told The Electronic Intifada this week.
A video uploaded to YouTube yesterday shows the chaotic scene at Samer Issawi's court date yesterday. Israeli authorities are shown shoving and yelling at Issawi's family and supporters. At 1:25 in, Samer's mother and sister are seen telling the Israeli security officers that they refuse to move until they see Samer. At 1:45, Samer is shown being pulled from his wheelchair by Israeli officers who drag him away while Samer says in a weak voice that his hunger strike is ongoing.
Ma'an News Agency reported yesterday, citing Addameer, that Shireen Issawi was arrested from her family's East Jerusalem home after the court hearing:
Shireen Issawi was detained by Israeli forces in Issawiya after she tried to access her brother's court hearing earlier in the day, the group said.
The family were blocked by Israeli forces at the court when they tried to greet Samer, and later denied access to the court, prisoners groups said. Samer has been on hunger strike for 140 days in Israeli jail.
An Israeli police spokesman did not return calls seeking comment on the arrest.
The Electronic Intifada published an in-depth report on Samer Issawi's arrest and detention in August. Samer's brother Fadi was killed by Israeli forces in 1994. His brother Medhat, who has spent a total of 21 years in Israeli prison, was arrested in May of this year for his participation in prisoner solidarity activities.
Tags