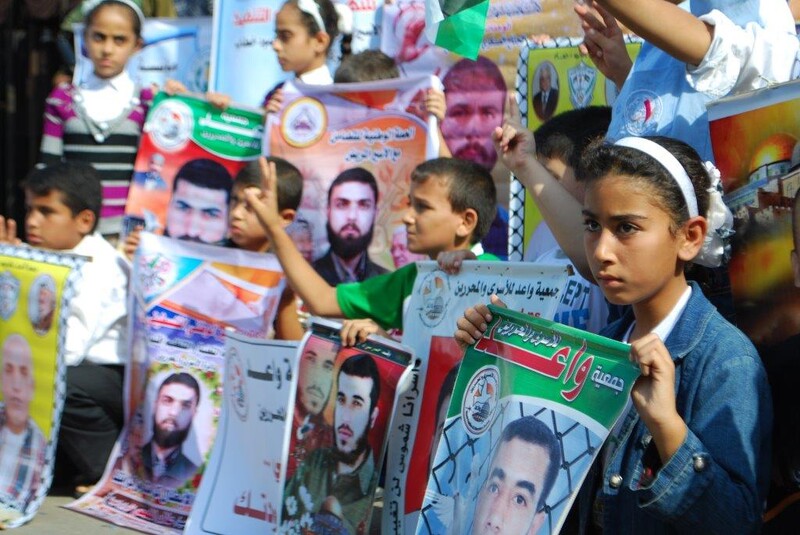 Following in the footsteps of many Palestinian political prisoners who undertook lengthy hunger strikes, Alaa Hammad has been refusing meals for more than 210 days.
Muntaha Qasem, Hammad's wife, has not spoken with her husband directly since the early stages of his fast. "I've only been able to phone him once since he began his hunger strike," she told The Electronic Intifada by telephone from Amman, Jordan. "And even then it was less than five minutes."
Hammad, a 35-year-old who began his hunger strike on 2 May, holds an Israeli-issued identity card for Palestinian residents of Jerusalem, as well as Jordanian citizenship. Having been denied all family visits from relatives in Jordan who do not have Jerusalem residency or a passport issued by the Palestinian Authority, he and four other Palestinian political prisoners with Jordanian nationality have demanded to either be released or transferred to prison in Jordan.
He is the final remaining hunger striker from that group.
Transferred to hospital
Recalling that "he seemed strong and his voice sounded powerful" the last time that she spoke to him on the telephone, Qasem added that Hammad's lawyer informed her on 25 November that he had been transferred to a hospital in Ashkelon, a city in present-day Israel.
Hammad is the only person from his family to be imprisoned by Israel. His arrest took place during a 2006 business trip to Jerusalem.
Not having any political ties, Qasem said, Hammad was looking into starting a fresh fruit cocktail café and applying for family reunification to bring his wife and children, who carry only Jordanian citizenship, with him to either Jerusalem or the occupied West Bank city of Ramallah.
While renting a home near his uncle's residence in the Sur Baher area of occupied East Jerusalem, Hammad spoke to a friend in Syria, asking for business advice several times via telephone.
"His friend [in Syria] had helped teach him how to make fresh fruit cocktails and ice cream," said Qasem. "As a family we had all visited his friends in Syria a few years back. He was just calling for help, to ask questions about how to get his business started."
Torture
After surrounding his home at approximately 2am on 24 November 2006, Israeli soldiers broke in and arrested him. "They tore apart the whole house searching for evidence. They even ripped the electricity outlets from the walls," Qasem recalled.
Hammad was eventually charged with involvement in an alleged plot to kidnap an Israeli soldier and having contact with Syria, considered a "hostile state" by Israel. "He was in interrogation and tortured in a compound [in Jerusalem] for two months before he was transferred to a prison," Qasem explained. "Under torture, he eventually confessed to thinking about kidnapping an Israeli soldier to facilitate another prisoner exchange."
Qasem said that her husband only confessed to end the torture. He was subsequently convicted by an Israeli military court and sentenced to twelve years in prison.
An Israeli military document published in 2010 found that 99.74 percent of Palestinians tried in a military court were convicted ("Nearly 100% of all military court cases in West Bank end in convictions, Haaretz learns," Haaretz, 29 November 2011).
More than 5,000 Palestinians are currently detained by Israel, according to the latest data from Addameer, a group campaigning for Palestinian prisoners.
Despite having no known political affiliations, Israeli intelligence told Hammad's lawyer that there was a "huge file" of information about him, and he was classified by prison authorities as a Hamas member once he entered jail.
Rarely granted permission to make phone calls, Hammad has had sparse contact with his wife and their six children, who are between the ages of six and fourteen. Because Hammad's mother holds an Israeli-issued Jerusalem identity card, she is the only relative who has been permitted to visit him in prison throughout the last seven years.
"I won't lie, this has all been very difficult. Not just his imprisonment, but it's also very hard raising six kids on your own. I hope God will give me patience and strength," Qasem said.
"The kids are constantly asking about their father. Since we learned that he would be spending twelve years in prison, they have been counting down the days until he comes home," she said.
"Arbitrary"
Randa Kamel, an advocacy officer for Addameer, told The Electronic Intifada that "Israel is obliged by international law to allow family visits, as is outlined in the Third Geneva Convention and the Minimum Standards for the Treatment of Prisoners.
"Currently, most of the Jordanian prisoners were arrested for alleged 'military activities,' so they are considered prisoners of war … and Israel uses this classification to deny them family visits. However, other rights that should be provided to prisoners of war … including everything from prisoners of war camps to receiving parcels, have been [denied]," she explained.
Other Palestinian political prisoners not holding Jordanian citizenship have been permitted family visits, despite also being classified by Israel as prisoners of war. "This just furthers the arbitrary circumstances that the prisoners live under, and [Israel uses] family visits to manipulate or punish the prisoners."
The four other Jordanian prisoners — Abdullah Barghouthi, Mohammad Rimawi, Hamza Othman and Munir Maree — ended their fasts in August after 102 days. Addameer reported that "the lack of international attention was one of the primary factors in ending [their] hunger strikes" ("Lack of international attention primary reason for cessation of Jordanian prisoners' hunger strikes," 22 August 2013).
In the past, Israel transferred prisoners of Jordanian nationality to Jordanian control on the basis of the Wadi Araba agreement, the 1994 treaty that normalized relations between Israel and Jordan.
This practice was implemented in the past when four Jordanian nationals serving life sentences in Israeli prisons were transferred back to Jordan: Sultan al-Ajlouni, Amir Sanae and brothers Khaled and Yusef Abu Ghaleon ("Jordan frees prisoners who killed Israelis," The Times of Malta, 20 August 2008).
Although the Wadi Araba agreement does not explicitly stipulate that Israel must transfer prisoners with Jordanian nationality, Kamel said "there is no reason this should not be applied to other prisoners with Jordanian citizenship" today.
According to international and Palestinian human rights groups, the Israeli Prison Service resorts to widespread violations of human rights. Among the tactics used to pressure hunger strikers to abandon their fasts are withholding medication, blocking access to lawyers, denying family visits and physical assault.
Force-feeding threat
In July, Addameer noted that Hammad had been denied liquid vitamins for a brief period and threatened with force-feeding, a practice considered by many to be torture ("Punishments escalate against 12 remaining hunger strikers," 24 July 2013).
Addameer's lawyers have since been denied permission to visit him.
During the same period, another hunger-striking prisoner, Mohammad Tabeesh, was beaten violently by Israeli prison guards, particularly "on his hands his hands and legs where he still has scars today," according to Addameer. The prison guards also taunted several hunger strikers by "cooking and eating near their cells, and 'roughing them up' while they are handcuffed to their beds," the advocacy group added.
Although Hammad was transferred to a hospital, his family expressed fears that he was still being denied adequate health care.
On 5 November, Hassan Turabi, a 22-year-old Palestinian prisoner from the Nablus area of the occupied West Bank, died of leukemia. The fifth prisoner to die in Israeli detention so far this year, Turabi's death prompted accusations of "medical negligence" from human rights groups and Issa Qaraqe, the Palestinian Authority's minister of prisoner affairs ("Young Palestinian prisoner dies in Israeli jail," Ma'an News Agency).
"Very sick"
Hammad's health has reportedly suffered since the last time his wife spoke to him.
"The lawyer was only able to meet with him for seven minutes, and he said that he appeared very sick," Qasem explained. "He said [Hammad's] voice sounds weak and he speaks slowly. He cannot move well and suffers from chronic headaches. Until now, thank God, tests say his kidneys are okay, but he's becoming so sick that doctors cannot even find a vein to administer glucose."
Hammad's name has been widely circulated on the Internet as a result of activists' efforts to raise solidarity for him and other Palestinian political prisoners. "It's really amazing the kind of support we're getting from everywhere," Qasem said.
"There are protests from the United States to Europe, and every night from ten til eleven there is a Twitter campaign with a hashtag that includes Alaa's name and the number of days he's been on hunger strike … there are thousands of people participating."
In the besieged Gaza Strip, occupied East Jerusalem and the broader West Bank, protests on Hammad's behalf are part of a movement to cultivate solidarity for Palestinian political prisoners behind Israeli bars.
On 16 October, Palestinians protested for Hammad outside the International Committee of the Red Cross office in Gaza City and held a sit-in during a weekly vigil for prisoners and detainees ("Gaza supporters rally for Alaa Hammad, keep weekly vigil for Palestinian detainees," International Solidarity Movement, 16 October 2013).
"Even with all the suffering in Gaza, people still care about my husband's struggle," Qasem noted.
Since August, international solidarity organizers have also held a number of demonstrations outside the Jordan International Bank in London.
BBC's silence
Qasem added that she has received letters of support and solidarity from Europe, the US and across the Middle East and North Africa, including Turkey and Algeria.
In Jordan, she said, "We've protested in front of the BBC" for its silence on Hammad's case, and "there are plans to protest in front of the Israeli embassy in Jordan soon."
The "overwhelming" solidarity from across the globe "makes us feel that the world is still good," said Qasem.
Yet as was the case with dozens of high-profile, long-term hunger strikers in the past, the Ramallah-based Palestinian Authority has failed to act meaningfully.
"There has been absolutely no support or contact from them," said Qasem. "There's been nothing from other Arab governments, either.
"From everything we've seen so far the Jordanian government isn't bothering to interfere. Even though they are constantly updating me on Alaa's situation and saying that they're checking up on him, there hasn't been any actual work on the ground.
"We have an embassy in Tel Aviv. If the Jordanian government was actually trying to do anything, they would have already been negotiating for Alaa's release or transfer."
According to Qasem, the Jordanian ambassador to Israel only visited Hammad for the first time more than forty days after his initial arrest.
As Hammad's health continues to deteriorate, his wife calls on activists and people across the world to increase their efforts. "People need to increase the pressure on the governments involved, especially the Jordanian government," she said.
Patrick O. Strickland is an independent journalist and frequent contributor to The Electronic Intifada. Find his work at www.patrickostrickland.com and follow him on Twitter: @P_Strickland_.
Tags