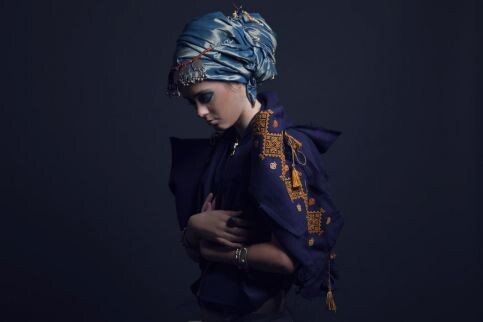 With style gurus and editors reveling in another pageant of new creations flaunted at London Fashion Week, a talented young Palestinian is bucking the trend with his own captivatingly unconventional designs.

At first glance OmarJoseph's showpiece portfolio might be taken for an assemblage installed at the Qattan Foundation's Mosaic Rooms. There he has discarded the catwalk convention to hang his debut collection of 22 unique garments, alongside the screening of a short video he scripted, designed and produced to reflect the enigmatic theme of the exhibition's title: Silk Thread Martyrs.

As fashion statements go, OmarJoseph's style is wholly without compromise. Distinct from the run-of-the-mill offerings at the garment trade's annual jamboree, he offers an inspired and creative blend of the old and the new, a theatrical sense of the classically orientalist capturing the contemporary zeitgeist. While the whole world is transfixed by the populist tumult fomenting across the Middle East, the political spotlight now rests on the plight of the Palestinian people, a central theme in his work.

Enlisting exquisite but thankfully not yet extinct embroidery techniques to adorn a radical reworking of Palestinian tradition, his Levantine look embodies qualities of hand-crafted style that should give even the most esoteric modern designers and fashion houses good reason to take notice. "The daily fashion that people wear in Palestine has become corrupted by global trends; machine work doesn't reflect Palestinian identity. Average people would be wearing the same thing as in Europe. I want to re-establish the visual identity of garments in Palestine," says OmarJoseph.

Full name Omar Joseph Nasser-Khoury, he hails from Jerusalem — which he refers to by using the Arabic name for the city, al-Quds — and Birzeit in the occupied West Bank, and was educated in nearby Ramallah. He demonstrated the courage of his convictions by turning down tempting offers to take a science degree at prestigious universities in the UK and US, and instead he opted for a more precarious career trajectory via a foundation course at Camberwell College of Art before deciding to go take a degree in fashion design at the London College of Fashion.

Turning his back on scientific studies in favor of fashion may have been a gamble that few others would have taken, but the result is an intellectual foundation to his creativity that is missing in the ephemeral and frivolous offerings of most fashion designers.

An early encounter with London designers including Bella Freud and milliner Stephen Jones reinforced his conviction that there is a need for an authentic Palestinian role in the international fashion world. He then realized the potential of Palestinian embroidery after studying his mother's shawl, which was created by workers producing craft goods for INAASH, a nongovernmental organization dedicated to the development of Palestinian camps.

It was during a brief internship with INAASH in Lebanon that OmarJoseph began to make his mark with an evolving concept for introducing traditional dressmaking techniques involving embroidery into his future work. The distinguished anthropologist Dr. Shelagh Weir documented his pioneering role in a paper on the work of INAASH, published in the journal Middle East in London in 2009, quoting his early vision: "What I want is to push the underlying concepts of Palestinian garments in novel and perhaps extreme directions, while maintaining their unique elements and visual identity."

His credo rejects the exploitative mass-production approach of the global rag trade and instead reverts to first principles. Each of his garments is made from natural fabrics, with some hand-dyed using indigo and even tea. He uses silks from India and China, handwoven goat's wool from Najaf in Iraq, and even herringbone weave from Britain. Each garment is designed and made with minimal use of machinery.

The materials are often delicately embellished with traditional embroidery techniques revived by Palestinians in the refugee camps of Lebanon and Jordan, where OmarJoseph sought the help of skilled craftswomen who have maintained the skills of their lost homeland. Working closely alongside them, he drew inspiration from the quality, detail and dedication embodied in their work. You have to look closely to realize that some of the embroidered motifs incorporate OmarJoseph's skull and torpedo designs.

The concept of Silk Thread Martyrs owes much to the past and present realities of Palestine. The resulting collection, Omar says, creates a new, transformed and subverted look that explores gender, duty and social constraints, but also reflects Palestine's traditional and contemporary culture and its people: the farmer, the fighter, the martyr, the social worker, the refugee and, above all, the individual.

"There is concession to 21st century style in terms of sharpness and some pragmatism. I wouldn't call what I do daily wear. The garments are wearable, they are influenced by what is fashionable now, but it is more a synchronization of contemporary shapes and old techniques," says OmarJoseph.

"Catwalk garments aren't street wear. They are unique, one-offs, but each has had a lot of thought and process invested in it. I never think about making a costume — I hate the word. Just because something looks impractical doesn't make it a costume — it is someone's preferred dress. In my mind I have thought practically in terms that the garment won't fall about in it if it's worn, it will sit as a garment without falling off. As an individual, I don't know what other people are willing to wear … everyone has a sphere of social life where what they wear differs," OmarJoseph adds.

The collection is not aimed at a specific market. It hasn't been seen in Palestine, but its unique, bespoke and perhaps flamboyant style might be just the kind of couture that might cause a stir at royal galas and celebrity events. However no comparison can be made with the only other contemporary fashion designer to emerge from Palestine in recent times, Rami Kashoú, now the darling of Hollywood celebrities in Los Angeles.

For OmarJoseph, knowing only his people in constant torment and subjected to a brutal military occupation, his creative vision has been molded by the cruelty of the environment in which he grew up: "The omnipresence of death in daily life as a result of the Israeli occupation has thrown society into a perpetual state of mourning. Rather than challenge that reality, the collection actually takes on board the overbearing presence of loss in our lives and is thus a celebration of death. It flaunts the last thing that Palestinians still own: their doom."

"In Palestine mourning some in the south wear blue embroidered dress to indicate mourning. I chose purple in my collection as the principle color to indicate mourning," he adds.

The companion exhibition video, made in Beirut, stands apart as a creditable art-house short, not remotely commercial or promotional, that captures the dark mood of a domestic mourning ritual, with the body of a young woman, dressed in OmarJoseph couture, being cleansed, while black-clad women chant prayers and a singer wails a haunting lament.

Silk Threat Martyrs is on exhibition at The Mosaic Rooms through 9 March 2011.

Editor's note: this article originally misquoted OmarJoseph about the use of the color purple in his collection. This version of the article reflects the correct quotation.

Neville Rigby is a journalist, writer and consultant based in London.