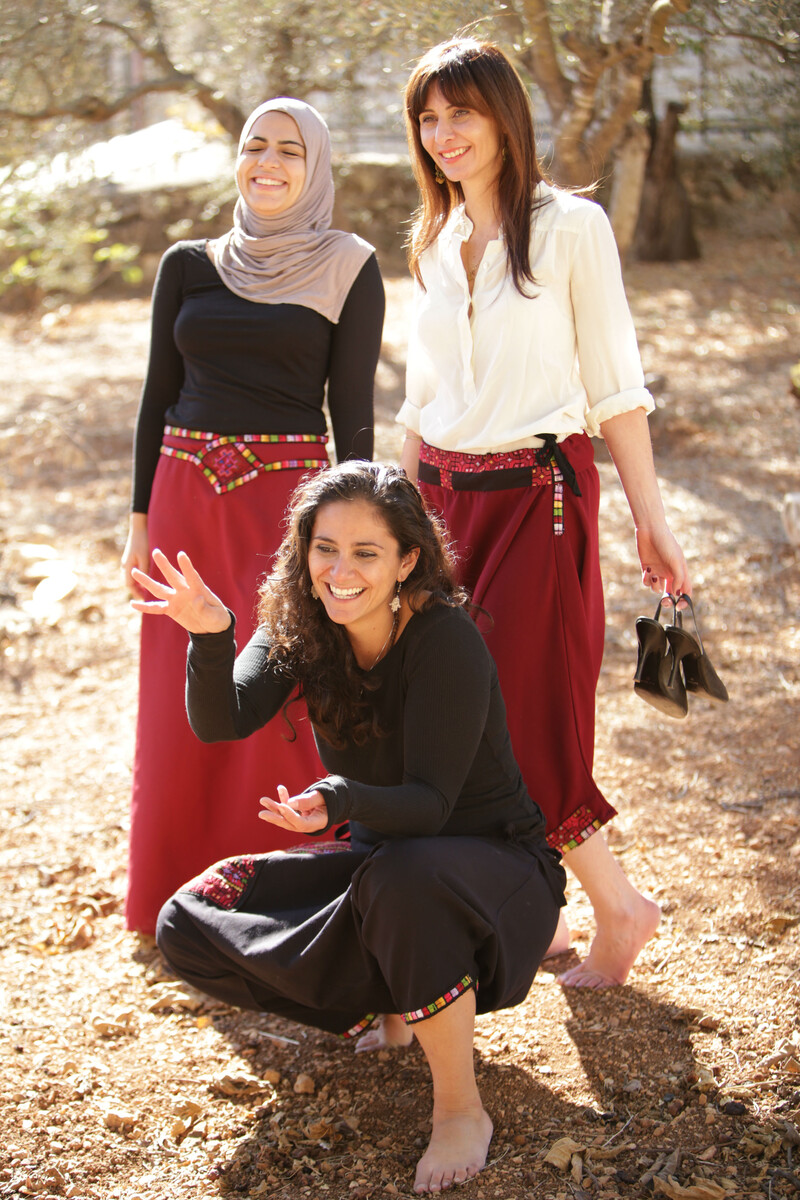 Can traditional Palestinian embroidery be made fashionable? The founders of Ibra wa Khayt (Needle and Thread), a recently-opened business in Ramallah have set out to do just that.

Tamara Reem had the idea for the project in early 2013 after she added a piece of embroidery given to her by her grandmother to a pair of shirwal (trousers).

"Everywhere I went people would ask where I got them from," she said. "And it was nice that I had a story. So instead of saying they were from a shopping mall, I could tell them the story about the embroidery. It was embroidered by my grandmother in the 1960s in Jerusalem … It's my own personal history."

Both Reem and her business partner Weeam Hammoudeh trace their interest in embroidery to their grandparents.

Hammoudeh's family is originally from Lifta, a village in Jerusalem that was ethnically cleansed by Zionist forces in 1948. She grew up in Ramallah before moving to the US for graduate school.

"While we were in the United States, embroidery was something that reminded me of my grandmothers but since coming back I have become more interested in the techniques and designs themselves," Hammoudeh said.

The two women have set about finding old thobes (traditional Palestinian dresses) that are no longer used or have worn away, researching from which region or village the garments originated and, if possible, who made them.

Giving the embroidered parts of the clothing to local stitchers and tailors, they use them to make new items — until now, mainly trousers and skirts. The buyer of each final piece is told the history of the old clothes on which it is based.
Overcoming skepticism
Hebron was the first place the two women visited when trying to decide if their project was feasible. After meeting some seamstresses, they realized that embroidery could provide much-needed employment for Palestinian women.
The duo encountered much skepticism at first. Many thought they were simply pursuing a hobby, but Reem and Hammoudeh have proven that they were able to create a successful business.
Against handouts
Reem was born in the US, though her family is originally from Jerusalem. She feels that it is important for Palestinians to take their own initiatives. Aid programs run by non-governmental organizations have become "a parasite on our society," she said.
"Palestinians never used to be this dependent on international aid," she added. "The international organizations have created this dependency in our community … but it's not part of our culture to accept handouts. Palestinians are educated and hard-working, with some of the highest literacy rates in the Middle East. So for us, it was important not to perpetuate this pattern."
The duo have been greatly encouraged by the positive response to their project — particularly the praise they regularly receive on their Facebook page. They have organized a "traveling caravan" to exhibit their designs in various parts of Palestine and Jordan. After setting up an online store, they are hoping to venture further afield in the near future.
Larger struggle
Running a business under occupation has presented them with a number of problems.
Reem's family had their identity cards — which allowed them to remain in Jerusalem — revoked by Israel during the first intifada as part of a deliberate policy that has become known as "silent deportation."
The Israeli human rights organization B'Tselem estimates that more than 14,000 Palestinians in occupied East Jerusalem have had their permanent residency status revoked by Israel since 1967.
As a result, she is unable to live full-time in Palestine. She has been traveling on her US passport. Her visa was recently renewed by the Israeli authorities, who told her that they were extending it for the last time.
Despite these hassles, they are confident that Ibra wa Khayt will not only continue but that it will grow.
These two women are not simply fashion designers. Their business is part of a larger struggle to preserve and revive Palestinian heritage in the face of an ongoing attempt to erase it.
By promoting Palestinian tradition, their project makes a small but important contribution to the fight against the Israeli occupation.
For more information on Ibra wa Khayt please visit www.ibrawakhayt.com.
Yara Hawari is a researcher and a PhD candidate at the University of Exeter, and currently lives in East Jerusalem. She holds a BA in Arabic and Middle Eastern Studies and a MA in Palestine Studies. Her current research focuses on the Palestinian citizens of Israel and in particular their collective memories.
Tags