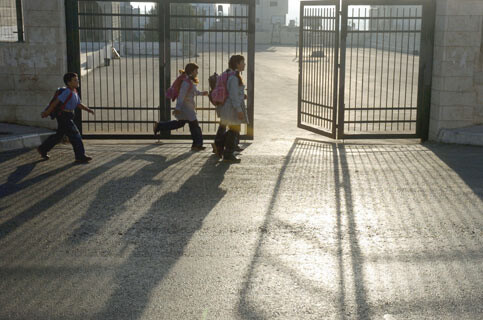 NABLUS — In a very poor neighborhood in the old city, in a tall tiny shabby building, sounds of children's laughter can be heard as we walked up the 50 steep steps leading to the main hall of the Children's Center.
More than 100 girls and boys of various age groups were gathered in the main hall, listening to Sana', the facilitator of the activity, giving instructions of the day. Main hall was full of excitement, it was the third day out of the six-day activity planned by TAMER institute, a local non governmental organization, supported by UNICEF, aiming at improving quality of education through creative reading and writing.
Loud foot steps of kids running to their respective training rooms were heard. Within less than five minutes, all kids were ready and seated on the floor or on small desks.
In one of the tiny rooms, more than 20 girls and boys aged 8-10 years were gathered around small tables cutting and sewing colorful materials.
Zeina, a nine year old girl, was concentrating on cutting the edges of her puppet. "I am making a puppet for the play that we are going to do. The story is about Little Red Riding Hood," said Zeina.
Zeina participated in the creative reading and expressive arts activities since the first day. "I liked the activities so much that I brought my cousin Nour to these activities."
Zeina is a typical girl from old city Nablus. She comes from a family of six, her father is currently unemployed and her mother is a housewife. They are living extremely modestly.
She added: "I never get to go out of the house because my mom is always scared for me. This is the first time that I participate in such activities."
Hadeel, the project coordinator, said this is the first time that Tamer Institute carries out such activities in the old city of Nablus. "Such activities are very much needed in this area of Nablus. This area has been attacked most during the current conflict."
Boys usually hang out in the alleyways and girls stay at home as there are no areas for them to play or interact.
Naseem, an 11 year old boy had heard about this activity from his neighbour Ameed. "I usually play out in the street with my friend Ameed. During the last days, when I looked for Ameed, I found out that he was enrolled in these activities which he enjoyed very much."
Naseem is the oldest in his family, and has three younger sisters.
According to the project coordinator Hadeel, Naseem is typical of most boys his age.
"During their first day of participation in this activity, boys were very aggressive. They have suffered a lot during the current conflict and they have no means to express themselves peacefully and lack the opportunities to participate in creative reading and drama activities," said Hadeel.
Creative reading and drama activities provide kids with means to use expressive arts and drama to improve the quality of education.
Kids are divided into four groups, and over a six day period, each participates in a different activity. Trainers use various techniques to narrate a story through puppetry, they play as a group with the parachute and others use drawing while a fourth group watches kids films and discuss the story afterwards.
This project is a pilot project that aims at improving the quality of education in Palestinian schools. It is being piloted in three most deprived areas, in the old city of Nablus, Hebron and Khan Younis. The project is implemented by Tamer Institute, supported by UNICEF and with funds from the Spanish Government.
Related Links