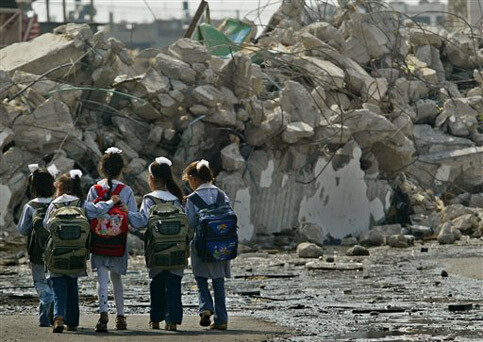 ABA'A — For 12-year-old Sahl, riding a bicycle to school is a dream come true. Sahl lives in Aba'a which is a small picturesque village near Jenin. The vast majority of the 400 or so residents are kids below the age of 18. Ordinarily, the drive to Aba'a from Jenin would take less than five minutes. However, villagers avoiding the Israeli checkpoints have to travel more than 35 km. Poverty is pervasive in a community where most families depend on farming.
Aba'a has one basic governmental school, no clinic – and no recreational facilities for children and adolescents. As a result, kids suffer from boredom during summer vacation. Sahl can do nothing except play in the small courtyard in front of his tiny home.
"Playing football with my siblings and cousins makes me happy because I have not much to do during summer vacation. In summer time, I usually spend most of time watching television. I wish we had summer clubs where I can go and play with friends," said Sahl.
Aba'a is surrounded by two small Israeli settlements – Jannim and Kaddim – among the hundreds that dot the West Bank. During the past years, the villagers at Aba'a have not had any problems with the nearby settlements. This week, as part of the West Bank disengagement plan, both Israeli settlements were evacuated without any serious problems between the villagers or settlers.
Sahl is one of the 1.2 million school aged children going to school in early September. Sahl will be in Sixth Grade attending Aba'a co-educational basic school. For Sahl school provides a safe haven – a place where he can forget the hardships that he and his family have had to endure as a result of the conflict.
Said Sahl: "I am so happy that school is back. can't wait to meet up with my friends mostly my best friend Jaber." Sahl's favourite subject in school is Math and Arabic. "When I grow up like you, I want to become a famous business man, so that I can build houses, playgrounds and parks in Aba'a for kids to enjoy."
UNICEF is supporting the Palestinian Ministry of Education and Higher Education (MoEHE) with a 'Back to School' campaign. The campaign aims at getting 1.2 million Palestinian school children back to school on time and encourage qualitative learning. There are an estimated 15,000 children in oPt who have dropped out of school.
The campaign also aims at equipping 40,000 school children with school bags, improving the quality of education and increasing the awareness of the community to the importance of education mostly quality education
To facilitate the teaching and learning process, UNICEF has already pre-positioned and dispatched 904 school-in-a-box kits to the West Bank and Gaza. The training on the utilization of the box represents a large part of the campaign. Community participation and awareness of education quality by parents is another areas the campaign addresses. The campaign is supported by the United Kingdom Committee for UNICEF.
Related Links