On Thursday afternoon, Mariam Rimawi, a ten year old Palestinian American girl, handed a letter signed by over 700 Palestinian, Arab, American and international organizations and activists to Mr. Vijay Nambiar, Special Advisor to Kofi Annan in a meeting held at Annan's

UN

office in New York City. Ms. Rimawi told Kofi Annan's Advisor "I am here to give you this letter from the Palestinian people and all their friends asking you to stop the Israelis from killing the Palestinians and to free the Palestinians in Israeli jails." Accompanying Ms. Rimawi, Mr. Issa Mikel and Ms. Lubna Hammad conveyed the specific demands included in the letter to Secretary General Annan, including immediate protection of the Palestinian civilian population of the Gaza Strip, release of the over 8,000 Palestinian political prisoners from Israeli jails, and international pressure to hold Israel accountable for its violations of human rights and international law.

The meeting, on a day when the Israeli army killed 21 Palestinians in Gaza, was coordinated with a demonstration organized by a number of New York based groups at the Dag Hammarskjold Park, across the street from the United Nations. The 150 protesters organized a number of actions including a mock die-in where demonstrators lay down on the street and were covered with the Palestinian flags in solidarity with the Palestinians who are being killed on a daily basis in the Gaza Strip. In June 56 Palestinians, many of them civilians including children, were killed by Israeli Occupation Forces. In addition to singing Palestinian songs and chanting for an end to the occupation, international protection for the Palestinian people and sanctions against Israel, the demonstrators donned blindfolds and bound their hands to depict the plight of Palestinian political prisoners held in Israeli jails. Of the over 8,000 Palestinian prisoners in Israeli jails, 388 are children and 100 are women. The release of Palestinian women and child prisoners was the initial demand made in exchange for release of the Israeli combatant who has been detained by Palestinians since June 25, 2006.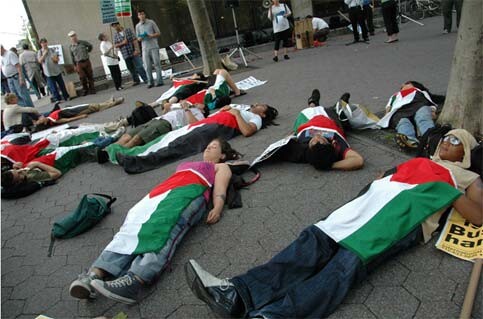 This was the second demonstration in the last week coordinated by the same New York groups. The protests were sparked by the escalation in Israeli attacks on the Gaza Strip, and the bombing of a power plant and three bridges in Gaza, and the arrest of 64 Palestinian officials including eight cabinet members. Because of these attacks and Israel's siege of Gaza, most of Gaza's civilian population has had limited food, water and electricity since last week.

John Dugard, the UN's Special Rapporteur on the situation of human rights in the Palestinian territories occupied by Israel since 1967, stated that "in Gaza, people were without water, food was scarce and medicines were running out. Operation "Summer Rains", as Israel had cynically labeled its siege of Gaza, offended the prohibition on collective punishment. It likewise violated the prohibition on "measures of intimidation and terrorism" contained in Article 33 of the Fourth Geneva Convention, while the arrest of Hamas Cabinet ministers and legislators seemed to constitute the "taking of hostages" prohibited in Article 34. Dugard told the newly created Human Rights Council at the UN that the offensive in Gaza was "morally reprehensible" and amplified a human rights situation that was already "appalling".

The UN Human Rights Council condemned the Israeli attacks and decided to dispatch an urgent fact-finding mission headed by Dugard to the Occupied Palestinian Territory. The protestors called on the UN to add to the mandate of the mission an examination of Israeli policies in order to identify the applicability of sanctions against the state of Israel for its violation of international law.

This New York City demonstration was called for by the National Council of Arab-Americans - New York Chapter, the International Solidarity Movement, the International Socialist Movement, the Troops Out Now Coalition, the International Action Center, the American-Arab Anti-Discrimination Committee - New York Chapter, ANSWER and the Boycott, Divestment, Sanctions Campaign in New York. The organizers plan to hold more actions in the coming weeks to maintain pressure on the UN to take the necessary actions to end the current crisis by implementing the countless UN resolutions against Israel's violations of international law.

Riham Barghouti is a member of the Boycott, Divestment, Sanctions Campaign in New York and a member of the Palestinian Campaign for the Academic and Cultural Boycott of Israel.

Related Links