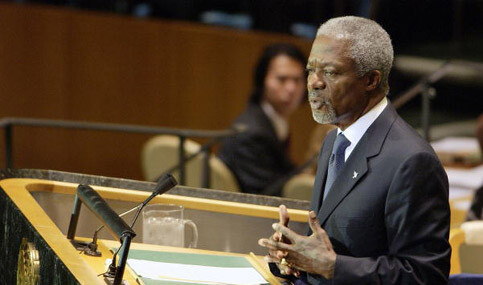 Seeking to defuse what he called "the major crisis" stemming from the flare-up of violence between Israel, the Palestinians and Lebanon, Secretary-General Kofi Annan is sending a three-member team of veteran United Nations officials for wide-ranging talks in the region.
The team, led by Mr. Annan's Special Political Advisor Vijay Nambiar and including UN envoy to Middle East Alvaro de Soto and Special Envoy Roed-Larsen, will first visit Cairo to meet with Egyptian officials and consult with Arab League Foreign Ministers meeting there on Saturday, the Secretary-General's spokesman announced today.
They are also expected to travel to Israel, the occupied Palestinian Territories, Lebanon, and Syria. Other stops will be added as needed.
"Mr. Nambiar will emphasize to all parties the Secretary-General's call to exercise restraint and to do whatever possible to help contain the conflict," the spokesman said in a statement released in Rome, where Mr. Annan is travelling. "He will also reiterate the Secretary-General's message to respect international humanitarian law and to protect civilians and civilian infrastructure."
Mr. Annan yesterday called for the immediate release of two Israeli soldiers seized by Hizbollah militants from Lebanon and called on the Lebanese Government to extend its control over all Lebanese territory and prevents such attacks across the line separating the two countries. He has also called for the release of an Israeli soldier seized last month by Palestinian militants from Gaza.
He has equally called on Israel to refrain from disproportionate action and reminded it of its obligation under international law to protect civilians from the effects of the conflict.
Mr. Roed-Larsen is Mr. Annan's Special Envoy for implementing Security Council resolution 1559, which calls for withdrawing all foreign forces from Lebanon, holding free elections, disbanding all militias and extending Government control over the whole country.
Related Links