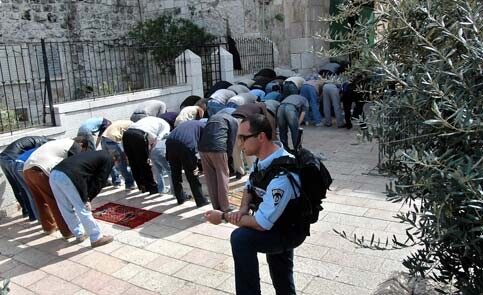 In his book Memory for Forgetfulness, Mahmud Darwish, the eloquent Palestinian poet says, "I bring my search for meaning to a complete stop because the essence of war is to degrade symbols and bring human relations, space, time and the elements back to a state of nature, making us rejoice over water gushing on the road from a broken pipe".

This was written during the Israeli invasion of Beirut in 1982, a time that was very similar to the current situation in Palestine.

On 25 May in Jerusalem, there was a small but lively demonstration in the Old City. Israeli police and soldiers set up barricades throughout the streets, their presence very obvious. Two extremely large Israeli flags were draped over Damascus Gate as well as a banner which said "Jerusalem Day" (sometimes known as 'Unification Day').

This day marked the historical event of when Jerusalem was overtaken and officially considered an Israeli city. A crowd of youth marched while waving large Israeli flags and singing national songs. Most of the shopkeepers in the Old City began closing their shops, their faces showing defeat as they watched alongside.

I spoke with one of the policemen present, who spoke Arabic because of his Druze ancestry, and asked him why Palestinians are not allowed to march with their flags.

"The Israeli government has banned the sale of Palestinian flags in Jerusalem", he said. Well, that made sense.

Even home demolitions have an element of fatalism. Speaking with Jimmy Johnson of the Israeli Committee Against Home Demolition, he told me: "In the Israeli court system, you will always lose. If anything, we can delay the process of their home being demolished".

More than 60 per cent of military operations have land clearings; they will demolish homes if anyone comes in the way of what could potentially become a wall.

It seems that despite the oppression and borders, destiny will give Israel the dream it has dreamed since Theodore Herzl said the word Zionism. This is what the power of defeatism is doing, turning the Palestinian people into one of pessimism.

Yet, what if freedom itself has restrictions?

Every story I hear somehow comes to life. I have spoken with many Palestinians and each person has his or her own way of dismissing memories into broken laughter. It's a bittersweet beauty, but also the reality of what they go through.

Sousan Hammad is a Palestinan-American who has lived the majority of her life in the United States, and is studying to become a journalist at the University of Houston. Currently, she has an internship with the Italian Consortium of Solidarity and Alsoam. She can be reached at sousan.hammad@gmail.com.