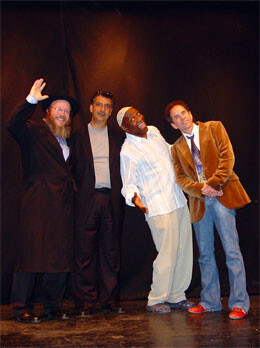 Four comedians recently came together in Houston, Texas "to promote peace through comedy" under the banner of the Israeli-Palestinian Comedy Tour. However, rather than promoting a just end to the conflict, their material exploits it in a disturbing manner.
"We rely on the conflict; peace would ruin our show," co-founder Ray Hanania said in an interview. When asked by the author if they considered performing for an audience in the West Bank, Hanania joked that he doesn't want to get shot at by Palestinians angry at him for performing with Israelis.
Ray Hanania, a Palestinian-American journalist and Charles Warady, an American Jew who moved to Israel 12 years ago, say the group breaks the taboo of Palestinians refusing to appear and perform with Israelis. However, there are numerous Palestinian artistic and non-profit organizations which have culturally collaborated with Israelis while taking a stance against the occupation, unlike how Hanania's xenophobic image of Palestinians would lead one to believe.*
The other comedians in the group — Aaron Freeman, a Black, Jewish convert and Yisrael Campbell, an Orthodox Jew who was born a Catholic — each made their dire and desperate attempt to make people laugh. The show moves through individual acts from the comedians, each one peddling their version of a peace formula.
At the center of Freeman's act is his description of himself as both a Black person and a Jew — a subject of constant harassment, he said. He was the first to perform on stage, and after a brief sarcastic introduction of stating his goal to end the Palestine-Israel conflict in six years, he went into a musical frenzy, emulating the dramatic singsong approach of The West Bank Story, the Academy Award-winning short film that purports to satirize the conflict but ends up reinforcing stereotypes instead.
Freeman sang the story of a patriotic Palestinian woman who falls in love with an Israeli settler, using an anti-Semitic pun to reference the phonetics of the Arabic and Hebrew languages (dramatically coughing each word in reference to the phonetics of the Arabic and Hebrew languages). Of course the Palestinian is illustrated as precarious and violent, while the Israeli is the rational actor.
In the following act, Warady describes the Arabic script as "backwards" and "tough to read," the basis of his nonsensical explanation as to why Palestinians voted for Hamas. "They must have read 'Hamas' as 'hummus' and 'Fatah' as 'pita,'" he said. Warady then goes on a tangent of how beautiful it is to live in Israel. He insists Israeli women are the world's "hottest" and talks about this to some extent. The audience laughed, apparently not bothered by his bigotry and sexism. Meanwhile the act goes on for a dreadful 20 more minutes as Warady continues to fragment his stories about the "great life" in Israel.
The saddest portion of the night, however, had to go to Hanania, a guest columnist for Israeli publications such as The Jerusalem Post and Ynetnews. Almost every single one of his jokes focused on himself as a Palestinian Muslim, despite being an Orthodox Christian. He joked how as a child, instead of playing with a GI Joe he played with a "GI Abdallah" action figure, while his sister played with a "Fatima" doll instead of a Barbie. He then pointed at different Arab men in the audience, asking them how many wives they had.
Hanania said that after he joined the Israeli-Palestinian Comedy Tour, he had gigs canceled by five Arab-American organizations because of his performance alongside Israelis. But what Hanania doesn't mention is his problematic perspective on the Palestine-Israel conflict. In December 2007, Hanania wrote an article for The Jerusalem Post titled "Getting past normalization," in which he states Palestinians refuse to accept reality (i.e. normalization of Israeli occupation) and is critical of Palestinians for refusing to work with Israelis even when doing so would undermine their struggle against the occupation.
Ironically, this is a man who says through his comedy he is "defining the moderate Palestinian Arab voice, offering reason to the American, Israeli and Arab public," according to his website. Yet in the same Jerusalem Post article, Hanania calls the Israeli occupation of Palestine, a "self-imposed imprisonment."
Sixty minutes into the night, the concluding performance was finally underway with Campbell appearing on stage in his Orthodox garb. He starts off by making fun of his appearance and then going into a maelstrom narrative of his life, relating anything he said with being a convert to Orthodox Judaism. Campbell, like Warady, also decided to live in Israel and become an Israeli citizen.
The group finished with a performance once again invoking The West Bank Story and reinforced the racist characterization of Palestinians and Israelis through the Orientalist contextualization of the Arab and anti-Semitic illustration of the Jew. Both the short film and the Israeli-Palestinian Comedy Tour claim to promote hope and peace. However, instead of bringing new clarity to this increasingly bloody conflict, they only reinforce the misunderstandings that allow it to rage on.
*Editor's note: This article originally erroneously identified the Palestine Circus School as an organization that works with Israelis against the occupation. It does not. The Electronic Intifada regrets the error.
Sousan Hammad is a senior in journalism at University of Houston. She is the opinion editor of The Daily Cougar and a staff writer for Free Press Houston. She can be reached at sousan D O T hammad A T gmail D O T com.
Related Links