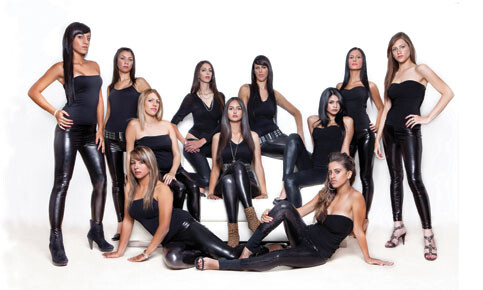 One of the travesties of living in a colonized environment is that the inferior, or oppressed, aspire to win admittance to the Western world. There seems to be an emerging trend of this type of appeasement, where submission has replaced the revolution. The introduction to spectacles, like the breaking of a Guinness record for the largest plate of kanafeh and the search for a national beauty queen, are just two examples of how absurd practices are coming to be seen as normal in Palestinian cities.

In Nazareth, at the final ceremony of the Miss Palestine beauty pageant last month, confetti was poured over the participants, and a jeweled Victorian-style crown was placed on the head of the winner — a girl with blue eyes and blonde hair. Yara Mashour, organizer of Nazareth's Miss Palestine, said she started the pageant because she wanted to introduce people to modern women. "I believe in freedom," Mashour said. "This pageant is about empowering women." Mashour, who considers herself a modern woman, boasts about her Western education and being unmarried. She wants Nazareth, she said, to become a part of the international world.

This was the fifth year for the Miss Palestine beauty pageant, also called Miss Lilac. Some in Nazareth repudiated the pageant as an over-expensive effort, while the reaction from Israelis was "backward," as Mashour said. "Every time Israelis see us moving forward, they get shocked. They don't want to see us as progressive people."

But being ostracized isn't a concern for Mashour. She is used to resentment from Nazarenes for the "taboo" subjects her magazine highlights, such as sex, orgasms and nose jobs. Along with her sister, Mashour started Lilac magazine almost ten years ago and they received so much attention that even The New York Times wrote about it. It called the magazine a "Western-styled hybrid of Cosmo Girl and People with an Arab setting," a feat, of course, for the sisters.

Occupied Miss Palestine canceled

In Ramallah, the circumstances were different. The inaugural West Bank beauty pageant was set to run on 26 December (a day prior to the first anniversary of the Israeli-led war on the Palestinian people in Gaza). But five days before the competition, Palestinian Authority (PA) officials decided to cancel the event because of the "conflicting schedule."

Hamas published a press release prior to the PA's decision, stating that such a contest "completely contradicts Palestinian values and traditions." The statement added, "Showing beautiful girls in front of the mass media and the audience while our people in Gaza are suffering … is rejected and is considered a blind imitation of Western traditions."

Miss Palestine quickly became a sickly fascination for journalists. One publication reported the event was a way of providing a "new angle on the Palestinian-Israeli conflict." So when the pageant was canceled Israeli and Western press demonized the PA, but more so Hamas, for its decision to stop the pageant. What fascinated reporters and editors alike was the facade that Palestinians are becoming, or attempting to become, a society based on idealisms of liberty and empowerment, yet are denied this facade because of Islam or being, simply, Palestinian.

In a Global News article, the reporter described Salwa Yusef, Ramallah's pageant organizer, as a defiant woman who is divorced and smokes cigarettes. She tragically spoke about her dream of starting a beauty pageant as if saying it would civilize the West Bank. "We are a society just like any other — yes we live under occupation, but that does not mean we cannot have celebrations." Yusef, like Mashour, seems to think that a beauty pageant could liberate Palestinian women and encourage them to become independent. However, the majority of women who signed up for the event dropped out because of pressure from their families.

On choosing to have the pageant on nearly the same day as the Gaza war commemoration, Yusef unabashedly said that she was not political. She repeatedly expressed hope that the Miss Palestine competition would proceed in January (if the PA allows it.)

The tragedy, here, is not only the transformation of women into fetishized commodities, but the belief that these events will create a sense of normalcy in Palestine. While both pageant organizers might mean well, their yearning for recognition and appeasement from the West only places them in a static and inferior space where they are devaluing the Palestinian struggle. If only we could convince them otherwise. This is why we must first decolonize the mind before we decolonize the land.

Sousan Hammad is a writer and journalist based in the Palestinian city of Nazareth. Her blog is www.sousanhammad.com and she can be reached at sousan DOT hammad AT gmail DOT com.