I just want to thank the ADC for inviting us here this year. It's been a very good conference this year. What has been especially encouraging is seeing this younger generation of Palestinians using art to communicate realities about the conflict to non-traditional audiences.
Comedians Dean Obeidallah and Maysoon Zayid are doing exactly the kind of thing that we are hoping to do with EI in that, if you approach things in a non-traditional format, in a creative way, you can reach a whole bunch of people who we don't have the ears of at the moment but hope to.
I've also been impressed by the honesty and directness with which people are communicating the realities of the conflict. Last night, poet Suheir Hammad read a moving and razor sharp poem inspired by images we have seen in the last months — Abu Ghraib and the suffering of people in Rafah.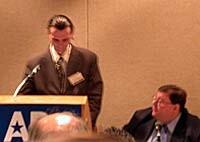 I first traveled to Palestine in 1989 as part of a World University Service and Friends of Birzeit University tour. Before I went I did not know where Palestine was, I didn't understand why it wasn't on a map, and a few days later — it happened all that quickly — I ended up in the middle of Jabaliya Refugee Camp in the middle of the Intifada.

There was a curfew on and there was a single Israeli jeep in the middle of the street. We came in our group of about 17 people and turned the corner and saw this little child, who couldn't have been more than about 14 years old run out of an alley way — the streets are otherwise deserted — and throw a stone very ineffectually towards the soldiers, which bounced on the road.

This was the exact moment we turned the corner on the bus, which was a huge white vehicle with "UN" written on the front. One of the soldiers in the jeep immediately took out his gun, cocked it, knelt down to fire and, at that point, turned round and saw our bus, with this big "UN" written on the side of it, and guiltily stood up, as if nothing was happening.

Now, on that day, that child did not die but what I saw on that day which was so disturbing was the soldier's intent to kill him. If we had not turned that corner at that point, there would have been one more child killed for no good reason.

We hardly ever see intent in the media. It's very hard to see intent. This story is a good example of intent. So many deaths are written off as 'mistakes' or byproducts of war.

In Spring 1997, I was at clashes where Birzeit student Abdullah Saleh was killed. He was shot outside of stone-throwing range by a soldier who was angry because he had fallen over and been humiliated at some point while running around the hillside chasing young Palestinians. Abdullah Saleh was killed by a single bullet to the heart and died before he even reached the ambulance.

The next day in the wire services, this event was reduced to a 400-word report in which 'There were clashes between Israelis and Palestinians and one person died.' That was it. There was no context, no understanding of the injustice of how he was killed — the Israeli's life was not threatened — and indeed in that particular moment, as Canadian writer Margaret Atwood said, "Context is all". Context is the most important thing that happens in these situations and that is what is missing from most of the media coverage.

The Electronic Intifada website is basically a portal, a CNN-type web enterprise for Palestine that focuses on the conflict. These days we are getting 250,000 visits (not hits) a month and we are very happy with that. We've had periods of very detailed coverage of things like Israel's "Operation Defensive Shield", the killing of Rachel Corrie and other internationals, the Apartheid Wall and the ICJ opinion, special investigative features such as McDonalds banning its Arab employees in Israel from speaking Arabic, and most recently our big running feature on Israel's "Operation Rainbow" in Rafah.

EI is produced on a budget of $50,000 a year. Just $50,000. The only way we are able to do achieve this is because every morning, at 5:00AM, Ali Abunimah gets up and scours the press to compile the morning's news and analysis, what we call the "Weekday Press Picks" on EI. Similarly Arjan El Fassed every day spends hours adding material to Electronic Iraq and EI. While I occasionally get paid for parts of development of EI that we couldn't do in any reasonable time period otherwise, for the most part nobody is paid at EI and our budget is $50,000. Imagine what we could do with more.

What I want to talk about today is this whole issue. It's very easy to get funding for hospitals and schools but it's not very easy to get funding for information. This conflict is not going to end if we give money to a hospital. I would never say to anyone "Don't give money to hospitals and schools" but this conflict is going to end the same way the conflict in South Africa ended.

Similarly to the Israeli-Palestinian conflict, there were incredibly entrenched political and business interests with South Africa. What ended Apartheid was the Anti-Apartheid Movement's excellent and powerful campaign, with really high quality design, packaged and speaking in the language of the society it was aimed at. You couldn't walk down a high street and not see a FREE SOUTH AFRICA T-Shirt on someone. It became mainstream, and that's what we're trying to do with the Israeli-Palestinian conflict.

We have to make it a mainstream concern and the only way we can do that is by effectively communicating the realities at ground zero for Joe and Jane Palestinian to the American public. Nobody would sign off on the Israeli-Palestinian conflict if they knew what happened at ground zero, nobody. Only the most ardent and entrenched supporters of Israel.

If we could take people through the Star Trek transporter to Rafah during "Operation Rainbow" and give them five minutes to experience what that was like they would not sign on to the Israeli-Palestinian conflict.

So everything is a challenge of finding new ways to explore that. Many of the projects that EI wants to work on — we just can't do it. We're juggling too many plates at the moment and the only way we will ever break through that barrier is with more money. That's what it boils down to.

The point I am making is that we can donate to things that are band aids that cover the bleeding but what we also really need to do is stop the conflict so there is no bleeding, and the way to do that is we need to inform people what is happening. Total Information Awareness is something that EI is very in favour of.

Suheir told me yesterday that one of the inspirations for her poem Beyond Words came from images published on EI from "Operation Rainbow." When I see an act inspired by something we did, a very powerful act that will continue to inspire people every time they read her poem or she — I will not use the word 'performs' — every time she unleashes it, I think to myself this is exactly what we are trying to achieve: to provide people with a window into the realities for Palestinians on the ground.

Suheir's words in her poem:

I somehow know love will save us
The proof is in the stories not broadcast
The poems not published
The truth between the lies
The stories whispered in the dusk of this day

Thank you.

Other EI Coverage from the 21st ADC National Convention

Video: Palestinian comedians Maysoon Zayid and Dean Obeidallah at

ADC

2004

The above is an edited version of a speech EI's Nigel Parry gave at the "Palestine: Perception and Reality" panel at the 21st National Convention of the American-Arab Anti-Discrimination Committee in Washington DC, on Sunday 13 June 2004.