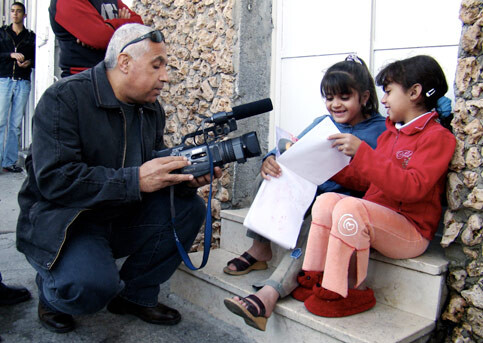 This year, it will sixty years since the Nakba (Catastrophe). Sixty years since we Palestinians became refugees. More than six million Palestinian refugees are still living far from their villages, towns and cities as a result of the Zionist invasion that uprooted them from their homeland in 1948. Generations have been born, have grown up, and have died in refugee camps, but the international community still continues to ignore the political rights of the Palestinian refugees. What makes it sad for me as a refugee — one who was born and grew up in a refugee camp, and struggling not to die in a refugee camp — is that the Nakba generation is dying. There are only a few people still left in the camp who remember the experience of living in the villages that were stolen from us. There are only a few who can tell stories about what it was like to be uprooted, to be sent to live in a tent in a refugee camp. Part of my work in the oral history and media projects at Ibdaa Cultural and Community Center in Dheisheh refugee camp is to interview people and collect the stories and history that is still undocumented, so that when the people die their memories and stories do not die with them.

This year, the sixtieth year, I came to finish my studies here in the United States and to complete an internship working with Middle East Children's Alliance. I was planning before I left to do my best to raise awareness about the Nakba, and to raise the question of what these past sixty years have meant for the Palestinian people. Since I've been here I see that the American people are busy; many are working two jobs; their minds are occupied with their daily lives. Most people either don't care, don't have time to pay attention, or don't want to know what is happening in Palestine, Iraq, or the rest of the world. This reminds me of what my uncle Mahmoud told me just before I left.

My Uncle Mahmoud is from the Nakba generation. He is 78 years old now and has lived in Dheisheh Refugee Camp for sixty years. He was eighteen when he was uprooted from Jirash Village, which is west of Jerusalem and now empty, made into a national reserve by the Israeli government. My uncle is sick. He cannot move or walk. I went to visit him before I left Palestine and Dheisheh camp because I was worried that during my stay in the US maybe he would pass away. I told him I was going to America because I was going to study, and I said I was taking one of our family keys with me to the US. He asked why and I told him that I would show it to the Americans to explain how we owned homes, how we had villages, how we still have keys despite the fact that our houses were destroyed sixty years ago, and how we still have rights to the land. He paused and said sarcastically, "What? Americans?" with a grimace. He told me, "Who cares in America about us?" I told him that because the American government supports the Israeli occupation, it is important for the people to know about our situation and our political rights. He told me, "for sixty years I have been living here in the refugee camp. I have seen people from all over the world, including Americans, come to visit us. But nothing changes. We are still in the camp." He believes that the people don't care about the suffering of the Palestinian refugees or the desire inside us to return back to our homelands.

My uncle was the one who first took me to my destroyed village of Zakariah, and also to my mother's destroyed village of Jirash. He was the one who taught me the history of what happened in 1948. He was the one who joined me when I took many delegations, from Europe, from America, even from Israeli schools, around the camp. He was the one who explained to them about the history of the Nakba.

My uncle was a farmer in the village, then he became a worker as a refugee. When he and his family locked the door of their home and left the village, they took the key because they knew they would return in just a few days when the violence ended. In the camp, my uncle refused to build another floor onto his house even though the family was growing large. He insisted that this building was temporary, that someday soon he would return to his home in his village. During his life in the camp he saw the Israeli settlements swallowing Palestine, he saw the building of walls and jails, and many people killed. He lost his son during the first intifada in 1989. In this time Dheisheh itself became a jail, with an eight-meter-high barrier around it, and only one way in and out. Now all of Palestine has become a jail. My uncle Mahmoud has spent his whole adult life in this jail.

Last month US President George W. Bush visited Palestine for some last minute negotiations before he leaves the White House. He came very close to my camp when he went to visit the Church of the Nativity in Bethlehem. Once again, he denied Palestinian refugees the right of return. He doesn't realize how deeply the Palestinian refugees are committed to this right. He never met my uncle or the hundreds of children who learned strength, and commitment for the right of return from their elders. My uncle's generation handed their keys to the next generation, which has passed them on the next generation still. My mom passed away twenty years ago. She asked me to move her remains to the village when we go back. Those remaining from the Nakba generation are finally leaving. Instead of dreaming to live in their homeland, they dream of being buried there. Their children, such as myself and the next generation, the children who were born and play in the streets and dance in Ibdaa, now carry the heavy keys to their family homes, they carry on the struggle for their rights, and their dream to return home.

Ziad Abbas is a journalist and co-director of the Ibdaa Cultural and Community Center in Dheisheh Refugee Camp, Palestine. He is currently attending graduate school in the US and working at the Middle East Children's Alliance (MECA). This article first appeared in MECA News Winter 2008.