Over two hundred children from Ibdaa Cultural Center in Dheisheh refugee camp took to the streets this afternoon protesting against Israel's barbaric attacks and the United States' unwavering support for Israeli aggression.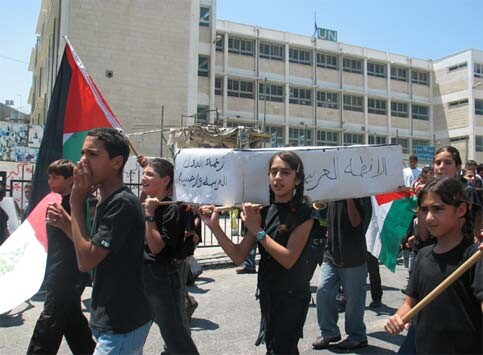 The children carried a child's coffin, photos of yesterday's massacre in Qana, and Palestinian, Lebanese, and Iraqi flags. While marching through the narrow roads of the camp for half an hour, they chanted "Beirut hura, hura. America itla barra." (Beirut free, free. America go out.) and "Min Gaza l'Beirut, shab moqawim lan ya moot." (From Gaza to Beirut, the resistance will not die.)
Israel's month of attacks on Gaza have left over thirty Palestinian children dead and hundreds more injured and severely traumatized. In Beit Hanoun and Beit Lahia in the northern Gaza Strip, children have been routinely barricaded in their homes without food or water while Israeli tank shells fall on their neighborhood. On Wednesday, Israeli attacks killed 23 Palestinians including a mother and her two daughters in Jabalia refugee camp. The oldest daughter remains in the hospital in critical condition. Then in Lebanon yesterday, Israeli air strikes killed sixty civilians, mostly children.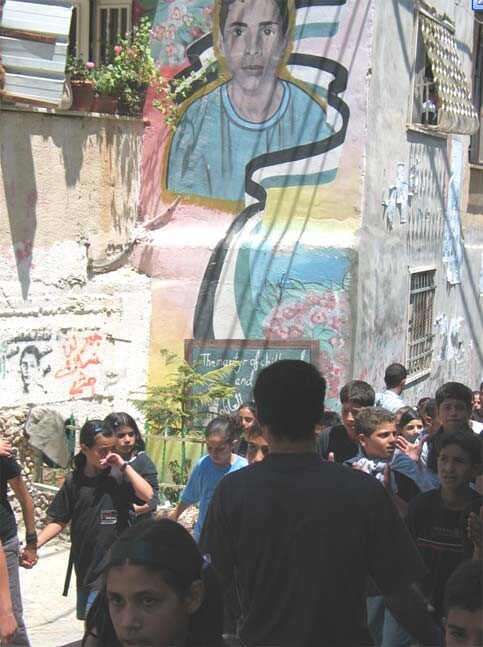 Dheisheh refugee camp has been largely unaffected by these latest large scale invasions but many of the children have experienced Israel's violence and collective punishment in the past. During such hard times, they were eager to show their solidarity with the Palestinian and Lebanese children in Gaza and Lebanon who have suffered again and again at the hands of Israel and the United States.
Ibdaa Cultural Center is a grassroots organization providing social, educational and cultural programs for the children, youth and women of Dheisheh refugee camp in the occupied West Bank. Ibdaa strives to empower young people and women while educating the international community about Palestinian refugees.
Related Links