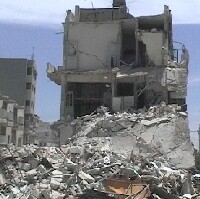 Nablus had witnessed good days and bad ones, but never as bad as it is facing since April this year. Israel's army left Nablus after the April incursion in total destruction; many people were killed, over eighty persons, most of them innocent civilians. Since then, more people were killed, homes demolished, shops bombarded and burnt and infrastructure ruined.
Nablus buried its deaths and picked up and rebuilt again, and again and again. The same destruction occurred in May, several times, and June. It is still going.
The city of Nablus was relatively calm for about ten days, -since the siege began on the Presidential compound in Ramallah. Schools were forces open by parents, shops and institutions went with the flow. It looks as if the operation in Nablus was paused while a new one took place in Ramallah. Now that the latter was ending, the soldiers moved back into Nablus.
At nearly four in the afternoon on Sunday, September 29, an army convoy arrived in the center of the city. I was in the office, I've been going to work since the public disobedience started with schools, on September 21. The convoy consisted of about five Mirkava tanks, six armored vehicles, jeeps and trucks used for mass arrests. The convoy arrived accompanied by heavy shooting from tanks and armored vehicles.
The convoy moved directly to a large building called Aloul and Abu Salha, eight floors. The whole area was blocked by army tanks, which never stopped shooting. We didn't know what was going on but since our studios are in the city center of Nablus, we were very lucky to stay alive.
For five whole hours, we were stuck in our offices, the whole team, men and women. Our executive manager Sahar was really worried that she won't be able to go home and that she might have to stay over in the office. Her family lives near the old city in a very dangerous area.
Around 8.00 pm, we managed to run for our lives and evacuate our offices while the soldiers in the tank were looking away. The targeted building was filled with people at the time of the invasion, sick people visiting their doctors, clients meeting with representatives, employees finishing their work, shoppers and shop keepers. – Shops, offices and clinics started opening during the curfew since last week.
All men and women were sent to the basement. Men were handcuffed and blindfolded while women and children were gathered in a different place until 10 pm where almost everyone was released except for some unlucky ones who happened to be in one of the army's wanted lists.
On Monday, I had to stop writing because I was left in the dark. Everyone was left in the dark.
Early in the morning I took my children to school as I do everyday. I guess I was lucky to arrive safely into my office while the tank just out side of the building was turning around. I am still stuck there.
According to reports, the Israeli army has installed a big machine gun of high caliber on the top floor of Aloul and Abu Salha building. They have been into every office in that building arresting whoever was there and bombarding the closed doors.
Eisa Abu Al Izz, a manager of a local TV station called Afaq, was among the ones who were arrested. Apparently, the army have taken over the TV station and started broadcasting what appeared to be indecent movies. We immediately issued an alert so parents would make sure their children are not tuning into that station.
Many people in Nablus, who have witnessed the April incursion, living close to the city center, said today that the situation was very similar. The army tanks, unprovoked, were roaming the city, shooting randomly, bombarding shops building entrances and homes. At least five people were injured whilst innocently walking the streets.
In Balata refugee camp, we received reports that at least one Palestinian man was martyred, more than ten injured. Reports are still coming in from city hospitals.
My children have just called. They have arrived home safely, thank God. They said they don't want to go to school tomorrow. They were frightened from the continuous shooting around their school.
I've just learnt that one of our colleagues, Nasser Ishtaya, got shot a few minutes ago while photographing clashes in Balata. Nasser lost his infant two days old daughter a few months ago. In addition, Two martyrs and more than ten injuries have fell since the last hour.
Nablus, on day 100 of the curfew has been attacked continuously. The Israeli soldiers not only keep in destroying everything that crosses their lanes but also have been treating the city as a battling field.
I will end this story now and try to leave the office to go home. After all, the curfew is tightening again. Who knows, I may be writing again on day 200 of the curfew, that is, if the world's community doesn't intervene. One hundred days of continuous curfew. The world is watching, yet had done little.
Amer Abdelhadi is General Manager of Radio Tariq Al Mahabbeh, TMFM 97.7