Today the curfew was officially announced lifted in the western part of Nablus from 6 am until 6 pm. The last time curfew was lifted was more than three weeks ago. During the last few days, three children were killed in Nablus, one from the old city, and two from the Askar and Balata refugee camps. The occupier also wounded many residents. There is no space left on TV or radio to mention them. Each has his own story, presenting the suffering of the Palestinian people under Israeli oppression.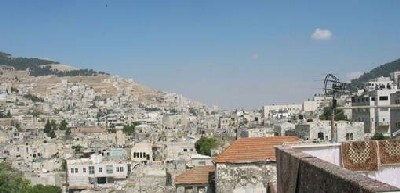 Nablus has always been famous in its valley. The city is built from the valley up to the mountains. In Wadi Tuffah (Apples Valley), a number of Palestinians own land which they cultivate with vegetables irrigated by an ancient system of running water. They also breed chickens. Residents of Nablus buy their eggs from the farmers.

I remember when I was young, I would often visit this valley with my mother to buy spinach and other vegetables. Today, when the curfew had been lifted, I went with my sister to buy eggs from a sweet guy named Ahmad Khanfa, who is about to turn twenty.

Ahmad's father, Adnan Khanfa, is a martyr who was killed by Israeli occupiers during the first Intifada that began in 1987. Ahmad works with his uncles on the lands they own and lives with his mom, who was left alone after her husband was shot and killed.

Today, when we reached Wadi Tuffah, we couldn't find Ahmad. My sister asked his uncles about his whereabouts. His uncles told her in bitterness that Ahmad was shot yesterday. He is in hospital. The occupiers, hidden in their tanks, passed through the street and started shooting for no apparent reason. They said: "There might have been some boys playing in the street. Since the curfew was imposed, the Israeli soldiers were practicing their hobby of frightening kids and reminding them that they're not allowed to play in the streets when the curfew is imposed."

Ahmad was in his room. His family heard the shooting but couldn't imagine that these bullets penetrated Ahmad's head. After all, they have been sleeping and waking up with the sound of shooting daily during the past 107 days.

When Ahmad's family entered his room, they found him lying on the floor, soaked with his own blood. He was unconscious. His blood was on the window and the door of his room. It seems that he was shot while standing in front of the window. One bullet entered his eye and left from the back of his head.

Ahmad is in a coma. He was transferred to Rafidia hospital and his condition is very critical. Ahmad lost his eye and doctors told us that his chances on survival are extremely slim. They said that even if he were to survive through the coming few days, he would suffer permanent disabilities. His family is waiting desperately for any sign of hope that might save him. They're only left with prayers and pain.

Why would they shoot Ahmad in front of his window? Fate decided that the day Ahmad was shot would be the same day that his father was martyred: October 6. Ten years ago, his family grieved the loss of his father. For Ahmad's family, this date, October 6, seems an endless memory, and now a bitter reminder, of their pain.

Curfew is imposed again. Shooting hasn't stopped. Israeli soldiers, occupiers, who have lost their sense of humanity, are determined to find and kill another Ahmad.

Meanwhile, Ahmad is in hospital, like thousands of other injured Palestinians. Most were shot and wounded under similar circumstances. Others, while escaping death from missile attacks or from Apache helicopters and others while throwing stones, resisting occupation. Only a few were armed. Most are around the same age of Ahmad. Many were under the age of 18, or elderly. All are wondering whether human rights are universal.

When will the world stop watching in silence and do something?