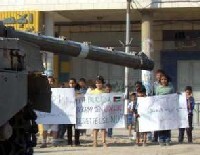 Two hundred children with their mothers walked peacefully from al-Shuhada mosque to the destroyed Fatimiya school in the old city of Nablus and held a sit-in. Their message: 'Open our schools, we want to learn'.

At 7.40 this morning, the children and their mothers gathered. They wanted to reach the school at 8 o'clock. For them, this is the time when more than 100 days ago, the school's bell rang, announcing a new day at school.

One week ago, a group of mothers decided to take their children to school. They were tired of waiting for the paralysed Palestinian Authority and particularly the Palestinian Ministry of Education to take a decision and challenge the occupation to open the schools of Nablus. The group decided to deliver a message to the Ministry of Education that the emergency education classes, or neighborhood teaching, which were set up by people themselves, could never replace the schools. These people were tired of waiting until the moment the occupier would leave their city. They decided to challenge the fear of Israeli tanks and the occupier and to replace it with strength and courage to break the curfew and claim the right to education.

My sister and her sons, Nabih and Laith, were among them. I felt motivated to join their struggle. In the neighborhood where I live, a university lecturer, Dr. Mahmoud Abu-Rob, encouraged students to break in a school in an area and set up emergency classes, instead of learning in empty rooms or basements at people's homes. The next day, 450 students broke into the school and classes were set up.

This week went fast. Everyone wanted to participate. We were collecting signatures for the appeals from the children and mothers and sent them to the Ministry of Education, the secretary-general of the United Nations, and the children of the world. We made phone calls, we sent faxes, contacting people by e-mail. After all, we were under collective house arrest, imposed by the occupier.

Wednesday morning, Nabih and Laith attended classes in their neighborhood. At 2 o'clock the curfew was lifted. They rushed to attend their evening classes. This time at their own school. Before leaving to school, Nabih ran to me and asked me for the appeal. He wanted to get the signatures from his friends. When they came back at 6 o'clock, I could see how much they were exhausted from the morning and evening classes. However, at the same time, they were so happy to see their friends, teachers and their own school again. 'Would their lives get back to normal again?' I wondered.

Everyone I spoke was excited and determined to open the schools. We hoped that the sit-in would be successful. Actually, it was the first time we hoped that the curfew wouldn't be lifted that day. No matter how difficult and risky it would be, the children of Nablus were determined not to let the occupation occupy their minds.

At around 10 o'clock everything was almost ready. One hour later, we heard heavy shooting. Israeli tanks started moving. Clashes erupted in the old city. We started to panic and wondered how would it be on Thursday? Would we be faced by Israeli tanks and the occupier? What would happen? What about the kids? Should we take onions to protect ourselves against tear gas? How many would be encouraged to break the curfew?

We were so tensed, luckily the kids were sleeping.

The next day, we arrived at the mosque in time. We started distributing the banners. There were only seventy children with their mothers. I was disappointed for a few minutes. We decided to start walking. A few meters ahead of us, more groups of children and mothers arrived. Now, we were around three hundred. Some members of the International Solidarity Movement joined us.

I never dealt with so many kids at the same time. These kids were adorable. All knew where they were heading to and why. They walked together without fear. Every child believed in his or her cause. They were brave, a real example. Every child carried a banner and most were wearing their school uniforms. Some of them carried their schoolbags. They shouted: 'Madares, madares' (schools, schools), until they reached school. Fortunately, we were not faced by tanks. The children joined others, who arrived earlier and stood together on the remaining wall of the Fatimiyya school. The stood in front of their destroyed classes, holding their banners. They then walked to the UNRWA office, blocked the road and sat on the ground. They held their banners up and shouted: 'Open the schools, we want to learn'.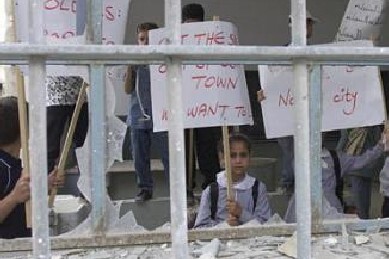 One banner reads: 'Is there a place for Palestinian children in your dictionary?' Another reads: 'Nablus, under curfew for 90 days, do something!' and '

UN

: What are you waiting for?', 'We are locked up at home…no play…no joy…no education'.

I saw a BBC radio correspondent, who was conducting interviews with the children. A seven years old boy said he wanted to go to school because it would make him smart and would help him to reach the top rank of his class. He also said that school would make him understand why 6 plus 6 equals twelve. 'This is so cute', I thought. Others said that the emergency education was good, but there were no desks, no pictures on the wall, no playground and no sports lessons. Their wish was to get back to school.

At the end of the sit-in, a mother and a child handed the signed petitions to a representative of the United Nations. Eventhough we expected more children and mothers to be there, for all those who participated, the sit-in was successful. The children wanted to deliver a message. It was delivered. They wanted the world's attention to their situation, they want the world to intervene.

The Ministry of Education responded to children's appeals and decided to open the schools on Saturday. Now, thousands of brave mothers are determined to continue their actions and break the curfew on a daily basis, accompanying their children to school. Teachers are breaking the curfew. Eventhough the schools will open, the problems are not solved. They still will have to face the occupier's tanks every morning when they go to school. They might get shot or beaten. In their eyes, the occupier, the Israeli soldiers are only born to kill. So, for anyone, who still doesn't understand: what other solution than ending the occupation would solve their problem? Enough is enough. As one of the banners read: 'Let us live! Get the soldiers out of our town, we want to live'.