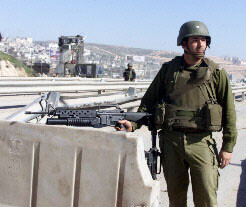 Again, it was such a day. I had an appointment with Mirjam and Miral, producers of the Dutch documentary program Zembla. They wanted to see what Israeli soldiers do in the Occupied Territories. The evening before, three armed Palestinians carried out an ambush on Israeli soldiers at an Israeli military checkpoint blocking the road to the village of Ein Arik, west of Ramallah. Five Israeli soldiers were killed on the road and one in a nearby trailer that served as shelter for the troops.

That night, Israeli F-16 warplanes bombed several Palestinian buildings, including a a four-story Palestinian police compound in Gaza, razing the structure and sending debris and shrapnel flying in all directions. Israeli navy vessels fired missiles at the Arafat's seaside compound, also known as Ansar, punching holes into one of the walls, killing four guards and wounding eight. Palestinians in nearby buildings fled in panic. Hundreds of Palestinians, men, women and children, were in the streets, fearing for their lives. In Ramallah in the West Bank, Apache helicopter gunships fired missiles at several buildings. Elsewhere in the occupied West Bank, Israeli forces fired heavy machine guns, tank shells, and carried out raids.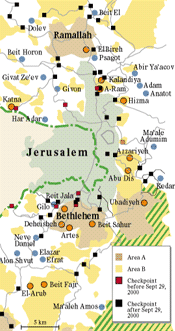 That morning, as we went to Kalandia checkpoint, surprisingly there were no cars in front of the checkpoint near my office. Usually, the road is packed with cars waiting to pass through. When we reached Kalandia, four Israeli soldiers on each side of the checkpoint were facing in the direction of the entrance, blocking anyone who dared even to go near. We heard shots at the end of the checkpoint, the direction of Ramallah, as Israeli soldiers shot at Palestinian cars that were approaching the checkpoint to see whether they could get through. We decided to move around to the east side of the checkpoint on the road to Hizma. Miral started to film Israeli soldiers shooting at approaching Palestinian cars.

Israeli soldiers banned all Palestinian movement on the main roads connecting towns and villages. This measure came just a day before Palestinian Muslims celebrate Eid al-Adha, the 'Feast of Sacrifice', the commemoration of Prophet Ibrahim's willingness to sacrifice his son for God. The next day, most Palestinians had a day off to spend this holiday with their families. This will be my second Eid in the West Bank in which I cannot visit my family neither in Nablus, nor Ramallah.

Suddenly, I heard the sound of an aluminum can next to my feet. Within seconds, I realised that an Israeli soldier had shot a tear gas grenade in our direction, most probably, to prevent Miral from taking pictures of the scene. We ran in the direction of Ram. However, the driver who brought us to Kalandia was not so lucky, since he was sitting in his car with open windows. He had an instant pain in the eyes, tears started to flow. Tear gas has a strongly irritating effect that incapacitates exposed persons by making it hard for them to breathe and see.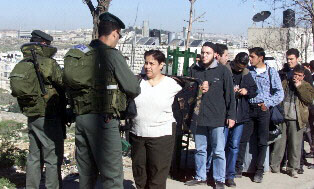 The next day, at the same spot, the same scene, soldiers are on each side of the road, blocking the way. I saw an

UN

truck moving out of Ramallah. The

UN

truck could pass, an ambulance was stopped. The ambulance driver had to step out, take off his jacket, and lift his shirt, while holding his hands up at gunpoint. Later that day, Israeli soldiers shot and killed Walid al-Sheikh (25), while driving between Ram checkpoint and Qalandiya. Three others were injured, including Walid's wife, who was in critical condition.

We decided to move back. We passed the Ram checkpoint and got ourselves in the middle of the chaos of waiting cars at a movable checkpoint, which recently has appeared in front of the junction, before the Israeli settlement Ne've Yacob. We got out of the car and walked in the direction of Jerusalem. Miral wanted to take pictures of the Israeli soldiers who were preventing Palestinians to pass. Three Israeli soldiers were on one side of the road and a military jeep on the other side. A tall Israeli soldier seemed more aggressive than the others. He first started to speak in Hebrew, then in Arabic, and when I told him "from Holland" he looked disturbed. One by one, people were permitted to approach him, sometimes having to lift up their shirts.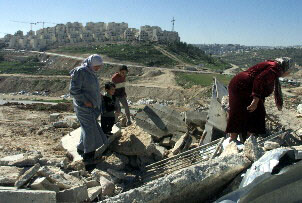 We moved on to Um Tuba. The day before, Israeli soldiers and border police accompaning bulldozers had demolished two Palestinian homes. Together with its sister village Sur Bahir, Um Tuba was illegally annexed to "municipal Jerusalem" after Israel's 1967 occupation of the West Bank and Gaza. Since then, the village has been hemmed in by a wall of settlements. First the Israelis built East Talpiot to the north. Then the settlement of Gilo to the west. And then the settlement of Har Homa to the south, built on 1,851 dunums of Um Tuba land on Jabel Abu Ghneim (Abu Ghneim mountain).

Before reaching Um Tuba at the junction splitting roads to Bethlehem, we saw twenty Palestinians lined up, as if they were standing in front of a firing squad. They were standing with their heads bowed down. Two Israeli soldiers were sitting in an Israeli army jeep and two were standing in front of the Palestinian workers, who probably were walking from Bethlehem to find some work to earn money for Eid al-Adha. We didn't know how long they had been standing there. At one point, an Israeli soldier turned his finger in the air and all the Palestinians had to turn around, moving their backs to us. "If there is anything called humiliation then this is it", I told Mirjam. As Miral took her camera, I felt uncomfortable. Although I think these images must be shown to the world and although I've seen these images practically every week, I felt disgusted.

On the road back to LAW's office, passing through yet more checkpoints, Miral said: "Now, I understand the meaning of occupation."

Related Links:

Zembla: Vechten voor Israel (Real Player)