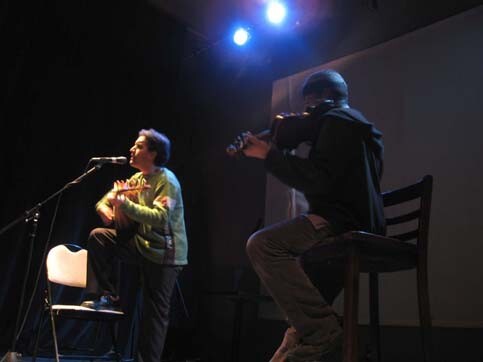 MONTREAL

: Over 100 people gathered at the Mile End Cultural Center on Tuesday, March 20th for a film-screening and public discussion entitled "Lebanon: Resistance and Hezbollah" organized by Tadamon! Montreal. In the shadow of the 2006 Israeli attack on Lebanon, widely opposed in Quebec and internationally, public discussion and debate on the Lebanese popular movement and political party Hezbollah has grown.

The event featured a documentary film produced by Swiss Television, which focused on former Lebanese political prisoner Soha Bechara's return to Lebanon after 2006 war. Bechara herself is a symbol of the national resistance movement against Israel's previous occupation of south Lebanon until 2000. Hassan el-Hadi, a wildly talented Moroccan Oud player, also performed at the event.

Bechara spent 10 years in the notorious Khiam detention camp in south Lebanon. In 1998 Bechara was released and now lives in Geneva, Switzerland. The film documents Bechara's interactions and discussion in Lebanon in the wake of the summer war, providing insights into Hezbollah's role in Lebanon, national politics, while examining the overall political complexities of the country.

After the screening, Tadamon! hosted the first openly announced public discussion on Hezbollah in Montreal in recent years. The lively discussion, that included many members of the Lebanese Diaspora, highlighted the importance of breaking the silence on Hezbollah.

In Lebanon and throughout the Middle East Hezbollah is viewed as a legitimate political actor, not a terrorist organization, both by those who adhere and diverge from the organization's political program. In stark contrast, the Canadian government currently categorizes Hezbollah as a "terrorist" organization; the Minister of Foreign Affairs, Peter MacKay referred to the political movement as a "cancer" on Lebanese society, while Public Safety Minister Stockwell Day denounced it as "one of the most vicious murderous groups in the world today."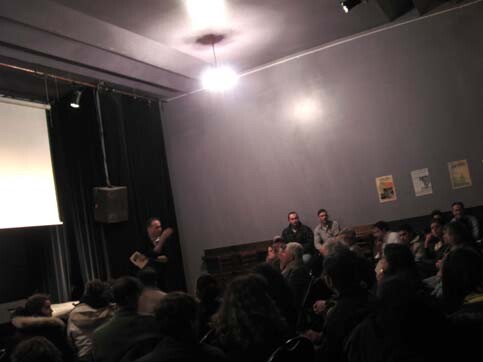 Tadamon!'s effort to create a public space in which to debate Hezbollah aimed to confront the fear of open discussion of these important issues in Canada, where current government policies undermine the political aspirations and autonomy of people throughout the entire region, from Lebanon, occupied Afghanistan, Iraq and Palestine.

Canada is one of only 3 countries world-wide to designate Hezbollah as a "terrorist" organization along with Israel and the U.S. Tadamon!'s campaign to contest the
politically-motivated designation of Hezbollah as a "terrorist organization" aims to:

* Create greater political space to freely discuss & engage in struggles for justice in the Middle East without fear of persecution or labeling;

* Reduce the vulnerability of migrants subjected to racial profiling and unjust immigration "security" measures;

* Confront the demonization of all who resist U.S. driven policies for a "new Middle East"; and

* Challenge the Canadian government's unconditional support for Israeli aggression.

For more information on the campaign to remove Hezbollah from the "terrorist" list in Canada visit Tadamon! online.