Tadamon! Montreal, in collaboration with local musicians and artists, presents a benefit concert in solidarity with the people of Lebanon.
All proceeds will be donated to the Sanayeh Relief Center, which operates in central Beirut, providing frontline humanitarian aid to thousands of internally displaced Lebanese. The all-volunteer center also provides essential information through its newsfeed, bombardment maps and independent media, and organises political action against the complicity of the "international community" in the aggression.
An estimated 1 million people have been displaced in Lebanon, with an additional 2000 injured and upwards of 1000 killed since the start of the Israeli military assault on the country. The past three weeks' destruction of homes, apartment buildings, roads, bridges, ports, airports, energy supplies, factories, warehouses, hospitals, schools has left the country and its people devastated.
Performances by: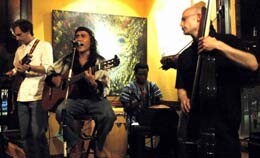 La Banda de Gaza: An ensemble of six musicians including violin, double-bass, percussion, guitar, key-boards and accordion. La Banda de Gaza is front-lined by Iqi Balam who brings biting, politically charged lyrics to the group's eclecticity of musical rhythms from Latin America, African percussion and modern beats.
Hassan el-Hadi Band: Hassan el-Hadi is an accomplished composer, songwriter and singer, as well as an impressive Oud player. Originally from Marrakesh, Morocco, where diverse musical

&

cultural traditions merge, el-Hadi's performance will draw inspiration from traditional Lebanese songs.
Stefan Christoff on Piano

&

Yasser Shoukry on Percussion: The first performance of a musical duo which blends classical improvisation on piano and Arabic percussion rhythms.
DJ

Pas Auf: Spinning a collection of musical rhythms

&

songs from the Middle East, South Asia and beyond.
Members of Tadamon! Montreal, on the situation on the ground in Lebanon and the growing solidarity movement with Lebanon in Montreal. The presentation will include information about the recently returned Tadamon! delegation, which travelled to Lebanon earlier in the summer.

Sunday, August 13th, 2006
La Sala Rossa
4848 St. Laurent
Doors: 8pm
$15 at Door, $12 in Advance

For information or tickets in advance, contact Tadamon! Montreal: tadamon[at]resist.ca / 514 690 8499 / http://tadamon.resist.ca

Related Links